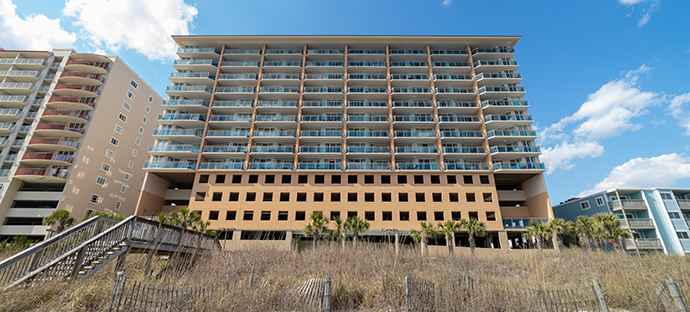 Bahama Sands
You are here:

Bahama Sands
For years, the Bahama Sands has been a favorite of vacationers. Simple as that.

Bahama Sands sits on one of the last large oceanfront tracts in North Myrtle Beach. The three bedrooms feature a long beachfront balcony across the entire width of the condominium. The oceanfront Living Room has spectacular views from any angle. The oceanfront Master Suite has shoreline views and full access to the balcony. There is a spacious walk-in closet and a beautiful Master Bath with ceramic tile floors and luxurious appointments. Guests at the Bahama Sands can also enjoy the lazy river, oceanfront pool, kiddie pool, and indoor pool. Make the Bahama Sands resort your next vacation getaway!
1 BR Oceanview
2 BR Oceanview
3 BR Oceanview
4 BR Oceanview
1 BR Oceanfront
2 BR Oceanfront
3 BR Oceanfront
4 BR Oceanfront
What you'll love about Bahama Sands
New and modern. Bahama Sands is one of the newest resorts in the North Myrtle Beach area. The decor is modern and updated with granite countertops in the kitchen and ceramic tile flooring in the bathrooms. Guests love the clean and modern feel they experience when staying at Bahama Sands.

Views galore. Experience the luxury of stepping out onto your balcony and seeing miles of beach stretching out! Most units feature balconies off of the living room and master bedroom and if you choose one of the corner units (02s and 09s) every room has a balcony either overlooking the beach or the beautiful city of North Myrtle Beach!

Beautiful pools. It just keeps getting better at Bahama Sands! Take a swim in either the indoor or outdoor pool, or take a quick break from the sun in the partially covered lazy river. Not to mention kiddie pools and jacuzzis for the ultimate in relaxation.

Prime location. Bahama Sands is situated right on the border of the Ocean Drive and Crescent Beach sections of North Myrtle Beach. You will be close enough to take a stroll down the beach to Main St. where you can enjoy dinner, shopping and night life, or hop in the car and visit the many dining options and attractions within minutes!

Amenities at a Glance
Lazy river
Oceanfront pool
Kiddie pool
Indoor pool
Master suite Jacuzzi
Fully-equipped kitchen
Dishwasher, disposal, microwave
Ceramic tile floors
Long balcony off the master suite
Large windows and closets
All Non-Smoking Units
Covered Hot Tub
All on-site amenties (including pools, fitness room, parking garage, and elevators) are maintained by
Ally Management
.
Floorplans
View this Vacation Rental on a Map
Bahama Sands
Luxurious Oceanfront and Ocean View Condos
1321 S Ocean Boulevard
,
North Myrtle Beach
,
SC
29582
Guest Reviews at Bahama Sands
Total Rating of
Bahama Sands
:
4.49

palm fronds - based on

37

reviews
The unit was spacious and well maintained. The staff we dealt with were professional and attentive. The location was great. Overall, it was an excellent experience. I would definitely book again with CondoLux.
4/ 5 fronds Robert Ferro reviewed on Aug 8, 2014
Very pleased with CondoLux. The fastest check in ever. Staff courteous and nice. Booked on line and received all the info I needed to make check in go smoothly. Great experience!!! The condo was very nice but the carpet could have used a cleaning. Everything else was great!!!
4/ 5 fronds Susan Graham reviewed on May 29, 2014
The CondoLux staff is very helpful on the phone and at the office. The kitchen at Bahama Sands was small, and we did not like the tubs as they were hard to get in and out of the showers and water would be all over the floor after taking a shower. The view from the unit was great and liked that both the master and guest suites had there own balconies.
4/ 5 fronds Donna Embt reviewed on Apr 28, 2014
We have booked our Myrtle Beach rentals through CondoLux for over 10 years. We rarely experienced any problems and when we did one call or visit to their rental office resolved the issue. We would not think of using anyone else.
5/ 5 fronds Joe Feather reviewed on Apr 16, 2014
We have been dealing with Condolux for the past 5 years for our snowbirding excursions. Professional, accommodating and helpful.
4/ 5 fronds Robert Laplante reviewed on Apr 4, 2014
We loved our unit and would definately book it again. We loved unit 909 an the Bahama Sands, it was huge and very nice for our large group. The pool and hot tub was very clean and a lot of fun. Everyone was very nice. We will be back next Christmas for sure.
5/ 5 fronds Susan Hoskins reviewed on Jan 3, 2014
Great time, great location and amenities. We enjoyed the condo very much. Beautiful views and truly enjoyed having ALL the kitchen amenities of home, as I love to cook and didn't lack anything!
5/ 5 fronds CHRISTINE NICKELL reviewed on Nov 15, 2013
We have been using condolux for all our rentals 2-3 times a year for the past 6-7 years. most of the units are nice units and meet our standards Bahama Sands unit 607 was a nice unit. However, the property was more family oriented then we normally look for. Being in our 60's we like more quiet. Went we come back in December we will be at Crescent Keys. We normally stay at Crescent Keys or Laguna Keys those are the properties that fit our style. Although there is just the two of us, we normally rent a 2-3 bedroom but have even rented a 4 bedroom. We always book by sight of the unit thru the web page
4/ 5 fronds Ron and Linda Nair reviewed on Nov 5, 2013
Great experience.....I've been renting for over 7 years now & haven't really had any issues.
5/ 5 fronds DANA WITHERS reviewed on Dec 16, 2013
Very polite and as helpful as possible...the curtain was replaced in the master suite but not in the room we requested but eventually it was done in the right one after a few days.
3/ 5 fronds Camille/Charles Schrier reviewed on Apr 7, 2014
Always enjoy our stays with Condolux units. Will continue to book with Condolux.
5/ 5 fronds Karen Barnhart reviewed on Aug 20, 2014
We had a great time! We loved the condo - if I HAD to complain about anything it would be the mattress BUT I also have a bad back & I am very spoiled by my mattress!!!! Lol We will use CondoLux again!
5/ 5 fronds Starr Saddoris reviewed on Oct 15, 2014
Quick and easy renting process. Great Communication, Excellent Condo, Highly recommended.
5/ 5 fronds Charles Robbins reviewed on Oct 23, 2014
This is a great unit! I would not hesitate to stay here again. Although it is not technically considered ocean front, there are no tall buildings on the north side of the unit so it might as well be ocean front. The view is fantastic! It was clean and comfortable. Wifi worked great.
5/ 5 fronds Mindy Miller reviewed on Aug 30, 2014
Have always stayed in Unit 901 and love staying in that condo. the only problem we had was the lights above the baths were both out but we didnt call it wasnt that big of a deal. enjoyed our stay.
5/ 5 fronds Kellie & Melissa Polk reviewed on Aug 23, 2014
It was a very nice condo and we are totally satisfied during our stay. The kitchen is very well equipped comparing to others condos we had before with Condolux !
5/ 5 fronds Khiem Dao reviewed on Mar 23, 2014
We had an excellent family holiday and were able to relax,cook and golf. We had four adult children with us so the condo was spacious and needed the 3 bathrooms. We wished we had remembered some DVDs but that's all. The condo was great and we will probably stay again at the same time of year.
4/ 5 fronds Kendra Gillmoure reviewed on May 11, 2015
This was our first time using CondoLux. We really enjoyed the experience. The check in process was super simple and quick. We called for questions and they were very helpful and courteous. Would definitely. Use them again!!
4/ 5 fronds Kimberly Broyles reviewed on Jun 16, 2015
The condo was great, we will stay there again. There were only a couple of minor issues, the shower curtain rod in the master bath was tilted causing the shower curtain not to stay closed and water would get on the floor, and the internet connection was intermittent. Condolux is easy to deal with and offer a great selection of rentals. I have booked with them for several years now and will continue to book vacations with them.
5/ 5 fronds Jeff Tisdale reviewed on Jun 17, 2015
The CondoLux website is extremely easy to use when renting a condo. My questions were answered on the next business day in a very courteous manner. The staff greeted us with a smile and were very efficient with everything waiting for us upon arrival. They also wished us a safe trip home on our departure.
5/ 5 fronds Glenda Moore reviewed on Jul 1, 2015
Have rented from Condolux several times. The staff is very friendly and very knowledgeable. Was so easy this year getting the keys to our condo. We didn't have to wait in a long line because our unit was ready when we arrived.
5/ 5 fronds Dale Hurt reviewed on Jul 29, 2015
Staff were very pleasant and helpful. Condo needed some upgrades.
3/ 5 fronds Jeff Trick reviewed on Aug 1, 2015
Loved the unit we had for the week, Condolux is as advertised. We have used another rental company before but we have come back to Condolux time and again.
4/ 5 fronds Pamela White reviewed on Aug 3, 2015
The CondoLux staff was wonderful. We were not pleased with the unit we selected this time.
1/ 5 fronds Robin Chiccini reviewed on Aug 5, 2015
Condolux is a class act. Quick check-in, the communicate very well everything you need to know. I would not hesitate to book with them again. Everyone was very courteous!
5/ 5 fronds Ann slemp reviewed on Aug 12, 2015
Our experience with CondoLux was very good and our vacation rental was excellent!!
5/ 5 fronds Ronald Bertin reviewed on Aug 23, 2015
We had an amazing time for our week vacation. The condo had an amazing view and suited our family very well. The people were courteous and very friendly. I would definitely recommend CondoLux and would use them again for our next stay.
4/ 5 fronds Stephanie Alvarez reviewed on Aug 6, 2015
I enjoyed my stay, my unit was clean and your staff wasn't just courteous, they were funny, and a pleasure to talk to. The issues that presented themselves just come up here and there. I was thoroughly happy with your services!
4/ 5 fronds Diana boardwine reviewed on Aug 12, 2015
I have used CondoLux twice and have had wonderful experiences both times. They are super helpful and pleasant to deal with. We had a wonderful time and the condo was great. The only complaint came from the kids. The top bunk did not have enough head room.
5/ 5 fronds Buffy Walling reviewed on Aug 5, 2015
We have truly enjoyed our experience with Condolux. Even though we did not get our original booking we believe that your re-placement booking in a comparable unit worked out as well or even better than our first choice. The convenience of the booking, payment methods, directions and your videos for late check in & early check outs were awesome. Thanks for giving me and my family a week to remember. We will be using Condolux again. :]
5/ 5 fronds Darlene Smith reviewed on Aug 24, 2015
Very well appointed and stocked condo. Great beds. Best we have stayed at. Will be back.
5/ 5 fronds Judy Cochran reviewed on Nov 4, 2015
Booking with CondoLux was an excellent experience. The staff were extremely friendly and very helpful. Definitely would consider booking with CondoLux again.
5/ 5 fronds David Pittman reviewed on Nov 9, 2015
Owners have worked hard to get rid of the sterile, same old condo look by putting in new flooring and nice furnishings throughout. Very nice!!
5/ 5 fronds Marjorie Travis reviewed on Oct 25, 2015
Condolux is the benchmark for customer service, pricing, and choice in North Myrtle Beach! We always choose them to book our condos! We stayed in Bahama Sands unit 1203, and there is a reason it's booked solid for months and months. It's tastefully decorated without being gaudy. Comfortable beds and soft pillows...zzzzzzzzz.
5/ 5 fronds Michael Grooms reviewed on Nov 5, 2015
Condolux has always been great and we have been using them for over 20 years!
4/ 5 fronds Ray Sutherland reviewed on Dec 4, 2015
Loved it!!!!
5/ 5 fronds Connie Owens reviewed on Dec 4, 2015
CondoLux was very impressive, from the time I booked to the last day check out. Everything went very smooth and the unit we stayed in was excellent.
5/ 5 fronds Kevin Bagshaw reviewed on Mar 23, 2016
Frequently Asked Questions about Bahama Sands
Are motorcycles allowed?
Answer
Due to recent changes in the regulations with the HOA at Bahama Sands, motorcycle are no longer allowed on the premises.
How many parking passes am I allowed?
Answer
The standard number of parking passes issued is 1 per bedroom, such as 2 parking passes for a 2 bedroom and 3 for a 3 bedroom. However for special circumstances, the maximum allowed is 4.
Browse our Condo Rentals
We have 10 properties available in Bahama Sands.

View 2019 Rates
Ocean View
2BR/2BA
Oceanfront
3BR/3BA
06/15 - 08/16
$306 - N

$372 - N

08/17 - 09/27
$199 - N

$242 - N

09/28 - 11/29
$153 - N

$186 - N

Prices do not include processing, taxes, linens, fees, and additional surcharges. Nightly and weekly rates include departure maid service. Monthly rates do not include linens and additional fees; surcharge added to monthly rate in March and October. Subject to change at any time without notice.
View 2020 Rates
Ocean View
2BR/2BA
Oceanfront
3BR/3BA
10/01 - 03/31
11/30 - 01/03
$92 - N

$112 - N

Prices do not include processing, taxes, linens, fees, and additional surcharges. Nightly and weekly rates include departure maid service. Monthly rates do not include linens and additional fees; surcharge added to monthly rate in March and October. Subject to change at any time without notice.
Rental Policies & Procedures
Please read our
Policies and Procedures
or
Rental FAQs
regarding our rentals before calling. Many of your questions can be answered on that page. Here you will find information about refunds, cancellations, reservations, check-ins and much more.