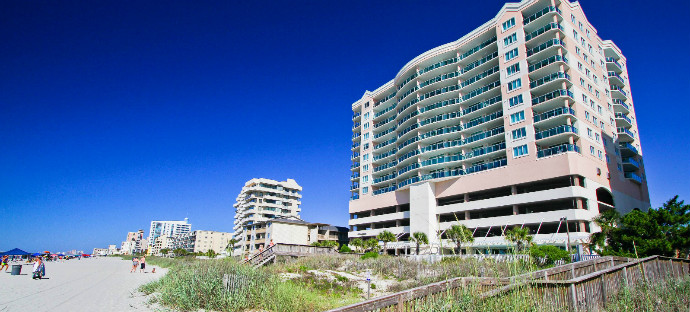 Blue Water Keyes
You are here:

Blue Water Keyes
Blue Water Keyes Oceanfront Resort is located in the Crescent Beach section of North Myrtle—
Grand Strand's most beautiful and widest beach
. You can enjoy a wealth of timeless pleasures: beachcombing, sunbathing, and morning jogs or strolls on the beach. And yet, minutes away, the pleasures of a world-famous resort destination await. From dazzling nightlife, fine restaurants and incomparable shopping to charming fishing villages, dozens of championship golf courses, and a host of attractions, Crescent Beach offers everything you want without compromising the privacy you deserve.
Blue Water Keyes boasts stunning architecture
and a modern tropical resort atmosphere with a host of amenities for year-round enjoyment. Enjoy the Oceanfront Swimming Pool, adjacent Terraced Sundecks, Lazy River, Two Hot Tub/Spas, Indoor Pool, and a glass-walled Fitness Center overlooking the pools and the blue Atlantic. Two, three, and four bedroom villas are available in four floor plans that range in size from 1279 to 1925 square feet. These villas are well-appointed, with a list of many standard features.
1 BR Oceanview
2 BR Oceanview
3 BR Oceanview
4 BR Oceanview
1 BR Oceanfront
2 BR Oceanfront
3 BR Oceanfront
4 BR Oceanfront
Things you'll like at Blue Water Keyes
Beautiful oceanfront pools. You wont have to worry about an over crowded pool here, Blue Water Keyes boasts a large (56 foot) outdoor pool facing the ocean. When you're done swimming, how about floating around the resorts oceanfront lazy river or relaxing in the jacuzzi? Make your vacation complete by lounging poolside at Blue Water Keyes.
Modern and luxurious upgrades. At Blue Water Keyes, you will find out the true meaning of luxury. Granite counter tops, tile flooring, and upgraded appliances in the kitchen make cooking on vacation a breeze. Large open windows let in more light and really show off the open floor plan. You will definitly be living in style!
Penthouse condos. Take advantage of staying on one of the top 2 floors in a penthouse condo. You will find taller ceilings, which open up the condo and let EVEN more light in. Another perk of staying in a penthouse is the parking, you will receive access to an enclosed gated parking area.
Glass enclosed balconies. If you want an unobstructed ocean view, Blue Water Keyes has it! The large balconies feature glass railings, letting you take in the full view! Perfect for watching the sunrise, or unwinding in the evening, nothing could be more relaxing.
Amenities at a Glance
Oceanfront outdoor pool (56-foot)
Indoor pool - located on ground level
Oceanfront outdoor lazy river
Outdoor jacuzzi
Decking on the ocean side of the building for tables and lounge chairs
FREE Wi-Fi
Exercise area overlooking pools and ocean
All Non-Smoking Units
Photos of Blue Water Keyes in Crescent Beach
View Blue Water Keyes on a Map
Blue Water Keyes
Oceanfront Condos in North Myrtle Beach
2001 South Ocean Blvd.
,
North Myrtle Beach
,
SC
29582
What People are Saying about BWK
Total Rating of
Blue Water Keyes
:
4.61

palm fronds - based on

38

reviews
My family and I were very pleased with our condo rental. It was just like the web site showed. Not that it's a big deal or a complaint but maybe an update with the porch furniture and an update with the pots and pans. All in all we enjoyed staying in and going out. If we decide to go back to Myrtle Beach again, we would definitely go back to booking through CondoLux!
5/ 5 fronds Donna Lucia reviewed on Aug 6, 2014
We stayed in 3b/3b condos at Blue Water Keys. All were very nice. The TV blew up in one unit and was replaced same day.
4/ 5 fronds Larry Ginsberg reviewed on May 18, 2014
We were very pleased with the place and the service thanks for doing a great job. Wish checkout was a little later but understand have to get units cleaned. The room was great very clean and roomy. Great location just few steps from beach and loved that parking was so convenient. The kitchen was well stocked which was awesome. Condolux staff were great to work with very accommodating. Thanks for everything!
5/ 5 fronds Janie/ Jane Boland/ Simmons reviewed on Jun 11, 2014
We were very happy with the unit that was recommended by the reservationist. The unit was well-maintained and very comfortable! Thank you for the positive experience!
5/ 5 fronds Sally Cox reviewed on Mar 19, 2014
Loved it!!!! Had a great time. Great unit and great place to stay
5/ 5 fronds Sean Duncan reviewed on Apr 24, 2014
Very happy with our stay
4/ 5 fronds ARLENE MCCALVIN reviewed on Apr 23, 2014
We had a wonderful time and would certainly stay there again!!!!! If only the weather had been better!
4/ 5 fronds Barbara Tiriolo reviewed on Apr 27, 2014
I really liked our unit, but would not book it again. My family members were staying in two other units on the same floor. Their condos had access to a bathroom from the hallway. The only access our guests had to a bathroom in our unit was to go through one of the bedrooms.
4/ 5 fronds Kathryn Oleary reviewed on Apr 23, 2014
Love staying at either Blue Water Keyes or Crescent Keyes... We've stayed there now for 7 years.. Units are stocked well and clean. The staff are well trained and very courteous. Love Cindy at Crescent Keyes.
5/ 5 fronds William and Christine Lundy reviewed on Apr 4, 2014
Check in/out was very easy, and the condo and view were very good.
4/ 5 fronds Kevin Fraser reviewed on Apr 23, 2014
We had a great time! The unit was perfect for our needs. On top of everything, the weather was wonderful.
5/ 5 fronds Linda Bramlage reviewed on Sep 30, 2013
Blue Water Keys 805 is a super unit. All bedrooms have flat screen television mounted on wall. The furnishings are nice, beds are comfortable and kitchen has about everything you need. We will return!
5/ 5 fronds Elizabeth Ann Bennett reviewed on Oct 3, 2013
It is a very nice condo - very "beachy" in decor. We have stayed in this particular unit before and returned because we liked it so much.
5/ 5 fronds Lounn Hoffer reviewed on Oct 2, 2013
We have dealt with Condolux for many years. Agents are the "best". Everyone makes an effort to please you. Now if they just had control of the weather.
5/ 5 fronds James Hopkins reviewed on Oct 16, 2013
We stayed at Blue Keyes condo and were very impressed with our corner unit (1102). Everything was in tip top shape and the folks at CondoLux were very helpful
5/ 5 fronds David Coffey reviewed on Oct 30, 2013
we have been dealing with condolux for 15 years ..we have dealt with Garrett in the golf department, Cindy at Crescent Keyes and they truly do a wonderful job and make our vacation time so special. They do represent Condolux very well ...to us they are Condolux. Unit 1102.Blue Water Keyes is simply beautiful....the beds were fantastic, the patio furniture very comfortable, the decorating outstanding and such an ample supply of dishes, glasses cutlery...We are already counting the days that we get to come back to Blue Water Keyes.
5/ 5 fronds Marilyn Williams reviewed on Oct 10, 2013
We stayed in 2008,10,11,12,and 2013 and we keep coming back. Unit 603 was the nicest unit we ever stayed in. Will hope to be there next summer also.
5/ 5 fronds Ann & Joe DeCisco reviewed on Jul 13, 2013
We just want to say thank you so much for your wonderful prompt and caring manners in which you always treat us when we stay at Blue Water Keyes. You are always so warm, friendly and pro-active in making sure that all is taken care of and we truly appreciate it. We have also heard this from many guests, family and friends who have had the same experience with you. We truly appreciate you and you really make a difference in where the guests chose to stay. Thank you again and have a wonderful end of summer. We look forward to seeing you soon again.
5/ 5 fronds The Daniele Family reviewed on Aug 9, 2013
Great vacation! This is our 6th year visiting North Myrtle Beach and renting a condo unit through CondoLux.. won't rent from anyone else!
5/ 5 fronds Megan Welch reviewed on Aug 13, 2013
Let me say that our vacation at Blue Water Keys PH15 was one of the BEST we have ever experienced in our 30+ years of vacationing on the grand strand. From the cleanliness of the property, to the incredibly helpful maintenance staff, to the stunning accommodations in PH15, it was a vacation we will never forget.
5/ 5 fronds Lori McGee reviewed on Jun 30, 2012
"Had a wonderful stay at Blue Water Keyes. The onsite consultant was friendly and helpful. Loved our condo."
4/ 5 fronds Beth Bennett reviewed on Jun 5, 2010
Just finished another six months rental at Crescent Keyes. Thanks to Cyndy Moore, our condo manager, we had a wonderful stay. Cyndy greeted us cheerfully everday and handled any issue with the utmost professionalism. Thanks to her attention to all details, we will be anxious to return next season.
5/ 5 fronds Jim and Patti Gilchrist reviewed on Feb 25, 2010
I thought the condo was current and spacious. However, I feel the unit was not as clean and stocked with necessities as I would have liked. But the view and feel of "home" made me overlook it.
4/ 5 fronds Chassigy Beads reviewed on Aug 7, 2014
I have booked with several rental agencies in North Myrtle over the years. We now prefer to book with Condolux and stay in one of their ocean front units exclusively! I returned home after our last trip and booked next year to insure I got the 4 bedroom unit I wanted!
5/ 5 fronds Michael Cross reviewed on Aug 5, 2014
We love CondoLux and have used them for our vacations the past few years. There condos are beautiful and making reservations are simple and fast. There cleanliness is excellent and staff very friendly. You will not regret booking through CondoLux!
4/ 5 fronds Michael Briscoe reviewed on Aug 6, 2014
Very nice, very pleased!
5/ 5 fronds Lynda States reviewed on Aug 24, 2014
We have stayed in Blue Water Keyes and Crescent Keyes for the past 7 years and this unit was the best, by far!
5/ 5 fronds Kelly Houlihan reviewed on Aug 24, 2014
The Condo Lux staff at check in was wonderful and very prompt. The building maintenance man at our unit was very helpful and constantly seemed busy cleaning the pool, patrolling the garage (notified us that someone had left one of our car doors open -- I really appreciate his concern in following up with us!!), and trying to fix a broken elevator. He was really on top of things and very personable. My main dissatisfaction is with how the unit owners have poorly stocked their kitchen. We cook all our own meals on vacation and I would not stay at this specific unit again.
2/ 5 fronds Linda Jencks reviewed on Aug 31, 2014
We had a wonderful stay at Blue Water Keyes. We rented a 4 bedroom ocean-front unit, and found it very spacious and clean. The decor was very nice, and the kitchen was well-stocked (I enjoy cooking meals in the condo more than going out to eat, so this was a plus). The pools in the condo were very nice, but we miss the ones on the 6th floor that are now gone! The staff was helpful and courteous when we checked in and when we checked out. We booked our condo a month before our arrival, and got it for a great price. Overall, we had a very relaxing week, and we would definitely use Condolux and stay in the same unit again. Thanks for everything!
5/ 5 fronds Jackie Dalby reviewed on Sep 3, 2014
For some a dream vacation seems beyond their reach. We discovered North Myrtle Beach over 10 years ago. It is the perfect place to gather our families. It fits our budget. We plan all year for when we will return to our days of laughter, play, rest and the awesome sights and sounds of the surf. I wish everyone had this opportunity and encourage those who have never been here to come and experience a piece of Southern hospitality. Your Northern neighbors love to visit!!
4/ 5 fronds John Harvey reviewed on Sep 7, 2014
We were very impressed with our unit and the Condolux staff. They were all courteous and accommodating. We will highly recommend Condolux to all our friends and family. Thank you Condolux for your high standards.
5/ 5 fronds Linda Adkins reviewed on Oct 16, 2014
It was clean and we love staying this condo because we know how well kept this one unit is. This was our second stay in this particular unit. Last year we stayed in a different condo and decided to go back to this one.
5/ 5 fronds Adam Haycox reviewed on Oct 14, 2014
The unit was nice and we liked the location.
4/ 5 fronds Terri Jasner reviewed on Oct 25, 2014
We had a great time and loved the whole thing. Everything was very clean and you did not hear any noise. We enjoyed it greatly!
5/ 5 fronds Larry Davis reviewed on Oct 26, 2014
We have been renting a unit in Crescent Keys or Blue Water Keys these past couple of years. We love the oceanfront view of the ocean and the outdoor hot tubs, the units are really nice, and they are in a great location.
4/ 5 fronds Thomas and Kim Kearns reviewed on Oct 27, 2014
Very happy with this unit. Am extremely pleased that your photos are up-to-date so that I can see what I'm getting before arrival. I always check to make certain a unit has drapes rather than blinds. Every time I've stayed in a unit with blinds, they either don't work well or there were missing vertical blinds which make sunny mornings miserable. I have rented condos from CondoLux for at least 20 years and have always been pleased with the units. They are roomy and well maintained.
5/ 5 fronds Ray Sutherland reviewed on Dec 4, 2014
This was the best vacation ever during my stay at the beach, we will stay here again.
5/ 5 fronds Catherine Thomas reviewed on Dec 8, 2014
Great views, very nicely decorated, top notch except couch and love seat.
4/ 5 fronds Carolyn Muse reviewed on Dec 11, 2014
FAQ's about BWK
How many Parking Passes am I allowed?
Answer
Due to requirements with the HOA at Blue Water Keyes, each rental is allowed a maximum of two parking passes. Additional city street parking is located across the street from the building, however it is not guaranteed by CondoLux.
Does the condo have a Grill Area?
Answer
Unfortunately, Blue Water Keyes does not have grills, or allow grilling. However, cooking meals in you rental couldn't be easier, with the fully equipped kitchens and updates appliances.
Browse our Condo Rentals
We have 29 properties available in Blue Water Keyes.

Our Rates for this Condo Building
View 2015 Rates
Ocean View
2BR/2BA
Oceanfront
3BR/3BA
Oceanfront
4BR/3BA
Oceanfront SHOWPLACE PENT
4BR/3BA
05/23 - 06/05
$170 - N
$934 - W

$236 - N
$1,297 - W

$268 - N
$1,474 - W

$378 - N
$2,080 - W

06/06 - 06/12
$231 - N
$1,269 - W

$304 - N
$1,670 - W

$382 - N
$2,100 - W

$518 - N
$2,850 - W

06/13 - 06/26
$311 - N
$1,713 - W

$382 - N
$2,099 - W

$424 - N
$2,330 - W

$565 - N
$3,107 - W

06/27 - 07/31
$322 - N
$1,770 - W

$418 - N
$2,300 - W

$466 - N
$2,562 - W

$588 - N
$3,234 - W

08/01 - 08/07
$311 - N
$1,713 - W

$382 - N
$2,099 - W

$412 - N
$2,266 - W

$565 - N
$3,107 - W

08/08 - 08/14
$272 - N
$1,494 - W

$365 - N
$2,005 - W

$384 - N
$2,111 - W

$518 - N
$2,850 - W

08/15 - 08/21
$219 - N
$1,204 - W

$275 - N
$1,514 - W

$290 - N
$1,596 - W

$378 - N
$2,080 - W

08/22 - 08/28
$168 - N
$923 - W

$219 - N
$1,206 - W

$267 - N
$1,470 - W

$332 - N
$1,825 - W

08/29 - 09/18
$149 - N
$817 - W

$172 - N
$948 - W

$238 - N
$1,310 - W

$285 - N
$1,569 - W

09/19 - 09/25
$149 - N
$817 - W

$172 - N
$948 - W

$238 - N
$1,310 - W

$285 - N
$1,569 - W

09/26 - 10/23
$128 - N
$705 - W

$152 - N
$837 - W

$175 - N
$960 - W

$192 - N
$1,054 - W

10/24 - 12/25
$101 - N
$554 - W

$143 - N
$784 - W

$152 - N
$836 - W

$167 - N
$918 - W

Prices do not include processing, taxes, linens, fees, and additional surcharges. Nightly and weekly rates include departure maid service. Monthly rates do not include linens and additional fees; surcharge added to monthly rate in March and October. Subject to change at any time without notice.
Rental Policies & Procedures
Please read our
Policies and Procedures
or
Rental FAQs
regarding our rentals before calling. Many of your questions can be answered on that page. Here you will find information about refunds, cancellations, reservations, check-ins and much more.