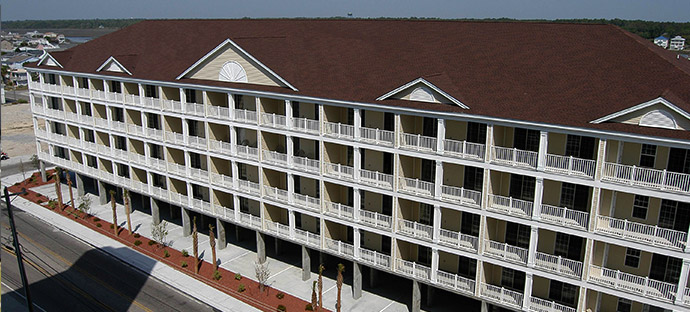 Cherry Grove Villas
You are here:

Cherry Grove Villas
Cherry Grove Villas' elegant condominiums are just steps from the ocean and within walking distance of 53rd Ave Waterway Access & Boat Dock. You'll be convenient to the Cherry Grove Pier, many restaurants and Sea Mountain Highway. Enjoy a pool and jacuzzi, private balconies, and great ocean views with your large group. With so much space, you can plan any kind of trip—a large family gathering or family reunion, a golf trip or corporate getaway, anything you can think of—all in the beautiful surroundings of North Myrtle Beach's Cherry Grove section!
Room for Everyone Looking for somewhere to stay without splitting up your large group? Cherry Grove Villas can accommodate up to 17 people!
Location Located in the heart of Cherry Grove, you'll find that there's always something to do when you stay at Cherry Grove Villas. Take a walk over to the pier for some fishing or dolphin watching or just stroll casually on the beach for some shell hunting or people watching.
The Waterway Cherry Grove Villas is a short walk away from the 53rd avenue waterway access and boat dock.
Amenities at a Glance
Outdoor Pool and Spa
Jacuzzi Tubs
Private Balconies
Great Ocean Views
Close to Cherry Grove Pier
Walk to 53rd Ave Boat Dock
Covered Parking
All Non-Smoking Units
Photos of Cherry Grove Villas Extra Large Condo Rental
View Map - Cherry Grove Villas
Cherry Grove Villas
Vacation Rental Villas
200 53rd Ave North
,
North Myrtle Beach
,
SC
29582
Browse our Condo Rentals
Uh Oh!
Doesn't seem like we have any units available for your time period.
Feel free to search for another date or
Clear the Time Period.
Uh-Oh, No Rentals Available At the Moment
We currently don't have any rentals in this building, BUT we may shortly! You can check back with us or maybe search for another rental?
Our Rates for CG Villas
View 2017 Rates
Ocean View
6BR/5BA
12/24 - 03/11
$0 - N

12/25 - 03/11
$8 - N

03/12 - 03/25
$8 - N

03/26 - 05/20
$8 - N

05/21 - 05/27
$8 - N

05/28 - 06/03
$8 - N

06/04 - 06/10
$8 - N

06/11 - 07/29
$8 - N

07/30 - 08/05
$8 - N

08/06 - 08/12
$8 - N

08/13 - 08/19
$8 - N

08/20 - 09/23
$8 - N

09/24 - 10/21
$8 - N

10/22 - 12/23
$8 - N

Prices do not include processing, taxes, linens, fees, and additional surcharges. Nightly and weekly rates include departure maid service. Monthly rates do not include linens and additional fees; surcharge added to monthly rate in March and October. Subject to change at any time without notice.
Rental Policies & Procedures
Please read our
Policies and Procedures
or
Rental FAQs
regarding our rentals before calling. Many of your questions can be answered on that page. Here you will find information about refunds, cancellations, reservations, check-ins and much more.