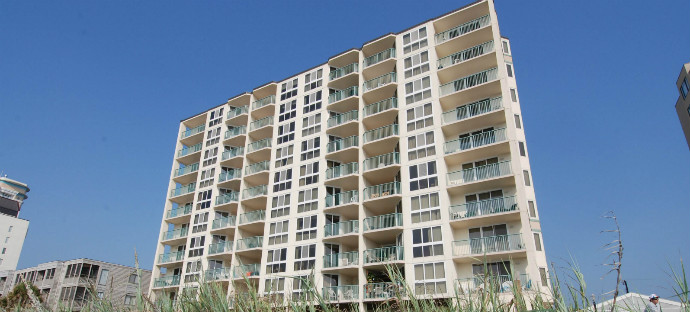 Pinnacle
Treat yourself to a beach vacation at the Pinnacle!
This oceanfront condo has light, airy units with oceanfront balconies and enticing views of the ocean which will make you want to head right outside to enjoy the sand and surf. Soak up the sun in a lounge chair, or go swimming rain or shine in the large glass-enclosed indoor pool! A fully-equipped kitchen, washer/dryer, and Jacuzzi tub right in your unit complete the picture of
a great oceanfront condo!
1 BR Oceanview
2 BR Oceanview
3 BR Oceanview
4 BR Oceanview
1 BR Oceanfront
2 BR Oceanfront
3 BR Oceanfront
4 BR Oceanfront
Things you'll love about Pinnacle
Ocean front balconies. Each unit at the Pinncale features an oceanfront baclony, with access from bothe the living room and the master bedroom. A table and chairs make this the perfect place to enjoy dinner, while looking over the ocean.
Located in the heart of North Myrtle Beach. Pinnacle is located right in center of it all! Just a short drive to numerous restaurants and attractions, you will never have to worry about waisting your vacation driving long distances to enjoy all North Myrtle Beach has to offer.
The glass enclosed pool. Pinnacle features an oceanfront glass enclosed pool, so rain or shine, you can swim and still enjoy the views that surround you. What could be better than enjoying a refreshing dip in a covered pool with an ocean view!
The sun deck. For those of you that are looking to bask in the sun, without getting sandy, Pinnacle has the perfect option for you! A sun deck situated outside of the enclosed pool offers lounge chairs and plenty of sunshine to enjoy!
Amenities at a Glance
Fully equipped kitchen
Microwave
Dishwasher
Washer/Dryer in condo
Multiple TVs
Jacuzzi tub
Indoor glass-enclosed pool
Oceanfront balconies
Covered parking
Elevator
All our units are Non-Smoking
Pinnacle on the Map
Pinnacle
Oceanfront Condo in North Myrtle Beach
2507 South Ocean Blvd
,
North Myrtle Beach
,
SC
29582
The Reviews of Pinnacle from CondoLux Guest's
Total Rating of
Pinnacle
:
5

palm fronds - based on

1

reviews
Been dealing with CondoLux since it was Compass Travel. So we must like the company and the condos.
5/ 5 fronds Robert Balagna reviewed on Oct 3, 2013
Frequently Asked Questions about Pinnacle
Is there a parking garage?
Answer
No, Pinnacle has an open parking lot located onsite directly in front of the building. This is a great option for oversized vehicles, or vehicles with car top carriers.
Browse our Condo Rentals
We have 2 properties available in Pinnacle.

Sort By:
Name
|
Bedrooms
|
Feature

Corner Unit

Showplace

Video Tour

Floorplan
Enter Coupon Code
3 Bedroom, 2 Bath Ocean Front Condo

Bedding: 2Q 2Tw 1SS

Please Specify Date to See Price

3 Bedroom, 2 Bath Ocean Front Condo

Bedding: 1K 1Q 2Tw

Please Specify Date to See Price
3 Bedrooms
Pinnacle - 803 >
Ocean Front - 3BR 2BA - Bedding: 2 Queens, 2 Twins, 1 Sleeper Sofa
Our Rates for This Rental
View 2015 Rates
Oceanfront
3BR/2BA
05/23 - 06/05
$175 - N
$960 - W

06/06 - 06/12
$228 - N
$1,255 - W

06/13 - 06/26
$272 - N
$1,494 - W

06/27 - 07/31
$290 - N
$1,597 - W

08/01 - 08/07
$277 - N
$1,523 - W

08/08 - 08/14
$220 - N
$1,208 - W

08/15 - 08/21
$191 - N
$1,049 - W

08/22 - 08/28
$164 - N
$903 - W

08/29 - 09/18
$137 - N
$755 - W

09/19 - 09/25
$137 - N
$755 - W

09/26 - 10/23
$136 - N
$750 - W

10/24 - 12/25
$122 - N
$668 - W

Prices do not include processing, taxes, linens, fees, and additional surcharges. Nightly and weekly rates include departure maid service. Monthly rates do not include linens and additional fees; surcharge added to monthly rate in March and October. Subject to change at any time without notice.
Rental Policies & Procedures
Please read our
Policies and Procedures
or
Rental FAQs
regarding our rentals before calling. Many of your questions can be answered on that page. Here you will find information about refunds, cancellations, reservations, check-ins and much more.