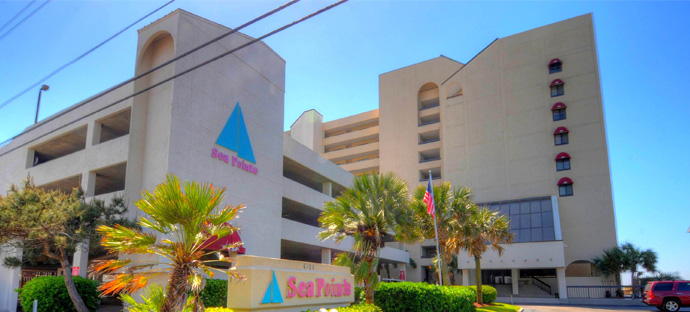 Sea Pointe
Sea Pointe is a North Myrtle Beach Condo Rental located in the Cherry Grove area. Just a short walk from the beloved Cherry Frove Pier and boasting such amenities as: pool and jacuzzi area, in-unit washer and dryer, oceanfront sun deck and outdoor grilling and picnic area! Sea Pointe makes for the perfect accommodations when playing a vacation to the Myrtle Beach area. Also, please keep in mind that the Sea Pointe is only a short drive from all of the area attractions and golf courses. What more can you ask for?
Things you'll love about Sea Pointe
Washer and dryer inside the condo. You don't have to pack everything you own, Sea Pointe has its very own washer and dryer inside the unit. Instead of having to bring all your dirty clothes to a community washer and dryer, you can wash your clothes mid way through your stay inside the unit. This way you do not have to try and cram all those clothes in your suitcases.
Take a fishing break. Sea Pointe is located near The Cherry Grove Pier, a favorite among fishermen or anyone that enjoys the sport of fishing! This is really great for all your fishers or for anyone who wants to teach their kids the wonderful patience of catching their own dinner.
Enclosed pool and jacuzzi. Swim away at Sea Pointe, in the enclosed pool and Jacuzzi. This is a great feature in that everyone can enjoy swimming all year long and even on rainy days.
Outdoor grilling area. For all you BBQers out there Sea Pointe has an outdoor grill and seating area for the family to enjoy a wonderful grilled steak or some hamburgers and hotdogs.
Amenities at a Glance
Enclosed Pool and Jacuzzi Area
In-unit Washer and Dryer
Outdoor Grill and Picnic Area
Gorgeous Sun Deck
A short walk from Cherry Grove Pier
All Non-Smoking Units
All on-site amenties, including pools, parking garage and elevators, are maintained by
The Beach Company
.
Sea Pointe in North Myrtle Beach Photos
View Map - Sea Pointe
Sea Pointe
North Myrtle Beach Oceanfront Condos
6100 North Ocean Blvd
,
North Myrtle Beach
,
SC
29582
Sea Pointe Reviews
Total Rating of
Sea Pointe
:
3

palm fronds - based on

1

reviews
I did enjoy our stay in North Myrtle Beach. The experience with Condolux was satisfactory. It's just that the unit we rented could have been nicer. We did like having undercover parking and loved being right on the beach with a nice balcony.
3/ 5 fronds Carol Major reviewed on Mar 17, 2016
Frequently Asked Questions about Sea Pointe
Browse our Condo Rentals
Uh Oh!
Doesn't seem like we have any units available for your time period.
Feel free to search for another date or
Clear the Time Period.
Uh-Oh, No Rentals Available At the Moment
We currently don't have any rentals in this building, BUT we may shortly! You can check back with us or maybe search for another rental?
Rates for Sea Pointe
Rates Coming Soon!
Rental Policies & Procedures
Please read our
Policies and Procedures
or
Rental FAQs
regarding our rentals before calling. Many of your questions can be answered on that page. Here you will find information about refunds, cancellations, reservations, check-ins and much more.