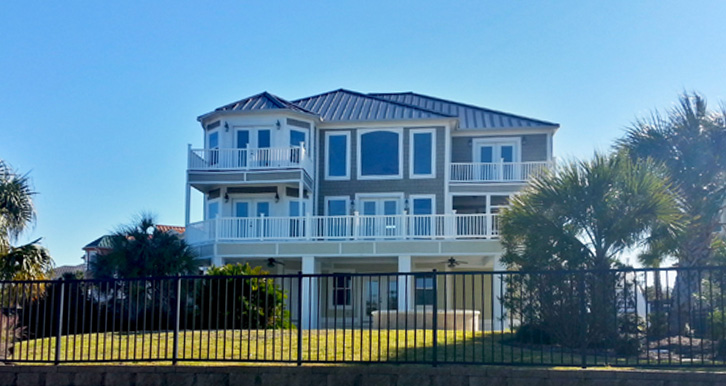 The Escape at Marina Bay
You are here:

The Escape at Marina Bay
The Escape at Marina Bay is one of the newest additions to the CondoLux Vacation Rentals family. This 5 bedroom, 6.5 bathroom vacation home rental is located directly on the IntraCoastal Waterway in N. Myrtle Beach, South Carolina. Just a few blocks from the beach and within walking distance to local restaurants, this home is the perfect accommodations for families seeking the all-in-one experience.

Enjoy the use of the private dock overlooking the waterway, perfect for a hardcore fishing session or quiet night of relaxation. Also, for those of you who have a boat or jet ski, we provide our guests with full access to the private 100-foot floating dock - so feel free to bring your watercraft with you on vacation!

The Escape at Marina bay is also equipped with a private pool, suitable for a late night dip or an afternoon of sunbathing. The interior of this home has hardwood flooring throughout the main level, leading into the fully-equipped kitchen with updated appliances such as microwave, refrigerator and dishwasher. Enjoy the vaulted ceilings in the living room, as well as the brand-new 60-inch high-definition LCD television.

This waterway home has an abundance of indoor and outdoor amenities and features that encompass everything needed for the perfect North Myrtle Beach vacation. This is a property that you truly must see to appreciate!
What you'll love about The Escape
Absolutely Breath Taking. The Escape feature 5 beautifully decorated bedrooms that will be sure to make you feel like a rock star!! With all of the wonderful upgrades and features it has to offer, you will not be disappointed.
Screened in back porch. This is a perfect feature to have on those amazing South Carolina summer nights when you want to sit out and enjoy the warm air but do not want all those annoying bugs around. So sit back and relax on this beautiful porch with an amazing view of the inner coastal way.
Private Jacuzzi Tub. After a long day relaxing on the beach, feel free to take a nice cozy Jacuzzi bath in your very own home! This house has a large Jacuzzi tub along with a beautiful glass standing shower in the master bedroom.
Privacy is always wonderful. Escape to Marina Bay has its own private pool for your family to enjoy. Along with a private pool, it also has a private fishing dock for families to fish on or jump in the inner coastal way and enjoy a relaxing day.
Amenities at a Glance
Private boat dock
Private outdoor pool
Located directly on the IntraCoastal Waterway
2 garages that will fit 2 cars each
2 private balconies off of guest bedrooms on the back of the house
Easy access jet ski and boat rentals
Walking distance to Carabba's and Dirty Dick's restaurant
Just a short drive to the beach
Please note: No Motorcyles Allowed
Fully-equipped kitchen
Wet bar in living room
60-inch HD LCD television in living room (COMING SOON)
Master bedroom has double his and hers sinks, large garden jacuzzi tub and large glass standing show
Wireless internet
Upstairs and downstairs laundry room with washer and dryer
Gorgeous hardwood floors in common areas
Screened-in porch off of dining room
Perfect for families or golf groups
Pictures of this Waterway Rental Home
The Escape at Marina Bay in North Myrtle Beach
The Escape at Marina Bay
Waterway Home in North Myrtle Beach
1404 Marina Bay Dr.
,
North Myrtle Beach
,
SC
29582
33.841745,-78.668991
Frequently Asked Questions about The Escape
Is Escape at Marina Bay on the beach?
Answer
Nope, not on the beach, BUT it is on the beautiful Intracoastal Waterway that is near the beach. The beach is only a 5 minute drive, so you can enjoy the peace and quiet near the waterway, but still have access to everything North Myrtle Beach has to offer.
What kind of pools are at the Escape House?
Answer
You get your own private outdoor pool! There is also a hot tub on the property, however, guests do not have access to it.
Browse our Condo Rentals
Uh Oh!
Doesn't seem like we have any units available for your time period.
Feel free to search for another date or
Clear the Time Period.
Uh-Oh, No Rentals Available At the Moment
We currently don't have any rentals in this building, BUT we may shortly! You can check back with us or maybe search for another rental?
Our Rates for The Escape
Rates Coming Soon!
Rental Policies & Procedures
Please read our
Policies and Procedures
or
Rental FAQs
regarding our rentals before calling. Many of your questions can be answered on that page. Here you will find information about refunds, cancellations, reservations, check-ins and much more.