Yep, the internet is growing faster than any tech buffs could ever imagine, and with the recent announcement that Myrtle Beach is top Googled destination, it's no wonder there are so many Myrtle Beach websites out there.  Here are a few you may not even know about!  These websites we picked out were based on INFORMATION only. They may not have the best design out there, but the info is amazing.
Myrtle Beach Remembered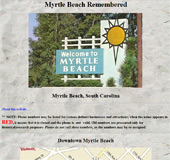 If you like nostalgia, then this is your spot! It's a simple website with one main page, but is full of everything that Myrtle Beach used to have to offer (and things that are even still around).  It has plenty of information about each of the different attractions and restaurants that used to dot the area. The author put quite a bit of work into this site and it is worth checking out, even just for a minute, especially if you are local.
Fun Beaches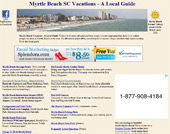 One of the largest and most thorough directories to EVERYTHING Myrtle Beach that we can find. Wikipedia can't hold a flame to this site.  The owner still actively updates it with new information as well. You can get lost in here, finding different websites you didn't think existed. Contains information from lodging to campgrounds to fishing piers to state parks to live entertainment. There is even an article on the best place to find sea shells! Don't forget to check out the message board as well.
The Digi-tel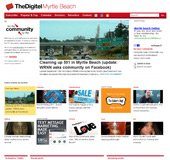 News FOR the community BY the community. If you are looking for an alternative news source for the Myrtle Beach area, this is the ticket.  What makes this site appealing is how clean and easy-to-use it is.  They didn't try to cram as much information in and put 30 links in their navigation bar.  A simple, unique, modern web design. The best part is how users can interact with the site but submitting news of interest.  It brings the "people" back into news.
City Data
www.city-data.com/city/Myrtle-Beach-South-Carolina.html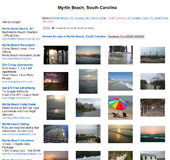 If you are statistics kinda person, you won't find a better source for information about the Myrtle Beach area —  or North Myrtle Beach, for that matter. We are talking basic information from population and medium income to more advanced statistics like temperatures to natural disasters, even air quality, religious designations. At the bottom, it even shows the "most common last name for deceased individuals."  Granted some of these statistics are a bit old (5 years in some spots), but even so, it's a very interesting read.
Myrtle Beach Bay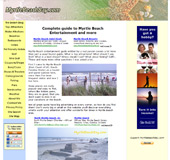 Another website like Fun Beaches mentioned above that has a good diverse list of things to do and places to see in Myrtle Beach. It is not a comprehensive list, but you sure will have plenty to do on your vacation here! It contains information on restaurants, mini-golf, pet friendly hotels, and even sandcastles. Be sure to check out the blog too for other little tid-bits.
Myrtle Beach Restaurants
www.myrtlebeachscrestaurants.com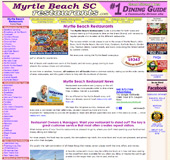 The name is in the title! If there is a restaurant in Myrtle Beach, you better believe this site has a review on it! Amazing user interaction and participation on this website, which makes it a perfect spot for getting honest reviews from PEOPLE. It is very user-friendly as well, breaking down restaurants by food type and area.  What makes it better is that you do not need an "account" to submit a review. You can just pick the restaurant, review it and be on your merry way!
Myrtle Beach Jet Ski Rentals Directory
http://www.myrtlebeachjetskirentals.net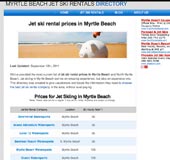 This was a nice hidden gem that we found, during a mission to find a customer some information on jet ski rentals in Myrtle Beach. For vacationers, finding a place to rent a jet ski in the Grand Strand can be a daunting task, but this website not only allows you to see WHICH companies offer rentals, but their current RATES as well. This allows for the visitor to make an informed decision on which jet ski rental company fits them best.
Of course, if you have any other submissions for websites, please comment below and let us know!