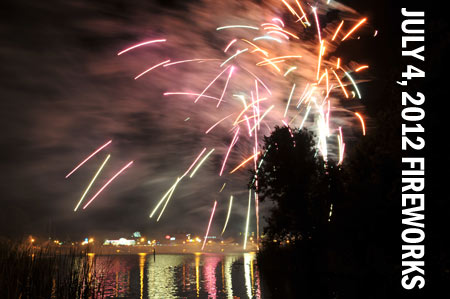 Looking for places to sit back, relax, and watch the fireworks on July 4, 2012 this year?  Look no further!
The two large fireworks shows in North Myrtle Beach on Wednesday, July 4th are:
Cherry Grove Pier
3500 N. Ocean Blvd, North Myrtle Beach
Time: 9:00 PM – 9:30 PM
Phone: 843-281-2662 North Myrtle Beach Chamber of Commerce)
Web: https://www.nmbevents.com
Make sure you arrive early, and plan on being there for a bit afterward.  There is only one small road (ocean blvd) in and out of the area by the pier and traffic makes it difficult to get very far.  Our recommendation is to stay on the south end of the pier when parking so you have a better chance of returning to your car and finding an exit.
Barefoot Landing
over the lake, 4898 Highway 17 South, North Myrtle Beach
Time: 10:15 PM (expanded show from the weekly fireworks show on Mondays)
Phone: 843-272-8349
Web: https://www.bflanding.com
You can actually sit in your car in some places and watch these fireworks, but the best view is when you gather around the center lake.  Again, make sure you arrive a bit early for a parking spot.
Note:   Molly Darcy's oceanfront bar at 1701 South Ocean Blvd., has their own display of fireworks each year.  For details on this display, contact Molly Darcy's at 843-272-5555.