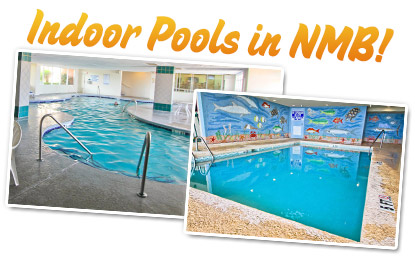 We recently built a page on our website dedicated to our Condos in North Myrtle Beach with Indoor Pools and thought we'd announce it on our blog.  We like to listen to guest questions (helps us prosper as a good vacation rental company!), and one of the major ones this time of year was dedicated to which resorts had indoor pools.
Of course, in the winter, all the outdoor pools are usually closed, leaving only the indoor ones to choose from. And when you stay here for a month or more like the winter snowbirds, the indoor pool is a nice addition to the relaxation time.  It can also be a form of exercise when it may be too cool or rainy for a walk, bike ride or other outside activities, or if a swim is required for medical purposes.
We can't just leave it at that though, here are a couple tips to help you along when considering indoor pool options:
– Keep in mind that not all indoor pools are created equal. Make sure to call the resort directly and ask if the indoor pool is open during the winter months and/or if it is heated (like the indoor pool at Blue Water Keyes).
– Ask if the indoor pool area is climate controlled. There are some indoor pools (like you can see at Bahama Sands), that are covered in the summer, but then closed in in the winter, but still are climate controlled indoors.
The page we created has all the resorts with indoor pools, so don't forget to check it out!
—————————————