With so many vacation deal sites popping up when you search for "Myrtle Beach," it can be difficult to find the real gems amidst all the clutter. Back in 2011 we highlighted 6 Myrtle Beach websites you may not know about.
Since then there's been a wave of even more great sites and blogs to help the Myrtle Beach area visitor and local alike. From local sports and recreation, to family activities and the bar scene, here are 5 more Myrtle Beach websites that you may not know about (and probably should):
Myrtle Beach for Families
http://www.myrtlebeachforfamilies.com/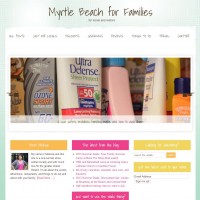 Myrtle Beach for Families is one of my first stops on the web when I'm looking for something fun and different to do along the Grand Strand with the brood in tow. A one-woman show, Melissa Byers writes up everything from "family freebies" to restaurant reviews. We've all packed up the car and kids to see an attraction that turns out to be a total bust, leaving your wallet empty, patience tried and your kids whining. Thankfully, there is this website. Myrtle Beach for Families approaches everything from the family perspective, and as a parent herself, Byers can tell you what is worth it and what is not. One of my favorite things about this site is that the design is clean, minimal and easy to navigate with content sections including "Just for Locals," "Things to Do," and "Reviews," not to mention my personal fave, "Discounts."[separator]
Grand Strand Happening
http://grandstrand.happeningmag.com/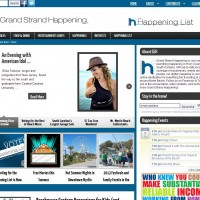 Grand Strand Happening is another online magazine guide to the greater Myrtle Beach area that you may want saved in your bookmarks. It's "Happenings" section is organized into descriptive headings in drop-down menus making it easy to find the type of event you want, whether it's a festival, daytime, kids or nightlife "happening" you are looking for. Also helpful are the 3 "Entertainment Guides" that give readers nice introductions and overviews to some major destination zones on the Grand Strand, including Broadway at the Beach in Myrtle Beach and Barefoot Landing in North Myrtle Beach. Grand Strand Happening also features an event calendar, so if you need something to do on a particular day, just click the date to see what's going on.[separator]
Myrtle Beach Happy Hour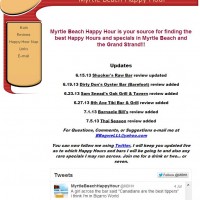 Looking for the best drink specials on the Grand Strand? Myrtle Beach Happy Hour has you covered. What the site lacks in design it more than makes up for in content. Featuring lists and reviews to over 100 local watering holes, what makes this site special is the embedded Google Map that makes finding the coldest beer on the beach a breeze. The happy hour reviews also use a 10 point rating scale that factor in price, atmosphere, food and drinks, making it easy to find the best and avoid the rest.[separator]
Weekly Surge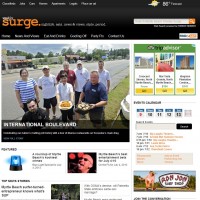 Weekly Surge is Myrtle Beach's alternative weekly newspaper, and the website contains plenty for both visitors and locals. While Weekly Surge presents similar content to other area sites–events, concerts, restaurant reviews–it also provides perspective pieces and commentary on issues happening the area that aren't the focus in the mainstream local news channels, including information about the gay and lesbian community and the "green life" scene in Myrtle Beach. Weekly Surge is a nice blend of a community arts calendar and a true alternative newspaper.[separator]
Myrtle Beach Cycling
http://www.myrtlebeachcycling.com/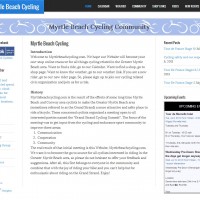 If you are bringing the bikes with you on vacation, or you are a local cyclist looking for a community to ride with, Myrtle Beach Cycling is a great resource for you to check out. The website's main focus is to build community, and many of the posts showcase local group rides happening in the area for all riding abilities. A gander at their detailed calendar shows a community ride happening somewhere on the Grand Strand nearly every day of the week. For those looking to enter the sport, there is a helpful section for new riders. The group of cyclists running the site seem enthusiastic to grow the community, improve bicycle awareness on the Grand Strand, and overall, have fun.