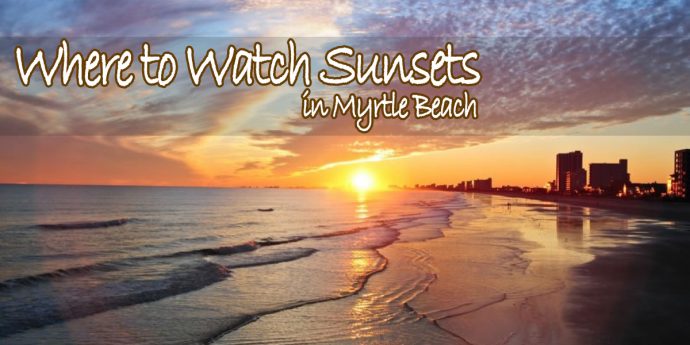 Myrtle Beach is well known for its beautiful sunrises. Since the sun rises in the East, you can get a great view of the sunrise from almost anywhere in the area. Few people realize that you can also enjoy the sunset in Myrtle Beach. You may have to find the perfect spot for it, but once you do you won't regret it. If you are trying to find a great place to watch the sunset, check out these great locations.  First off, following THIS LINK to see WHEN exactly the sun sets in Myrtle Beach.
5) Murrels Inlet
The Mashwalk at Murrels Inlet is a great place to enjoy the sunset. You can catch a meal and enjoy some drinks at one of the restaurants located on the Marshwalk or simply take a stroll to the end of the walk and watch the sun drop behind the Myrtle Beach sky scape.

4)  Myrtle Beach Boardwalk
The Myrtle Beach Boardwalk offers stunning views of the sunset. Enjoy a slice of pizza, ice cream and people watching while you wait for the sun to dip behind the Sky Wheel and the hotels in the background.

3)  The Intracoastal Waterway
If you are on the water in the evening, you can catch a glimpse of the sunset on the Intracoastal Waterway. If you are in the right spot you can even find a view that doesn't include trees or hotels.

2)The Piers
The 2nd Avenue Pier and Cherry Grove Pier offer great views of the water and the beach. It is also a great place to watch the sunset. Make your way to the end of the pier for a great view or enjoy a drink at the restaurant and bar on the upper level.  You can't go wrong with the views and atmosphere.

1) The Sky Wheel
If you are trying to decide when to ride the Sky Wheel, do it at sunset. The Sky Wheel lifts you up high enough to see the sunset easily over the towering hotels. If you are lucky you may even get stuck at the top at just the right moment and watch the sun go down.
BONUS: From your balcony!!!
This one is tricky and it favors itself to only a few condos, and they have to be ocean VIEW on the side of the building and not oceanFRONT (since, you know, the sun sets in the west).  If you have a condo with a west facing balcony, you are in for a nightly treat watching the sun set over the horizon.  A few good examples are Blue Water Keyes.

Myrtle Beach has some of the best scenery and views around and when it comes time for the sun to set, there is still plenty to enjoy. If you want to watch the sun set in the Myrtle Beach area, be sure to try one of these top five locations.