About CondoLux
CondoLux has been in business since 1986, providing vacation rentals, golf packages, and real estate sales to thousands of customers every year. We are a local company based in North Myrtle Beach instead of a corporate office hundreds of miles away. Our CondoLux reviews say it all! We are committed to providing the best experience for our customers and clients.
We offer over 225 Myrtle Beach condos and vacation villas for rental year-round. Our oceanfront and ocean view beach rentals are the best part of any beach vacation. Why rent any old hotel when you could enjoy the luxury of a condo or the privacy of a beach home? Book early—our Myrtle Beach condorentals fill up fast!

Our real estate department has a wide selection of oceanfront condos, beach homes, and commercial lots. All of our listings are conveniently searchable by MLS, and our sales agents are ready to assist you in finding the perfect Myrtle Beach real estate.

We have a dedicated Myrtle Beach golf department for golf packages and tee time bookings. Let our expert golf director handle the hassle so you can relax and enjoy the best of Myrtle Beach's championship golf courses.

Owners, trust your condo or beach home to our professional rental management expertise! Don't let a fly-by-night operation put your bottom line in jeopardy with late payments and broken promises— CondoLux never pays late and is still going strong. Our strong internet presence means your property gets the maximum exposure.
Contact CondoLux
You can contact us through any of the options below, or use our easy contact form!
Toll-Free: 1-800-624-6418
Local: 843-272-2073

CondoLux Vacation Rentals
311 17th Ave South
North Myrtle Beach, SC 29582
Our Office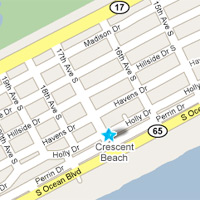 Located at 311 17th Avenue South in North Myrtle Beach, SC, just off of Kings Highway. We also have three other locations in the luxurious Blue Water Keyes and Crescent Keyes, resorts for your convenience.
Office Hours
Monday—Saturday:
9am—5pm
Sunday: CLOSED
**Hours of operation are subject to change due to holidays and special events.**
Keys can be picked up/dropped off after hours in the lockbox on the ground floor level.

Our Websites
CondoLux is always expanding and looking for new ways to serve our customers. Please visit our associated websites for all of the services we offer:
North Myrtle Beach Golf · Myrtle Beach golf packages and golf course information.
Myrtle Beach Beach Houses · Featuring our best beach homes for your beach vacation!

CondoLux is proud to be a part of:
North Myrtle Beach Chamber · Myrtle Beach Chamber · Myrtle Beach Hospitality · Grand Strand Golf Directors Association · Myrtle Beach Golf Holiday