For more information about things to do in Myrtle Beach, visit our Myrtle Beach attractions page!
Myrtle Beach and North Myrtle Beach are cities that are well known for lots of family fun!
CondoLux offers many Myrtle Beach
resort rentals
that are in close proximity to our entertainment theatres, shopping, amusement parks, theme and water parks, golf and restaurants.
Spend your days lounging by a crystal clear pool, or dance the night away at a local night club. Play all day on a championship Myrtle Beach golf course, or stroll barefoot in the sand and surf. If you're searching for that special Myrtle Beach vacation, you'll find it here when you visit North Myrtle Beach, SC!
Unless you live several hours away, you can't possibly begin to see and do what the Grand Strand has to offer in less than a week. This entire area covers about 100 miles along Highway 17, and all parts have their own special charm.
South End of the Grand Strand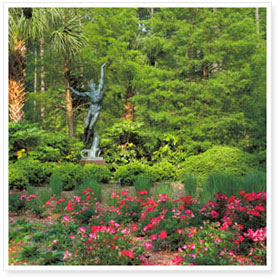 Considered the far south end of the Grand Strand,
Pawley's Island is for nature lovers
. Beautiful private beaches, few tourists, great restaurants, and handmade basketry and hammocks are everywhere. Garden City Beach is small, relatively private, and quite beautiful. Murrells Inlet is surrounded by water and is wonderful for fishing, finding oysters, and again, fantastic seafood restaurants.
Nearby Brookgreen Gardens is an outdoor nature preserve with acres of gardens to walk in which surround some of the most fabulous sculptures in the world. No visitor to the Grand Strand should miss this spectacular place!
Come north about ten more miles, and you find Surfside Beach and its fabulous pier, restaurants, and gorgeous oceanfront State Park, which is kept in its natural state. Near Surfside Beach is Waccatee Zoo, a non-profit home for all kinds of abandoned and unwanted wild animals. You need a day for this too, and the kids will love it.
Myrtle Beach Attractions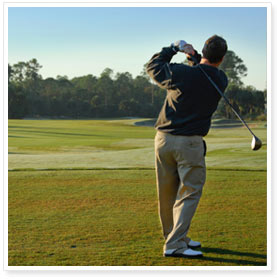 And that brings us to the main attraction—Myrtle Beach itself. Myrtle Beach has an enormous selection of live entertainment, fine dining, golf, shopping, thrill rides, and of course the miles of beautiful beaches. Myrtle Beach is known as the top golf vacation destination in the world, and it earns that name with championship courses, year-round mild weather, and South Carolina's natural scenic beauty. CondoLux offers a selection of Myrtle Beach golf packages perfect for your golf vacation.
For those looking for a thrill, the Family Kingdom amusement park is located right on the beach and located near all of the other Myrtle Beach attractions, and Myrtle Waves water park is great for a family day in the sun. Everything from upscale gourmet to laid-back snacks can be found at the area's more than 2500 local restaurants.
Broadway at the Beach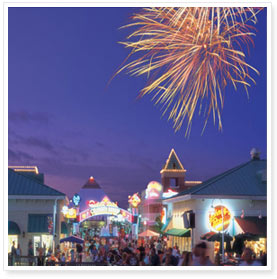 A few miles west of Highway 17 is the newest shopping complex called Broadway at the Beach. Another day long adventure, this area is full of hundreds of specialty stores. Surrounded by water, it boasts an IMAX giant screen theatre, a free pontoon boat ride from one side to another, Ripley's Aquarium, the famous Hard Rock Cafe, Planet Hollywood, and The Nascar Cafe. These are all giant themed restaurants that are to be marveled at—everyone would love to try these famous restaurants once.
Aside from these, inside the complex is some of the best dining to be found in the area: Tony Roma's Rib House, The Liberty Steak House, and The Crab House. The Pavilion Nostalgia Park, with many of the old rides from the former Myrtle Beach Pavilion, is also located here. The Palace Theatre with its famous Le Grande Cirque show is conveniently right next to the shopping complex. People of all ages will love Broadway at the Beach.
Between Myrtle and North Myrtle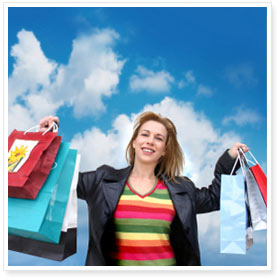 Myrtle Beach South Carolina comes to an end at approximately 86th Avenue North, and as it runs out, our two biggest dinner and entertainment attractions are to be found. Dolly Parton's Dixie Stampede, and The Carolina Opry are quite huge, have great meals, and fabulous entertainment.
Several miles further, you find the area long known as "Restaurant Row." This 1-2 mile area probably has more restaurants than any other area in the Grand Strand. Fine dining is the keyword here. We also have a new Tanger Outlet Mall that is drawing huge crowds of bargain-hunting shoppers.
North Myrtle Beach Vacation Fun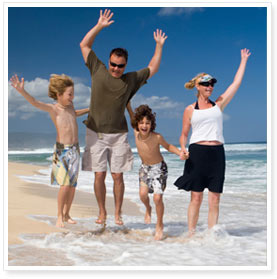 Around 13 miles from Myrtle Beach is the township of North Myrtle Beach. This entire area is less crowded, more condominium oriented, and has wide, white beaches. Most of our condo rentals and beach house rentals are located in this great area.
North Myrtle Beach is comprised of several small beaches: Windy Hill Beach, then Crescent Beach, Ocean Drive, and Cherry Grove. Again, there are hundreds of fantastic restaurants; the House of Blues, famous for its live music; Alligator Adventure, a place that boasts hundreds of reptiles for your perusal; and another water filled shopping annex called Barefoot Landing. North Myrtle Beach boasts some of the most luxurious condo rentals, huge beach house mansions for large groups, and is always the top visitor choice of places to stay. CondoLux can help you find exactly the right North Myrtle Beach rentals for your vacation!
Prepare to become addicted to our beautiful area, and want to come back again and again!