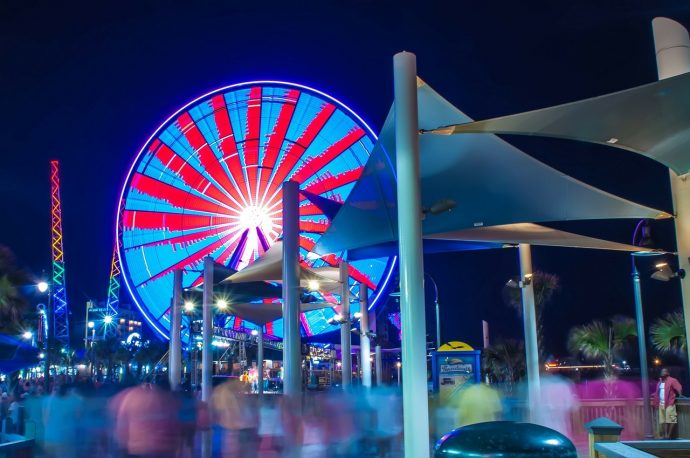 If you haven't started planning your Myrtle Beach vacation, now is the time to do it.  Myrtle Beach will be welcoming a lot of new dining and entertainment options for 2017 and there is something for everyone to enjoy. Spring and summer are just around the corner and you aren't already longing to feel the sand between your toes,  you will be soon. Plan your trip today and get ready to check out all the new things Myrtle Beach has to offer.
New Restaurants
There are already tons of dining options in the Myrtle Beach area, but get ready to enjoy some new ones. For 2017, several restaurants will be opening including Hickory Tavern, Carolina Ale House, Panera Bread, Captain D's, MOD Pizza and RipTydz. Each restaurant offers something different and something for everyone. So whether you want to pick up a quick lunch on your way to the beach or enjoy a sit-down meal at dinner with your family, you can enjoy one of these new restaurants.
New Attractions
With so much to do in Myrtle Beach already, you might be wondering what else the area could possibly offer. Several new attractions will be opening this year including The Track, Pirate Ship Adventures,  and a floating aqua park at North Myrtle Beach Park and Sports Complex. There are also new Escape Room locations and many other attractions that are still under construction but are scheduled  to open later in the year.
New Events
Myrtle Beach always has a variety of events that go on throughout the year. This year there are some ones you may way to check out. There is a hole in one contest being sponsored by EagleWatchGolf  that promises to offer lots of fun and a good payout.  There are also many new concerts coming to the area including Wynonna Judd on March 12, 2017 in The Carolina Opry Theater, Charlie Daniels on March 26, 2017 at The Carolina Opry Theater, and Kenny Chesney on June 9, 2017 at Burroughs & Chapin Pavilion Place. Josh Turner will also be performing on July 14, 2017 at the Alabama Theatre