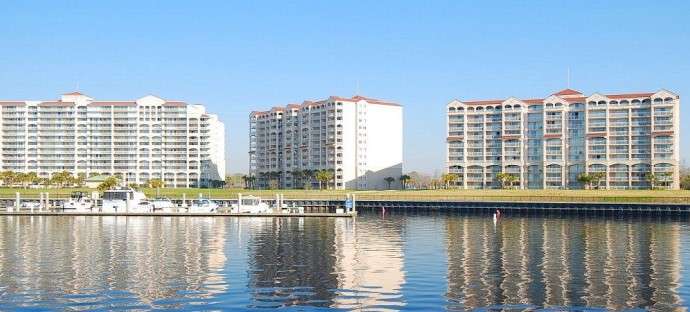 Barefoot Yacht Club Villas
You are here:

Barefoot Yacht Club Villas
Barefoot Yacht Club Villas in North Myrtle Beach is one of the hidden gems of the area. While the resort isn't oceanfront, it still has a LOT to offer for guests. Don't let the location distract you though, it's actually more secluded and peaceful than our oceanfront buildings! The Waterway is quite beauitiful in itself and your balcony has an amazing view of all the boat traffic. To top it off, the HUGE outdoor pool can't be missed. It's a super short walk from the Yacht Club towers as well! Also within walking distance is the restaurant at the marina where you can enjoy a nice meal or drinks overlooking the waterway! Take a look below at more reasons you'll fall in love with these condos!
Search our Condo Rentals
Please Search Above to Find Rentals
What You'll Love About Barefoot Yacht Condo Rentals
HUGE, and we mean HUGE Outdoor Pool - It's one of the largest outdoor pools in the area, 68,000 cubic feet to be exact. Check out the photos below to see just how grand it is! You won't be bumping elbows here, and you'll have plenty of room to swim and relax.
The Marina Bar & Grill - Located at the Barefoot Resort Marina (within walking distance from your condo), you can dine overlooking the Intracoastal Waterway and the beautiful sailboats docked at the marina.
Secluded Location - One of the best features of this condo complex is that it's not located oceanfront. This means you don't have to battle the traffic on Ocean Blvd! It is located behind Barefoot Landing in North Myrtle Beach across the Intracoastal Waterway.
A Waterway View - While you may be tempted to stay oceanfront, but trust us, the view of the Waterway is spectacular as well. Never a dull moment watching the jet skis, sailboats, and other waterway traffic passing by.
Amenities at a Glance
Huge 68,000 Cubic Foot Pool
BBQ Grills on Property
Great Quiet & Secluded Location
Shuttle to Oceanfront Barefoot Yacht Cabana (summer months)
Shuttle to Barefoot Landing (summer months)
Huge Open Rooms & Bathrooms
Tile Flooring & Granite Counters
Amazing Intracoastal Waterway View
4 Championship Golf Courses on Site
Pictures of Barefoot Yacht Club Villas Amenities
Yacht Club Villas Location
Barefoot Yacht Club Villas
Waterway View Condo Rental in North Myrtle Beach
2151 Bridge View Ct
,
North Myrtle Beach
,
SC
29582
33.803592, -78.743556
Common Questions about Yacht Club Villas at Barefoot Resort
How do I access the beach?
Answer
There is a free beach shuttle that will take you to and from the beach available seasonally. Yacht Club Villas has a private beach cabana for guest use a half block south of 46th Ave S on Ocean Blvd. If you are not staying during the season, the easiest route to a public beach access is by heading over the Barefoot Swing Bridge, straight through the light toward the 46th Ave S public beach access.
Are there washers/dryers?
Answer
Yes, the condos at Yacht Club Villas have washers and dryers conveniently in each unit.
Rental Policies & Procedures
Please read our
Policies and Procedures
or
Rental FAQs
regarding our rentals before calling. Many of your questions can be answered on that page. Here you will find information about refunds, cancellations, reservations, check-ins and much more.