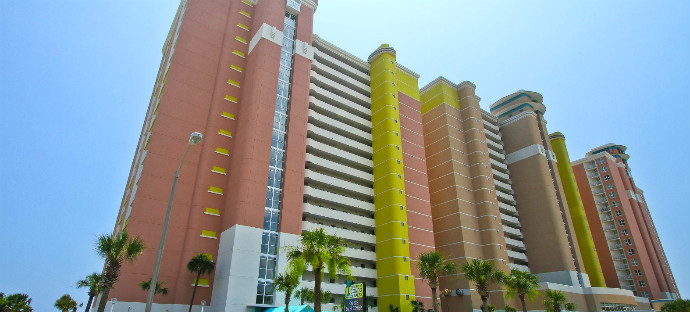 Bay Watch Resort
You are here:

Bay Watch Resort
A magnificent resort! The Bay Watch Resort has so many amenities, you won't be able to experience them all in just one visit! Enjoy your own private condo unit with beautiful views of the ocean, then head outside for a day of relaxation, thrills, and fun. Two oceanfront restaurants, two indoor pools, three outdoor pools, kiddie pools, lazy rivers and more—Bay Watch Resort will provide something for every member of the family or vacation group.
Search our Condo Rentals
Please Search Above to Find Rentals
1 BR Oceanview
2 BR Oceanview
3 BR Oceanview
4 BR Oceanview
1 BR Oceanfront
2 BR Oceanfront
3 BR Oceanfront
4 BR Oceanfront
What you'll love about The Bay Watch Resort
So Many Pools This resort includes two indoor pools, three outdoor pools, four outdoor hot tubs, two indoor hot tubs, two outdoor lazy rivers AND an indoor lazy river. Whatever you do, don't forget your bathing suit when visiting the Bay Watch.
Great Food The Bay Watch Resort features three wonderful onsite restaurants that everyone will surely love. Whether its breakfast, lunch, dinner, or drinks to enhance your poolside relaxation, the Bay Watch has you covered.
WiFi Of course free wireless internet is included with your stay in Bay Watch, so pack that tablet or laptop!
Game Room Who doesnt love a good old fashioned game of PacMan? Bay Watch Resort also has a game room that everyone can appreciate. Let the kids have their fun setting the high score during the day, then slip down after they go to sleep and take a crack at it yourself.
Fitness Keep fit at The Bay Watch Resort! Taking a long walk or run on the beach can be a great way to find out about all the happenings going on in North Myrtle Beach. Continue to feel the burn in the onsite exercise facility before you venture out to your favorite place to eat!
Amenities at a Glance
Two Oceanfront Restaurants
Two Indoor Pools
Indoor & Outdoor Hot Tubs
Three Outdoor Pools
Indoor & Outdoor Kiddie Pools
Indoor & Outdoor Lazy Rivers
Fitness Center
Game Room
Covered Parking
Spacious Accommodations
Free WIFI
All Non-Smoking Units
All on-site amenties, including pools, fitness room, parking garage and elevators are maintained by Oceana Resorts.
Pictures of the Baywatch Resort Rental
Explore the Area
Bay Watch Resort
Oceanfront condo in North Myrtle Beach
2701 South Ocean Blvd
,
North Myrtle Beach
,
SC
29582
Reviews from Guests at Baywatch
Total Rating of
Bay Watch Resort
:
4.19

palm fronds - based on

26

reviews
The profesionalism of the staff and customer service was of a high standard and any concerns we had were taken care of in a timely manner. I have been staying with Condolux since the mid 1980's and am looking forward to another visit to the area and using their services again!
4/ 5 fronds Paul Stacey
We had a glorious time. The Condo building was quiet and relaxing. The beach was beautiful. The condo itself was exactly as the pictures depicted on the website. We had a beautiful view from our tenth floor condo. We liked the area very much ... we are very likely to return again.
5/ 5 fronds Jennifer Verburg
Convenient, very clean and comfortable accommodation. Reliable, friendly, knowledgeable booking staff. Definitely a repeat destination and service for me.
5/ 5 fronds Ron MacIsaac
The staff at Condolux was very helpful and we will use them again, but we will not stay at Baywatch Resort again. I had a very bad experience with the condo we rented at the Baywatch Resort. I would not recommend staying at this resort ever! The unit was nice, but the resort was not helpful at all!
2/ 5 fronds Cindy Taylor
I found that my experience with Condolux to be stress free and enjoyable from the time of booking to departure. Any questions that I had were either answered via their website or in person. The unit was a little small in the dining area if there are more than 3 people.
4/ 5 fronds Katherine McIntyre
CondoLux has been our preferred choice for beach rentals and will continue to be, now more than ever.
4/ 5 fronds Robert Whitlow
We just returned from staying at Bay Watch. Everything was great. Thank you for making the trip nice and affordable.
4/ 5 fronds Theresa Sholts
I found that my experience with Condolux to be stress free and enjoyable from the time of booking to departure. Any questions that I had were either answered via their website or in person. The unit was a little small in the dining area if there are more than 3 people.
4/ 5 fronds Katherine McIntyre
Condolux was super easy to deal with. Entire process done online and very easily. Condo was fabulous. Would stay there again in a second!
5/ 5 fronds Randi Tolhurst
Outstanding vacation, great sight of the ocean, very clean condo and service I would qualify 5 stars. Just great for a good time.
5/ 5 fronds Pierre Bombardier
The on-line booking system is very easy to use. Confirmation is received immediately. Upon checking in, the staff was very friendly and even allowed us to obtain the keys to our unit earlier since the condo was ready. We have booked with Condolux in the past and will continue to use their services in the future!
5/ 5 fronds Randy Lawrence
Great sized condo for the 4 of us, beautiful view and CondoLux were excellent to deal with. Would highly recommend staying here.
4/ 5 fronds Beverly Veitch
keys are the worst part of the room. I needed a key card and a key to get in the room.
4/ 5 fronds steve filliez
The Ocean view is the Best!! We love the waves rushing up against the shore. It is so relaxing. We loved the restaurant and gift shop at Bay Watch as well as all the hot tubs and lazy rivers. The check in process is really smooth and quick. Condolux takes a lot of effort to put the customer first so they have a great stay.
3/ 5 fronds Patricia Thomas
My wife and I have used Condolux for years have stayed in several locations and have always had very good experiences. The staff is very helpful their condos are always in good shape and the few times we have had an issue the staff has done their very best to help. We will positively book through them again.
4/ 5 fronds Ray Deruyter
Baywatch room 1612 is a wonderful condo. The view from the living room and balcony is spectacular. The condo was very clean besides a mildewed shower curtain. Easy to find and close to a lot of restaurants and entertainment. I wouldn't hesitate to return to this condo.
4/ 5 fronds Jonathan Houlehan
The unit we stayed in was laid out very nice and was also very comfortable we would stay there again. Staff was very nice and very helpful with anything to meet your needs.
5/ 5 fronds Tony Tucker
We do enjoy the location and the lay out but their have been no upgrades to the furniture, carpets, bed and the washer and dryer and the living room TV.
3/ 5 fronds Bruce Veinotte
We had a very positive experience with Condolux. It was friendly and efficient. We will definitely book with Condolux again.
5/ 5 fronds Robin Doyle
Great place. First impression of room not great but we adapted well. The whole experience was wonderful. Loved the poolside activities. Need to shock pools maybe a little more often.
5/ 5 fronds Susan Dockery
It is so easy to book a great vacation with Condolux! All the information is explained in easy to understand detail right on their website, and the accommodations are excellent! We've never had a problem in the 5 years we've booked through Condolux. My family and I will return for many years to come.
5/ 5 fronds David Withrow
Overall experience was great and would stay at a rental Condolux provides.
4/ 5 fronds Eric Sheffield
We stayed in this unit last year. Its time to paint, fix broken things, fix door knob - it sticks, upgrade tv's. Ok, but unit needs work.
2/ 5 fronds Steve D Filliez
CondoLux did a fantastic job and we were not disappointed at all. Just be aware that Baywatch doesn't allow CondoLux renters to take advantage of certain things since you didn't book through them. Baywatch Staff was very friendly and professional though. Can't go wrong with CondoLux. Everything went smoothly and they even stayed past 5:00 as we arrived about 10 minutes late due to traffic. That was a huge feather in their hat. Kept us from having to drive back to the office on Monday and interrupting our activities.
4/ 5 fronds Chris Barcus
The room was awesome and it was very clean.
5/ 5 fronds Wendy pearson
We had a great time. Unit was very nice, had a great view of the ocean and beach, and in a perfect location.
5/ 5 fronds Cecilea Dweck
Frequently Asked Questions about Bay Watch
Are any of these units pet friendly?
Answer
We do have a pet friendly 1 bedroom unit at the Baywatch Resort. For details or more information, please call us at 800 624-6418
Where do we Park?
Answer
There is a parking garage across the street from the building by the south tower. There is also public parking by the North Tower.
Rental Policies & Procedures
Please read our
Policies and Procedures
or
Rental FAQs
regarding our rentals before calling. Many of your questions can be answered on that page. Here you will find information about refunds, cancellations, reservations, check-ins and much more.