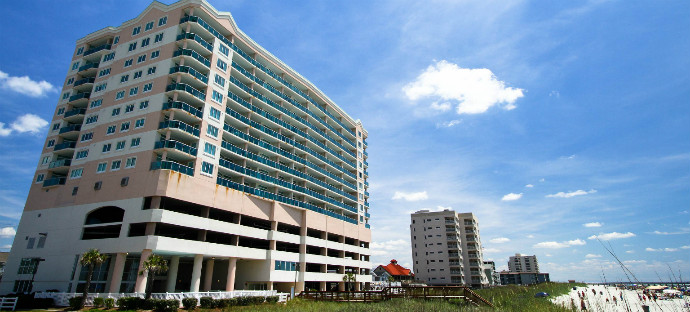 Laguna Keyes
You are here:

Laguna Keyes
Laguna Keyes, the sister resort to Crescent Keyes and Blue Water Keyes, offers the same high quality of units and amenities that you expect from Keyes resorts!
You'll notice a difference when it comes down to the details.
Enjoy the luxury of Laguna Keyes with great amenities like an oceanfront swimming pool, kiddie pool, indoor heated pool, a lazy river, two spas, Jacuzzi tubs, washers and dryers, an exercise facility and even a parking garage!
Check out this luxurious condo—you won't be disappointed!
Search our Condo Rentals
Please Search Above to Find Rentals
1 BR Oceanview
2 BR Oceanview
3 BR Oceanview
4 BR Oceanview
1 BR Oceanfront
2 BR Oceanfront
3 BR Oceanfront
4 BR Oceanfront
Things you'll love about Laguna Keyes
Oceanfront exercise facility. For those who enjoy staying fit on vacation, Laguna Keyes features one of the best excersice rooms around. Large and spacious, with a view facing the ocean. Take advantage of the treadmill, while watching the sunrise, or watch the waves while lifting weights! The equipment, space and ocean view, will make your workout extra special.

Spectacular views. Laguna Keyes is located on the north end of Cherry Grove, and offers amazing views of the ocean, as well as the inlet and marsh. This particualr area is also known for being more residential, so you wont have your views blocked by a bunch of other buildings.

Secluded retreat. Laguna Keyes is situated in area, where you can have a secluded retreat, but still have access to everyday conveniences. Why not take advantage of staying the in the residential area of Cherry Grove, where you will have a quiet, beautiful getaway, and still be close to a selection of restaurants, without having to face the crowds in the heart of North Myrtle Beach.
Stunning balconies. If you're looking to spend a lot of time on your balcony, with unobstructed views, Laguna Keyes is the place for you! The balconies feature glass railings, which provide magnificent views not only stretching up the coast, but also the Cherry Grove inlet and marsh. Lounging on your balcony, and taking in the sunrise, is a memory you will never forget!
Amenities at a Glance
Ground floor oceanfront swimming pool and kiddie pool
Ground floor indoor heated pool
6th floor lazy river, kiddie pool, and 2 spas
Third floor private exercise facility
Washers, dryers, and Jacuzzi tubs
A five-level parking garage is located in the building for the convenience of renters
All units have cable TV and high speed wireless internet service
All units are Non-Smoking
All on-site amenties, including pools, fitness room, parking garage and elevators are maintained by Ally Management.
Laguna Keyes Floorplans
Video Tour of Laguna Keyes in Cherry Grove
Laguna Keyes on the Map
Laguna Keyes
Oceanfront Condo in North Myrtle Beach
5700 N Ocean Blvd
,
North Myrtle Beach
,
SC
29582
33.838225, -78.610537
Reviews from CondoLux Guests
Total Rating of
Laguna Keyes
:
4.51

palm fronds - based on

35

reviews
We did have a very relaxing stay at Laguna Keys. The condo building is well maintained and cleaned regularly. The area is quiet but close enough to allow you to jump on your bike and ride out to dinner if you want too. I would suggest that verbiage be added to the checkin or reservation materials that tells where the bike racks are. The racks are on the 2nd level of the parking deck and if you park on the first level like we did you assume that there are none. We locked our bikes to a pole and a staff person was nice enough the next day to tell us that we couldn't keep our bikes there they would need to be moved to the second level where the racks are. I thanked him as we knew nothing about the racks since we parked on the 1st level for our entire stay. Condolux was good to work with and the staff was very friendly. Our unit was nice and had a great view of the beach. We would definitely come back and stay at Laguna Keyes again. Building maintained and very clean and secure.
4/ 5 fronds Tina Maxim
We had an excellent time. Already thinking of next year.
5/ 5 fronds Mary Sykes
Our family was 100% pleased with our stay at Laguna Keyes unit 801. We had looked around for some time at rentals online trying to find one that would be a good fit. We were pleasantly surprised to find upon arrival that the unit was not only extremely clean but even more beautiful than the pictures. Our three year old loved the indoor and outdoor pools, not to mention the indoor pool stays at 80 degrees year round. We had not stayed in the cherry grove section of north myrtle before and loved how quiet and peaceful it was while still being close to everything. Thank you again condolux for helping us make memories we will cherish for years.
5/ 5 fronds Leanna Clark
Unit was even better than expected. Owner has clearly thought about all the things which could make a stay even better; eg. Laundry baskets in each bedroom, an abundance of place settings of dishes, glasses, including many wine glasses. Great unit!
5/ 5 fronds Hilary Johnson
CondoLux is a very professional service. They list a wide variety of rental units. We have been booking through CondoLux for years and have always been very satisfied.
5/ 5 fronds Andrew Panek
Glass balcony makes Blue water, Crescent and Laguna Keyes the most desirable units on the beach for us. All the exercise rooms function for the beginner or advanced fitness buff alike. Ask for info on recently furnished units to avoid comfort disappointments. Down payment and remaining payment within 30 days of arrival is a great financial help. Staff has improved in friendliness. Experience was good. Will book with you again.
4/ 5 fronds EDWARD R. BROOME
we stayed at Laguna Key's ph7 it was very nice and clean beds we're extremely comfortable. We book with condo lux often your properties & rate's seem to be the best.
5/ 5 fronds kathleen crone
Over all nice unit
4/ 5 fronds Douglas Kizer
Very satisfied with our unit and our stay. Everyone was very polite, very family oriented, quiet and a great place for the kids to play.
5/ 5 fronds Donna Fortner
Excellent, courteous and responsive staff at Condolux. Best service we received since going to MB for over 18 years.
4/ 5 fronds Mariane Manoli
My family and I had an awesome time. The condo was very nice and relaxing, it made you feel as if you were at home!
5/ 5 fronds Kimberly Rembert
Just wanted to tell you that we thoroughly enjoyed our vacation which we booked through CondoLux. It was our first time using you. It was also our first time in Cherry Grove Beach and we will definitely be back; it was one of our best.
4/ 5 fronds Sandi Miller
Just wanted to let you know that we just returned home from our vacation at Myrtle Beach. We had originally booked our vacation in Gulf Shores, but cancelled due to the oil spill. We had never gone to Myrtle Beach before. We rented a condo at Laguna Keyes and was very excited with our stay! The condo that we rented was very nice! The complex was very clean and well maintained. I know that we will want to return in the near future!
5/ 5 fronds Brenda Junkins
I wanted to write to you and tell you that our experience this year was much better than last year. The condo was very clean and more on the line of what we have come to expect from CondoLux rentals.
4/ 5 fronds Linda McCullough
What an awesome condo! The unit was clean, decorated beautifully, had all we ever needed, wonderful view, and comfortable! Our whole family enjoyed ourselves at Laguna Keyes. Can't wait to come back next summer! The lazy river on the 6th floor was enjoyed so much as well as the pool.. and great access to the beach! Loved it!!!"
5/ 5 fronds Janet Stillman
Just got back today from our stay at Laguna Keyes. What an awesome Condo! The unit was clean, decorated beautifully, had all we ever needed, wonderful view, and comfortable! Our whole family enjoyed ourselves at Laguna Keyes. The lazy river on the 6th floor was enjoyed so much as well as the pool.. and great access to the beach! Loved it!
5/ 5 fronds Robin Rosher
we had great experience with renting thru Condolux. Second year at Laguna Keyes and it is very nice, well kept and the unit was nice and comfortable and the pool area and hot tubs are very well kept and clean. Love the balcony!
4/ 5 fronds EVERETT GRASS
Great stay! Place was quiet, very clean. and fully stocked with dishes, silverware and pots/pans. Easy check-in/check out. Shopping carts made the move in/move out piece of cake!
5/ 5 fronds David Andersen
Condo was very clean and up to date. We had a great time. Very nice condo. I loved having a washer and a dryer in the room. Beautiful condo! I was very impressed with the condo in 903. It was clean and immaculate. Decor and furnishings were clean and up to date. We had nine people and it was just a great stay.
5/ 5 fronds Pat Jerome
Generaly condolux peopledo their best, there are just things need to be replaced after a number of thing are worn out. The condolux people did all they could to make our stay a success.
4/ 5 fronds Emil Madorin
First off the layout of the condo was great. The view was wonderful. The asthetic of the place top notch...However, the place needed a little TLC. The chairs were dirty and the pots and pans were well worn. It should probably need to be noted to the renter that you only get one roll of TP, no paper towels(or kitchen towels) and one trash bag to get you by 5-7 days of your rental. For the ammount charged one would think those might be included. If it was on the website or the rental agreement I missed it. If so my apologies. I would still rent again but now I know what is not included.
4/ 5 fronds Sylvia Hall Johnson
This is our 4th year in a row booking through Condolux. Their staff is excellent when it comes to customer service and helping you out with any detail of your trip-- from booking until checkout! I'd recommend Condolux 110%!
3/ 5 fronds Lora Humphreys
Laguna Keyes 607 is a wonderful unit for a couple. The unit has an amazing view of the ocean from the entire condo. The building was also nice. Pools & hot tubs were very enjoyable. Look forward to staying there again.
5/ 5 fronds Daniel Miller
Condolux was wonderful and the experience was great. I would lease from Condolux every time I go to Myrtle Beach. Thank you Condolux for your expertise.
5/ 5 fronds Deborah Windover
It's our second time staying with you and we will definitely be coming back! Our unit was exactly what we wanted and needed, we are very happy dealing with CondoLux!!
4/ 5 fronds Tiffany Ouellette
I'm a repeat customer of Condolux because they are the best value, have great locations for their condos, and the staff are friendly and knowledgeable. Not all units are the same, and not all owners are the same, but I can say with confidence even the "worst" condo we've rented from Condolux has out-paced other rental agencies "luxury rentals".
3/ 5 fronds Michael Grooms
My experience with Condolux has been great. If an issue arises, they respond and do what they say they will to resolve it. They have a good selection of condos and their website is easy to use.
4/ 5 fronds Tim Jensen
I would use Condolux in the future because the service was great, the stay was pleasant, and the accommodations were convenient.
5/ 5 fronds Gwen Ward
We were very happy with our condo! And anytime prior to our check-in when I had questions for the Condolux staff they were always quick to respond and very courteous. Anything I asked, you all were right on it.
4/ 5 fronds Sarah/Christole Lane/Kindred-Lane
This was the best vacation! The kids loved the pools and the lazy river. The condo was perfect!
5/ 5 fronds Rebecca Hamilton
Laguna Keyes unit 703. Wonderfully clean and spacious unit. Lovely views from clear rail balcony on a wide, quiet beach. Appliances were top notch & beds quite comfy. We would definitely go back! 5/5 for the condo. Easy rental process with CondoLux.
5/ 5 fronds Wendy Harris
This rental lives up to show place rental.
5/ 5 fronds Robert C Snyder
Had great time . Liked rental unit. Condolux great. We have used them for many years.
4/ 5 fronds Jack Mclaney
The unit we stayed in was very clean. You could tell the unit was lived in, which made you feel more like home, not a museum piece. We had one incident, the water heater burst which flooded the elevators and left us without hot water for a day and a half. We also had to walk up the steps, we were on the eighth floor! They got the one elevator working overnight, but it had to be manually operated by the staff. They had it working on its own the next day. This was not the fault of condoLux, and was handled promptly. We were very satisfied with your service, and felt the unit was clean and nice. It was an ocean view room, but you had a clear view of the ocean and pier. The gym and indoor pool were clean and well kept. The only drawback is you must cross an outdoor walkway to enter the indoor pool, you cannot access the pool without going outdoors. This is a little uncomfortable on a cold day. All in all, we were very satisfied with out stay, and will likely book with you again.
5/ 5 fronds Richard Heiser
5/5 without hesitation Condo 903, 5700 North Ocean Blvd, North Myrtle Beach, Cherry Grove Beach Our vacation condo is just a wonderful paradise! After four years, the experience remains magical and complete. Our balcony on the 9th floor, allows us the desired privacy, from which, we face the sea that rocks us with its continuous waves. What to say about the interior ? It is very clean and sumptuous, with three large bedrooms and a fully equipped kitchen. As golf enthusiast it is impossible for us to count all the courses, it is surely possible to change golf course every day for 30 days! What is missing... Nothing, except an another month of vacation.
5/ 5 fronds Jean Joly
Frequently Asked Questions about Laguna Keyes
How many keys will I get?
Answer
The standard rule for the number of keys given out, is 1 key per bedroom, such as a 3 bedroom unit will have 3 keys. The only exception is the 1 bedroom units, which will be provided with 2 keys.
Are there any grocery stores or restaurants nearby?
Answer
Yes! Although Cherry Grove is the most northern section of beach in North Myrtle Beach, you still have access to great restaurants and a grocery store. Sea Mountain Hwy, in Cherry Grove is home to Boulineau's IGA grocery store, as well as beach wear stores and souvenire shops. Cherry Grove is also home to several great "local" restaurants, such as The Shack and Duffy Street Seafood Shack.
Rental Policies & Procedures
Please read our
Policies and Procedures
or
Rental FAQs
regarding our rentals before calling. Many of your questions can be answered on that page. Here you will find information about refunds, cancellations, reservations, check-ins and much more.