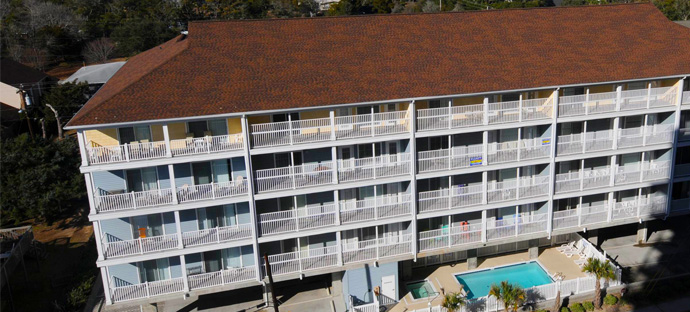 Ocean Boulevard Villas
You are here:

Ocean Boulevard Villas
Ocean Boulevard Villas is one of our largest condos yet, and it has everything you need for a great vacation with a group of any size! With eight bedrooms included, you can accommodate a group as large as 18—share a vacation for business travel, a family get-together, or a Myrtle Beach golf getaway. With this many rooms, you have endless possibilities. You and your guests will enjoy an outdoor pool, jacuzzi, extra large balcony, covered parking, elevator, HDTV and two refrigerators. There is even a Jacuzzi garden tub in the master suite. And it's all just a short walk away from the beautiful Atlantic Ocean. Book your place today at Ocean Boulevard Villas!
Search our Condo Rentals
Please Search Above to Find Rentals
1 BR Oceanview
2 BR Oceanview
3 BR Oceanview
4 BR Oceanview
1 BR Oceanfront
2 BR Oceanfront
3 BR Oceanfront
4 BR Oceanfront
What you'll love about Ocean Blvd Villas
Located directly across from the beach and close to local attractions. Located in the popular area called Crescent Beach. Here the beach is extremely wide with fine white sand! These condos have large balconies off the living area and 4 of the king bedrooms also offer beautiful views. Only moments away from Main St. in North Myrtle Beach, this area offers many close by restaurants, shops, and also is close to an amusement park on the Ocean. Also during the summer you are within walking distance to water sports situated at the end of 17th Ave. South and the villa is on the corner of 14th Ave. South so you can walk down the beach and go para-sailing or for a banana boat ride!
Picnic/BBQ/ Grilling area onsite. There is a spacious grilling area with 5 outdoor charcoal grills! Perfect for your large group to spend the day creating great memories.
A great mix of everything you expect from a vacation. If miles of gorgeous sand and ocean views aren't enough, In addition there are nice public Tennis courts at 2 parks very close to the Ocean Blvd Villa! There are tons of golf courses close to the villa as well as miniature golf courses!
Fantastic Amenities. The Ocean Blvd Villas are just across the street from the beach with a nice easy beach access. Watch the waves roll in from your gorgeous oversized balcony! In the evening enjoy the onsite hot tub that is available for your use all year long. During the sizzling summer days take a dip in the villas refreshing pool.
Amenities at a Glance
Outdoor pool
Jacuzzi
Deluxe kitchen appliances
Extra-large balcony
Covered parking
Elevator
HDTV
3 Charcoal Grills
Picnic Table
Motorcycles Not Allowed
All Non-Smoking Units
Vacation Ocean Boulevard Villas Condo Rental Photos
View Map of Ocean Boulevard Villas Condo Rental
Ocean Boulevard Villas
Condos in North Myrtle Beach
1401 South Perrin Drive
,
North Myrtle Beach
,
SC
29582
33.810610, -78.694008
Guest Reviews at Ocean Blvd Villas
Total Rating of
Ocean Boulevard Villas
:
5

palm fronds - based on

2

reviews
I enjoyed the view. The price was reasonable, and the staff was friendly. It's worth booking through this agency. You won't be disappointed!
5/ 5 fronds Neko Dozier
We had a great experience with Condolux. No complaints.
5/ 5 fronds Carolyn Brown
Frequently Asked Questions about Ocean Blvd Villas
How many Parking Passes am I allowed?
Answer
Due to restictions with the HOA, the maximum number of allowed parking per unit is four.
Is it difficult to get to the beach?
Answer
No, Ocean Blvd Villas is right across from the beach. This section of Ocean Drive is not busy, and very easy to cross, where you will then find a beach access leading to right to the ocean.
Rental Policies & Procedures
Please read our
Policies and Procedures
or
Rental FAQs
regarding our rentals before calling. Many of your questions can be answered on that page. Here you will find information about refunds, cancellations, reservations, check-ins and much more.