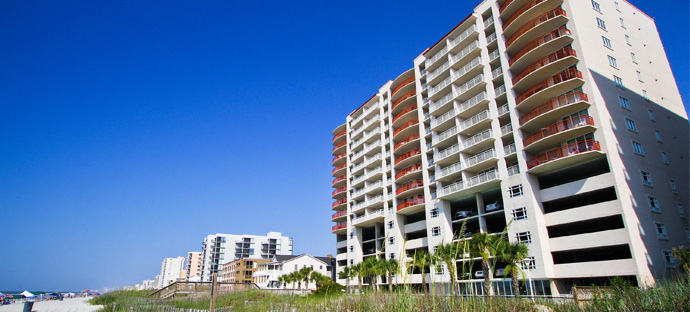 South Shore Villas
You are here:

South Shore Villas
This amazing oceanfront property boasts all the great amenities you look for in an exciting beach vacation. Enjoy the luxury of a heated outdoor swimming pool, lazy river, outdoor Jacuzzi, indoor pool, and of course the beautiful Atlantic ocean only steps away. Don't you deserve a beach getaway like this? Other amenities to round out your stay include granite countertops, an indoor pool and a fitness center. Relax in style at this great oceanfront resort!
Search our Condo Rentals
Please Search Above to Find Rentals
1 BR Oceanview
2 BR Oceanview
3 BR Oceanview
4 BR Oceanview
1 BR Oceanfront
2 BR Oceanfront
3 BR Oceanfront
4 BR Oceanfront
What you'll love about South Shore
Stay fit while on vacation. While you are enjoying your wonderful stay at South Shore Villas you don't have to worry about leaving the gym behind!! South Shore Villas has a large, very nice fitness room everyone will surely love while they are exercising by the beach.
Recently updated and retouched. In 2005, South Shore Villas went through renovations to give the entire building a more modern and homey feel to it. The family will love how fresh and new the rentals at are.
Large balconies for relaxing. South Shore Villas has very spacious private balconies for each unit. This is a wonderful place to relax after a fun day at the beach with friends and family.
Onsite parking. At South Shore Villas you can be close your car with parking below in the same building. Most of the units in Myrtle Beach have parking that is across the street from the building itself. But don't worry you can be super close to your car with easy access to it for when you want to make a quick shopping trip.
Amenities at a Glance
Oceanfront pool
Lazy river
Outdoor Jacuzzi
Indoor pool
Granite countertops
Washer/Dryer
Whirlpool tubs
Private balconies
Exercise room
Parking deck
2 Elevators
All Non-Smoking Units
All on-site amenties, including pools, fitness room, parking garage and elevators are maintained by
The Noble Company
.
Watch Video of South Shore Villas - Condo in North Myrtle Beach
South Shore Villas Condo Rental Photos
Map View & Area Things to Do!
South Shore Villas
Oceanfront condo in North Myrtle Beach
1401 South Ocean Blvd
,
North Myrtle Beach
,
SC
29582
Reviews from CondoLux Guests
Total Rating of
South Shore Villas
:
4.73

palm fronds - based on

15

reviews
We have used condolux for many years and have always been very satisfied with the service and units that we have stayed in. I appreciate the fact the units are always clean and the beds are made and ready for us after a long trip. The staff has always been very helpful. Hope to see you again many times!
5/ 5 fronds Larry Siddle
Really enjoyed Our stay.Condo Was Awesome and clean.Checkin Was Fast. staff was very Courteous.
4/ 5 fronds Charlene Nix
I believe it's great that you can pay ahead for the unit and when you check-in everything is already done, makes the check-in procedure very quick. The unit we rented was so nice, clean and very spacious. We felt very @ home.
5/ 5 fronds Joy Barney
Unit was perfect for our family. The staff at the Condolux office was wonderful and made the check in/check out process seamless.
5/ 5 fronds Melanie Stevens
The condo was just like the pictures, it had tons of space for our family and the location was awesome!!! It was a great experience, will book with Condolux again in the future!!!
5/ 5 fronds Tina Fulgencio
I spoke with the owner of the unit when he called. It was the nicest unit we have ever stayed in. We have stayed at Crescent Keys, Malibu Pointe and various South Shore units in the past.
5/ 5 fronds Carol Whetstone
I was impressed with how the condo was just like the image on the web-site of the room. Although once I walked into the condo...It was SO MUCH BIGGER than I thought. The 4 Bedroom are nice! It was quiet and peaceful. The pool was warm & Hot tub was incredible!
5/ 5 fronds Jennifer McCormack
4 bedrooms, 3 baths, 5 TV's, well-stocked kitchen, great location with ocean view to watch an early glorious sunrise with your coffee on the balcony ... who could ask for anything more except a longer stay?
5/ 5 fronds Peter Wiwczaruk
Loved this unit, especially the décor. The owners have put a lot of beautiful touches in this condo and really made it feel cozy.
5/ 5 fronds Jean Stump
When we stay in the Myrtle Beach area, Condulux is our preferred choice to find a rental unit. The staff is courteous and helpful and the inventory of rental units gives us many quality condos to choose from. Our rental until was modern with up to date appliances and clean and ready upon arrival. We felt at home while we were there.
5/ 5 fronds Peter Schaffhauser
We brought our whole family to N Myrtle Beach. It was great fun to be able to stay in the same condo, fix meals and be comfortable. Great experience!
5/ 5 fronds Judy Brauns
I was very impressed with all the gals I talked with on the phone and those I met when checking in and out. Everything ran quite smoothly. The one concern I called about was given immediate attention and we really appreciated that. I definitely would recommend CondoLux and look forward to using them again.
5/ 5 fronds Donna Raines
From booking our unit online to the check in and check out process, our experience was first class. The unit we rented was as advertised and allowed my family to have a wonderful vacation. We will definitely use Condolux in the future for our vacation needs.
4/ 5 fronds John Hickman
CondoLux made it very easy to book online, smooth check-in, unit was one of the nicest I have rented.....second time I have rented with CondoLux, will use them again!
4/ 5 fronds Sonia Goldman
We had a great stay. In person even better than pics online. Condo seemed updated and beds slept great.
4/ 5 fronds Geneva Ramsey
Frequently Asked Questions about South Shore
Rental Policies & Procedures
Please read our
Policies and Procedures
or
Rental FAQs
regarding our rentals before calling. Many of your questions can be answered on that page. Here you will find information about refunds, cancellations, reservations, check-ins and much more.