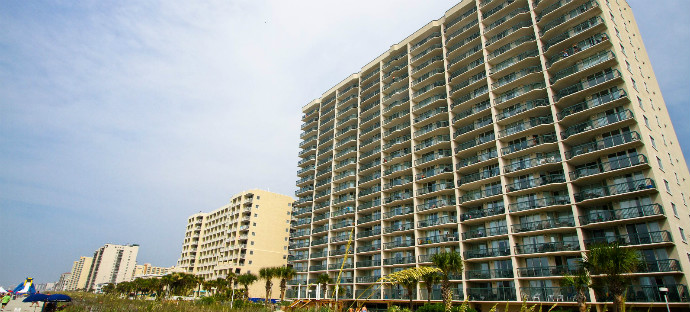 Ashworth
The Ashworth Resort has everything you need for a memorable Grand Strand vacation! Are you looking for an oceanfront swimming pool, oceanfront jacuzzi, and lazy river? How about a kiddie pool, wireless internet access, and a fitness room? Look no further, because The Ashworth has it all! Located in the quieter Ocean Drive section of North Myrtle Beach, this luxury resort condo is just close enough to Myrtle Beach for you to enjoy all the attractions, but just far enough from the usual traffic and congestion to make your vacation a peaceful one. Fabulous amenities and a great location—you can't go wrong with The Ashworth Resort!
1 BR Oceanview
2 BR Oceanview
3 BR Oceanview
4 BR Oceanview
1 BR Oceanfront
2 BR Oceanfront
3 BR Oceanfront
4 BR Oceanfront
Things you'll love about The Ashworth
Right in Ocean Drive. You couldn't ask for a better location than The Ashworth, right in the heart of Ocean Drive! Enjoy the excitment of Main St, all within walking distance, and a favorite among shaggers for the convenience of slipping over to Fat Harolds to dance the night away!

Great water amenties. Looking for great water amenties? Look no more! The Ashworth features an outdoor oceanfront pool, kiddie pool, jacuzzi, along with a 600 ft long lazy river! What about rainy days? No problem. You can still splish and splash all day long in the indoor pool.
Oceanfront views. Enjoy the fabulous views of the Atlantic from your private 25ft long balcony. You won't be disappointed! Wake up early and enjoy the sunrise or spend an evening relaxing with friends and family watching the waves crash, this is how memories are made!
Fitness center. The Ashworth is also home to an awesome fitness center so you stay fit while on vacation. Take your pick from the numerous pieces of equipment featured and stay entertained with one of the many wall mounted televisions.
Amenities at a Glance
Indoor Pool
Oceanfront Outdoor Pool
Kiddie Pool
Oceanfront Jacuzzi
600-ft Lazy River
Wireless Internet
Exercise Room
Washer/Dryer
25-ft Private Balconies
Next to Ocean Drive Main Street
All Non-Smoking Units
All on-site amenities including pools, fitness room, parking garage, and elevators are maintained by
The Noble Company
.
Watch the Video of this North Myrtle Beach Condo
This Rental on Our Interactive Map
Ashworth
Oceanfront Condo Complex in North Myrtle Beach
102 N Ocean Boulevard
,
North Myrtle Beach
,
SC
29582
Guest Reviews of Ashworth
Total Rating of
Ashworth
:
4.71

palm fronds - based on

24

reviews
Loved the unit and would definitely get the same unit again. Very well pleased with CondoLux...from check-in to check-out.
5/ 5 fronds Donna Brown reviewed on Aug 21, 2014
Second time renting this condo. will again.
5/ 5 fronds Randall Paul reviewed on Oct 31, 2013
A very thoughtful service at the beginning and at the end of the vacation. We were pleased with all the amenities at the Asworth 1206.
5/ 5 fronds Nicole Maltais reviewed on Dec 5, 2013
Condolux experience was great. Hot tub at Ashworth did not work for 2 days and I had to complain to the maintenance manager to get it fixed.
4/ 5 fronds Russell Dalrymple reviewed on Mar 19, 2014
Great customer service. Easy to work with to get the tee times we were looking for (initial and replays). The golf package had great value with free lunches and replays.
5/ 5 fronds Jack Neary reviewed on Mar 19, 2014
Nice unit. We would stay in this unit again.
5/ 5 fronds Mike McClure reviewed on May 14, 2014
My unit was beautifully decorated and the view was breathtaking. It was so worth the stay!! Absolutely the most beautiful condo we have stayed in!! Ashworth is the greatest!!
5/ 5 fronds Wendy Lowe reviewed on May 28, 2014
I have booked through Condolux for over ten years now, and I have never been disappointed by the booking process and subsequent follow-up communication. With the exception of one year only, I have always appreciated the oceanfront units at the Ashworth.
5/ 5 fronds Beverly Lins reviewed on Jun 16, 2014
A great Family vacation at the Beach! Condo was great, amenities were good, and staff was very friendly! Hope to do it again.
5/ 5 fronds Theresa Bailey reviewed on Aug 7, 2014
We had a great time. It was our first time to Myrtle Beach. The unit we stayed in was very clean. Everything was as nice as the pictures we saw.
5/ 5 fronds William Stanton reviewed on Aug 29, 2014
We have been coming to MB for over 20 years . We come from PA. We have stayed in many different units and used many different realtors until we found Condolux. Good prices, extremely pleasant staff, organized and efficient. I would recommend Condolux first to anyone interested in planning a beautiful vacation!!
4/ 5 fronds CLETUS BURNS reviewed on Sep 3, 2014
Great customer care! Loved our condo. Everything we need with a great view. Look forward to returning again next year!!!
4/ 5 fronds Darlene Larivee reviewed on Sep 10, 2014
We have used CondoLux for 28 years and have always had good luck with the condo's we stayed in and the golf courses we played on. GREAT JOB.
5/ 5 fronds Mike McClure reviewed on May 20, 2015
Loved the fact that it was oceanfront and loved, loved, loved that it was very few steps until you were on the beach. We had 3 cars and it's very hard to find a rental that will give you 3 parking spots. We never had any problem with parking; there were always open spots. Really enjoyed having covered parking as car was always cool when we went out. Having four sets of keys was also very helpful. Friendly, efficient service. Will definitely rent through CondoLux again.
5/ 5 fronds Susan Watkins reviewed on Jul 13, 2015
This is a very nice condo to stay in. Very large and has a lot of storage space. We loved the full size washer and dryer, the food pantry, the actual shower in the Master Bath, and the long balcony. Great location in North Myrtle Beach.
4/ 5 fronds Christy Whipple reviewed on Jun 10, 2015
Me and my family really enjoy our stay at Ashworth, And we will be staying there again, The room and staff are very nice, Thanks for everything, See you next year
5/ 5 fronds Charles Shersey reviewed on Aug 5, 2015
Most enjoyable stay at N. Myrtle Beach. Condo was amazingly clean with a fully equipped kitchen. Nice large sized shower in Master Bath along with a garden tub with jets. Disappointed that there was no hairdryer. Condo was very quiet but it was late in season so unable to comment how it would be if it were a full house. Definitely will stay in 1206 again!
5/ 5 fronds Gary Smith reviewed on Oct 28, 2015
Nice family place to stay. Definitely will be back.
4/ 5 fronds Manuel Aguilera reviewed on Aug 23, 2016
Unusual vacation as we were evacuated due to the hurricane..but our time at the Ashworth was great! CondoLux goes above and beyond...this is not the first time Arnette and Sherry have assisted us during our stays...cannot say enough good things about management and staff!!
5/ 5 fronds Dudley & JoAnn Henderson reviewed on Nov 4, 2016
We had a great time and enjoyed our stay.
4/ 5 fronds Brittany Jackson reviewed on Jun 13, 2016
I've been booking through CondoLux for at least fifteen years and am a loyal customer. I delete all emails from other agencies, as my experiences with CondoLux have been consistently positive. We love the Ashworth and always stay there. For over fifteen years CondoLux has been our go-to rental agency. It represents consistency, courtesy, and hospitality to me. I've had years of helpful customer service reps and dozens of happy experiences. Hopefully I have many more times ahead to call on CondoLux to launch our vacation plans. I also appreciate the numerous rental specials that they run throughout the year.
5/ 5 fronds Beverly Lins reviewed on Jul 15, 2016
Had a wonderful time, condo was perfect. Also weather was great, keep up the good work.
5/ 5 fronds Terry Crouser reviewed on Jul 8, 2016
As expected! Very good website and vacation rental. Quick, easy to navigate. Go to the beach yearly and knew what to expect. Got that expectation!
4/ 5 fronds Todd Romesberg reviewed on Aug 4, 2016
This is the 5th year we have stayed at the Asheworth and rented through Condolux. Always a pleasure to stay in these beautiful condos. 1206 Ashworth was the condo we rented this year and it was beautiful and professionally decorated. We had the best vacation ever. Easy to rent over the website. Condolux staff stayed in touch through emails from start to finish. Very professionally operated.
5/ 5 fronds Shirley Massey reviewed on Aug 3, 2016
FAQs About This Condo
What attractions/restaurants are nearby?
Answer
You're in luck! Ashworth is located near Main Street in North Myrtle Beach, host to bars, restaurants, and boutique shops, all within walking distance. You could spend a week here and eat at a different restaurant every night. This makes it a great spot for shaggers too.
Browse our Condo Rentals
We have 4 properties available in Ashworth.

Our Rates for Ashworth
View 2019 Rates
Oceanfront
2BR/2BA
Oceanfront
3BR/3BA
Oceanfront
4BR/3BA
06/15 - 08/16
$329 - N

$399 - N

$428 - N

08/17 - 09/27
$214 - N

$259 - N

$278 - N

09/28 - 11/29
$165 - N

$199 - N

$214 - N

Prices do not include processing, taxes, linens, fees, and additional surcharges. Nightly and weekly rates include departure maid service. Monthly rates do not include linens and additional fees; surcharge added to monthly rate in March and October. Subject to change at any time without notice.
View 2020 Rates
Oceanfront
2BR/2BA
Oceanfront
3BR/3BA
Oceanfront
4BR/3BA
10/01 - 03/31
11/30 - 01/03
$99 - N

$120 - N

$128 - N

Prices do not include processing, taxes, linens, fees, and additional surcharges. Nightly and weekly rates include departure maid service. Monthly rates do not include linens and additional fees; surcharge added to monthly rate in March and October. Subject to change at any time without notice.
Rental Policies & Procedures
Please read our
Policies and Procedures
or
Rental FAQs
regarding our rentals before calling. Many of your questions can be answered on that page. Here you will find information about refunds, cancellations, reservations, check-ins and much more.