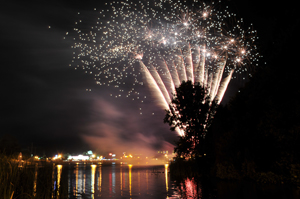 This week is set to be one of the busiest 4th of July weeks on record in and along the Grand Strand.  With record crowds, and everyone vying for the perfect spot to watch the fireworks display, it helps to know that there will be several places that you can go.  Below, is a list of places and events that will commemorate our nation's independence:
Saturday July 3rd– Broadway at the Beach will kick off the weekend right with a fireworks display beginning at 10:00 PM held between the Dragon Lair's Bridge and the Main Bridge.
Sunday July 4th– Stroll down to the 2nd avenue pier in Myrtle Beach, right next to the all new Boardwalk and Promenade to witness the fireworks display beginning at 9 PM.
BB&T Field– Catch the Myrtle Beach Pelicans in action as they take on the Salem Red Sox at 6:05 PM. A fun-filled night, with jersey auctions, a Reggy appearance and a mini-flag giveaway is all scheduled. Following the game will be a fireworks show.
Cherry Grove Beach at the Cherry Grove Pier–  a fireworks display will be held around 9:30 PM.  Be sure to bring a blanket.
Broadway at the Beach– Between the Dragon's Lair Bridge and Main Bridge will host a fireworks display beginning at 10 PM.
Barefoot Landing- Barefoot Landing will celebrate the 4th of July with a special fireworks show at 10:15 PM. Entertainers and plenty of children's themed activities begin at 7PM.
Murrells Inlet– Visit Murrells Inlet for the 26th Annual Murrells Inlet 4th of July Boat Parade. The parade begins at high tide and last year over 125 boat entrants.