North Myrtle Beach is the perfect place to plan your next peaceful vacation. A cozy retreat nestled between Myrtle Beach and Little River, North Myrtle Beach provides a more sanctuary-like feeling while still maintaining the luxuries and amenities of the more commercial Myrtle Beach. Home to Vanna White, The Shag, and Alligator Adventure, North Myrtle Beach is the vacation destination for those not looking for unattended children walking the strip. Plenty of beachfront, over 30 golf courses, and amazing local eateries, North Myrtle Beach prides itself in being a family oriented town. Enjoy fishing? Check out the Cherry Grove Fishing pier, the only two story observation deck at any privately owned pier in the Myrtle Beach area. The Cherry Grove Pier is 985 feet of fishing fun for the entire family.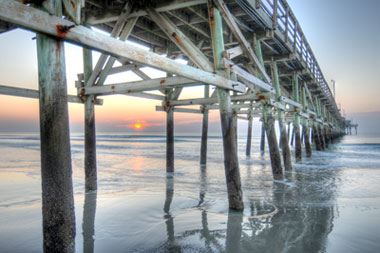 Barefoot Landing takes a twist on regular outdoor malls. Surrounding a 27-acre lake, Barefoot Landing takes advantage of beautiful scenery utilizing docks allowing you to easily maneuver throughout. Be sure to check out local shops such as Black Market Minerals and House of Style. Grab lunch at Greg Norman's Australian Grille or travel back to the 50's and eat at Johnny Rockets Diner. For the kids, the Alligator Adventure Park is a great hands-on experience while the Ghosts and Legends Theater caters to the more mature young adults. For the older crowd, the House of Blues and Alabama Theatre makes Barefoot Landing not only a great day spot but also a great evening night life experience.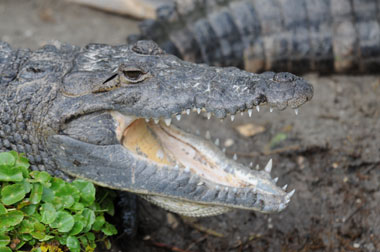 For many vacationers of South Carolina, golf is always on the mind and North Myrtle Beach is no different. North Myrtle Beach golf packages are a visitor favorite with tons of courses to choose from. Barefoot Resort & Golf located right behind Barefoot Landing has 4 courses each with its own difficulty level. Another great course is Beachwood Golf Club. Perfect for all ages and experience levels Beachwood Golf Club offers amazing afternoon rates.
Dining is one of those rare vacation moments where the whole family actually gets to see each other. After a day at the beach or Barefoot Landing, try venturing a few miles north into Little River, South Carolina or Calabash, North Carolina. Here you'll find good ole' southern cooking at its finest. Located right on the Intracoastal Waterway in Little River, SC is Captain Juel's Hurricane Restaurant. Watch fishermen haul in the fresh catch of the day while relaxing on Capt. Juel's outdoor deck overlooking beautiful untouched marshland. Just five minutes from Little River is Calabash, NC. This small fishing town is known for its local hospitality and their cooking reflects this attitude. Ella's of Calabash, voted "Best seafood in Brunswick County" Ella's is a favorite with locals and vacationers alike.
Whether it is catching up on some much needed sun, playing a round with the folks, or dining at some of the best kept secrets on the coast, take a good look at North Myrtle Beach rentals when planning your next vacation.