A highly desirable golf vacation destination in October, Myrtle Beach offers cooler temperatures than the bulk of tourist season and far less crowds. If you don't golf, don't fret. October is also known for its abundance of festivals around the Grand Stand and further – and let's not forget about that ghostly holiday at the end of the month either! All said, October is a sure bet for vacationers – and ghost hunters! By far, October and Halloween are my favorite times of the year! Let's see what we can "scare up", shall we!?
Ripley's Haunted Adventure is well, haunted! A well-respected local paranormal group investigated and concluded in 2008 that there were at least four different entities identified at the attraction.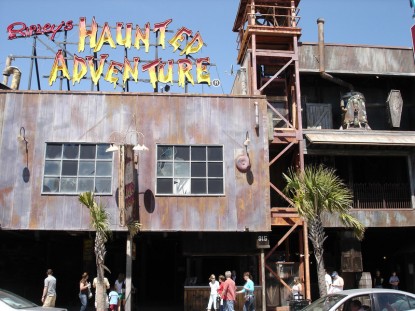 The same paranormal group has performed investigations at Atalaya Castle at Huntington State Park and experienced many anomalies. There is also a video on YouTube https://www.youtube.com/watch?v=MuSION9w230 documenting a reported shadow of a large man – when no one was said to be on the premises. Atalaya is said to be one of the most haunted sites in the Grand Strand.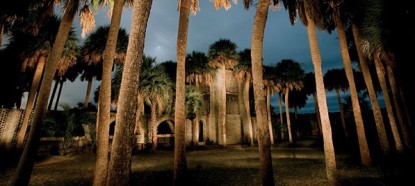 Of course you can't have a blog featuring paranormal activity without a haunted cemetery, and that is where State Cemetery in Conway comes in. About a year and a half ago a paranormal investigation took place where it was reported shadows were seen, along with moving orbs (sphere shaped light balls found at haunted locations that can show up in photos and video recordings believed to be the human soul or life force of those that once inhabited a physical body here on earth) and voices or whispers occurred.
Take the ghost walk at
Barefoot Landing's Ghosts and Legends
and you may encounter eery happenings or maybe even see a ghost. Employees have said the area near the House of Blues has been a particularly active area on walks. Don't forget to see the ghost show in the amazing
Ghosts and Legends Theatre
too! Some of the best special effects you will ever see! A Disney alum had a hand in the designing of this one of a kind attraction. Show is approximately 20 minutes. A discount is available by purchasing a ticket for both the show and walk.
Note:
Goes without saying that October is a particularly busy time at the Theatre and for the walk. Reservations are a good idea, especially for the walk. Groups are welcome! Walk is approximately an hour and a half in duration. Show and walk are not recommended for really young or easily frightened children. Contact the Theatre for additional information and reservations.
UPDATE: Ghosts & Legends has recently closed their doors, after 10 years in business!
This blog post provided by CondoLux Vacation Rentals in North Myrtle Beach, specializing in North Myrtle Beach condos and vacation home rentals.