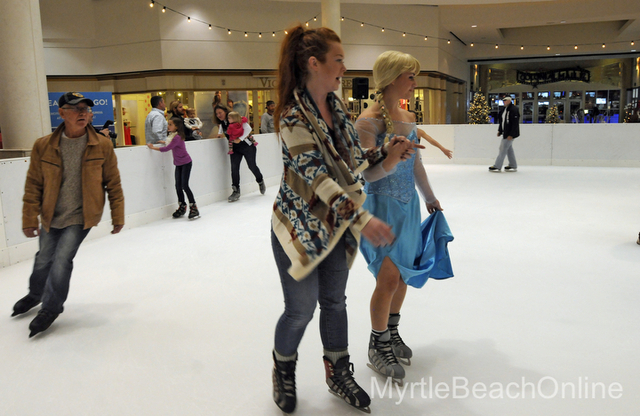 As a parent of two young children, the winter holidays have once again become magical and wondrous. Ask others and they'll agree that holidays become more meaningful when seen through the eyes of a child. But living in the Grand Strand makes things a bit more challenging. My kids ask: Where are the the fluffy blankets of snow? The rolling hills to sled and ski down? The frozen ice to skate? When my daughters do ask if Christmastime will look like all the holiday specials on TV, I usually remind them that we live in coastal SC and "beach Christmases" look a little different. Thankfully, this year I can actually make the frozen wonderland feeling of winter more of a reality.
"Ice at the Beach" is a 1,600 sq. foot seasonal skating rink inside the Myrtle Beach Mall. They are open daily (except Christmas) through the end of 2014, so an afternoon skating followed by a hot cup of cocoa is finally a winter activity that can happen in Myrtle Beach. The perimeter of the rink is decorated with Christmas trees, lights and holiday decorations to put you in the "holiday spirit."
————————
Video of "Ice at the Beach" from MyrtleBeachOnline.com
–———————–
Tickets are $10 for a 2 hour skating session with a skate rental included.
Hours of operation are listed on this convenient calendar.
The indoor rink is the work of Grand Strand Ice Management, a local group working to make a permanent ice rink in Myrtle Beach a reality.
The Myrtle Beach Mall is located off Hwy. 17 at S.C. 22, near Briarcliffe Acres. Details at 272-4040, ext. 102 or www.shopmyrtlebeachmall.com.  The mall is located at the south end of North Myrtle Beach, near the Kingston Plantation and our SeaWatch Resort rentals.