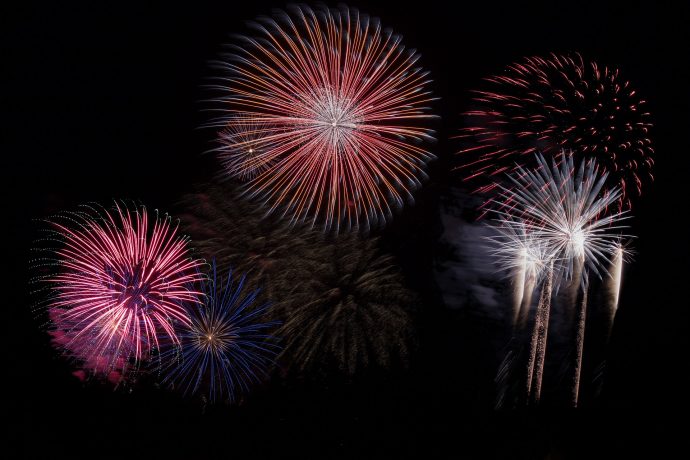 Who doesn't love fireworks? The Grand Strand offers spectacular fireworks shows every summer and they are all free. Of course, you have to know where and when to find them.  Many people even catch themselves planning their evenings around where the fireworks will be. If you love fireworks and don't want to miss a show, this schedule will come in handy or you.
Broadway At The Beach
Broadway at the Beach always puts on a great fireworks show, and in the summer they set them off twice a week. Starting June 5, the shows will take place at 10 pm every Tuesday through August.  Starting June 22, they will run at the same time every Friday through August. We were lucky enough to be eating At Paula Dean's Family Kitchen during a fireworks show one night and got to watch them through the large windows.
Barefoot Landing
Barefoot Landing has been hosting summer fireworks shows for years and you can always expect to find a large crowd gathered during fireworks nights.  You can catch one every Monday at 10 pm from June until August. Spend the evening shopping or enjoying dinner at one of the tasty eateries and then finish it off with a great fireworks show.
2nd Avenue Pier
If you want to watch fireworks directly from the beach, you will need to head a little south to the 2nd Avenue Pier. The fireworks are set off at the end of the pier so its easy to see them from the downtown area on the beach or Boardwalk.  Fireworks shows are every Wednesday at 10 pm starting in June. We love to get some ice cream on the Boardwalk and sit on the beach and watch them. There's nothing like hearing the waves crash in the dark while fireworks go off in the distance.
Myrtle Beach Pelicans
If you are a baseball fan, you won't want to miss a Myrtle Beach Pelican's game. The stadium also has fireworks shows scheduled for April 5, April 7, April 21, May 12, June 13, June 17, June 28, July 1, July 12, July 19, July 22, July 29, Aug. 11, and Aug. 18.  If you want to make the most out of your trip to the ballpark, plan to attend a game on one of these dates.