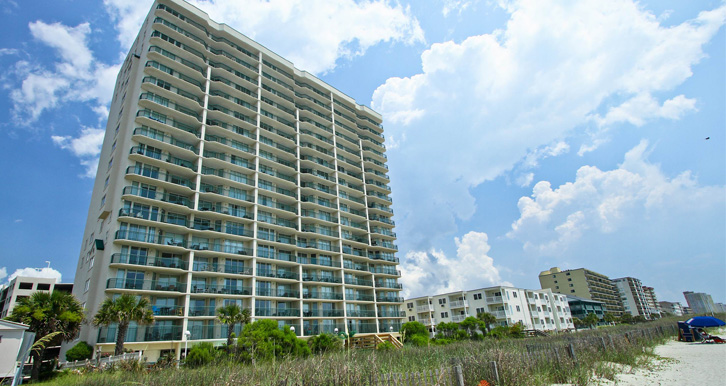 Windy Hill Dunes
You are here:

Windy Hill Dunes
Windy Hill Dunes offers the best of both worlds! It's all in the location. The Windy Hill section of North Myrtle beach has been praised as a great place for a beach vacation. It's just close enough to all the fun and attractions of North Myrtle Beach and Myrtle Beach, but just secluded enough from all the bustle and traffic to be a peaceful area for relaxation. Spacious rooms with beautiful ocean views await, along with a private balcony, fully-equipped kitchen, outdoor pool, Jacuzzi, kiddie pool, lazy river, and fitness center! Complete your perfect vacation experience at Windy Hill Dunes!
Search our Condo Rentals
Please Search Above to Find Rentals
What you'll love about Windy Hill Dunes
Just a hop and a skip away. Who wants to spend time driving to area attractions? Windy Hill Dunes is just minutes away from Barefoot Landing, home to endless shopping, dining and attractions like Alligator Adventure! .
Beautiful balconies. Nothing says "relaxing" more than sitting on a balcony overlooking the Atlantic Ocean. Windy Hill Dunes has very spacious 25ft ocean balconies that are great to sit down and relax after a day of golfing, shopping or playing on the beach.

Free WIFI. Whether you are making your friends jealous by adding pictures of your vacation on facebook or having to work on your vacation, you do not have to sit at that Dunkin' Donuts for hours. These units have free WIFI for your convience.
Enclosed walkway. Windy Hill Dunes features a large parking garage located across the street from the building, with an attached elevated walkway connected to the building. No more worrying about crossing a high traffic street, this is the ultimate in convienece.
Amenities at a Glance
Fully equipped kitchen
Microwave
Dishwasher
Washer/Dryer in condo
Outdoor pool
Outdoor Jacuzzi
Lazy river
Kiddie pool
Exercise facility
All Non-Smoking Units
All on-site amenities, including pools, parking garage and elevators, are maintained by
Chicora
.
Windy Hill Dunes - Condo in North Myrtle Beach
Area Condo Map & Things to Do
Windy Hill Dunes
Oceanfront Condo in North Myrtle Beach
3805 S Ocean Boulevard
,
North Myrtle Beach
,
SC
29582
33.797328, -78.722948
Condolux Guest Reviews of Windy Hill Dunes
Total Rating of
Windy Hill Dunes
:
5

palm fronds - based on

5

reviews
Our unit was beautiful. We loved everything about it. We will hopefully stay here again...so wonderful we hated to leave.
5/ 5 fronds daniel gregory
I have booked through CondoLux on at least 3 times and have been well pleased with the entire process and the units themselves. Always had a pleasant experience using CondoLux for booking. We do our family vacation every year in August and CondoLux has always had great deals. Will continue to use them to book for our vacation. Our stay was excellent. The only issue that I had was the unit we stayed at (Windy Hill Dunes) did not enforce the parking policy. You are supposed to have a windshield placard that shows you are staying at that Condo Unit and there were people parking without the tag being displayed which caused us to have to find parking elsewhere until we were able to get a spot back in the designated spaces for that Condo Unit. Other than that we truly enjoyed our stay.
5/ 5 fronds Neal Harris
Loved the condo we stayed in it was beautiful. Should clean a little better under things like beds, sofas, etc. Dryer in room should probably be replaced did not work so well. Just some minor things overall we loved our stay.
5/ 5 fronds Stacey Granza
Had a great time condo was awesome. We had a large group and having a kitchen full of more than just essentials was a great bonus. We saved lots of money just being able to cook at the condo. The lazy river and pool made for a relaxing evening after dinner!
5/ 5 fronds Lisa M. Stough
We had a great stay and the condo was very nice. It would have been good to know ahead of time the washer required HE detergent, though.
5/ 5 fronds Jeri Clum
FAQ's about Windy Hill Dunes
Rental Policies & Procedures
Please read our
Policies and Procedures
or
Rental FAQs
regarding our rentals before calling. Many of your questions can be answered on that page. Here you will find information about refunds, cancellations, reservations, check-ins and much more.