The Myrtle Beach Chamber of Commerce recently launched www.myrtlebeachbikerinfo.com stating in a message from mayor John Rhodes the city's decision to no longer host the  Harley-Davidson Dealers Association Spring Rally and the Atlantic Beach Memorial Day Bikefest bike rallies.
Mayor Rhodes indicates in his statement that this ordinance was an  extremely difficult decision for the city. Myrtle Beach welcomes anyone who would like to visit anytime of the year, after all the city has some of the nicest luxury condos rentals, restaurants, golf, live theater, and shopping anywhere on the east coast. Myrtle Beach and the Grand Strand are a vacation paradise resort of sorts.
In fact though, the rallies were just growing too large and putting an undue strain on the city.  Government staff, Myrtle Beach residents, and local businesses strained to keep up with the hundreds of thousands of people that flooded the city in such a short amount of time. Mayor Rhodes wants to be very clear that Myrtle Beach is not anti-biker. The point of contention here for the city is that the rallies are just too big and last for too long.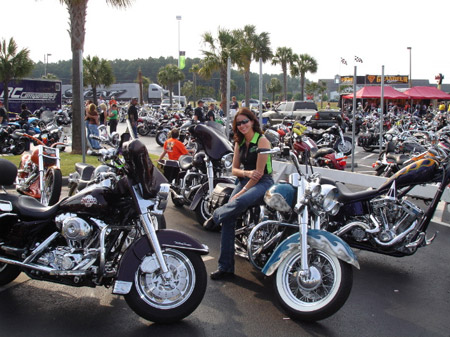 One fact that could not be ignored was the clear and insistent opposition that was being raised by the residents of Myrtle Beach. Many people that live in the area felt like they were forced out of their homes and their hometown for the better part of a month.
The city has passed a dozen or so new ordinances which will govern those bikers that still chooses to come to the Grand Strand during these weeks in May. We will highlight just a few of these new laws here, but for the complete list please go to www.myrtlebeachbikerinfo.com.
"Everyone on a motorcycle must wear a safety helmet and protective eyewear (glasses, goggles, face shield, etc.) at all times while the cycle is moving."
"Curfew is in effect from 1:00 a.m. to 6:00 a.m. for juveniles under age 18, with certain exceptions. Violators are detained and parents are called."
"No alcohol consumption or open container possession allowed in parking lots and garages of any business."
*All ordinances taken verbatem from the information posted at www.myrtlebeachbikerinfo.com.
It is difficult to predict at this juncture what the long-term  effects will be for the city, businesses, and residents, but one thing is for certain the area will always be a popular destination for vacationers looking for Myrtle Beach Condos to rent, delicious seafood to eat, endless entertainment possibilities, warm ocean air, bright sunshine, and a wonderful vacation experience year after year.