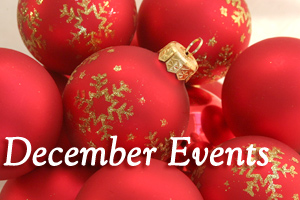 Myrtle Beach always does Christmas right! There are plenty of events and activities here for those of you staying with us in one of our winter condo rentals.
Live Shows
Get into the spirit of the season by catching special Christmas performances. The Carolina Opry's Christmas special is an old favorite with comedy, music, and fun for the whole family. The Palace Theatre will be featuring the famous Twelve Irish Tenors singing holiday classics all month long, along with award-winning performers Michael W. Smith December 3rd-5th and Debbie Reynolds December 8th-12th. If you're looking for humor, Atlantic Stage will be presenting David Sedaris's hilarious Stantaland Diaries. And don't miss Myrtle Beach's own Long Bay Symphony Orchestra performing Handel's Messiah on December 6th at Myrtle Beach High School.
Holiday Events
Start off the month with the Christmas tree lighting in Surfside Beach on December 3rd. You can enjoy holiday parades at Broadway at the Beach on December 5th, and at Surfside Beach on December 12th. Market Common will have free carriage rides every Saturday, along with ice skating in the last two weeks of December. There's a Winter Arts & Crafts Show at Springmaid Beach Resort this weekend, and don't miss the Christmas Towne Holiday Festival at the Myrtle Beach Convention Center on December 13th. And round off the year at Broadway at the Beach's New Year's Eve Party!
We here at CondoLux would like to thank you for another great year, and look forward to seeing you on your vacation again in 2010! As always, you can check out our Myrtle Beach vacation rentals.