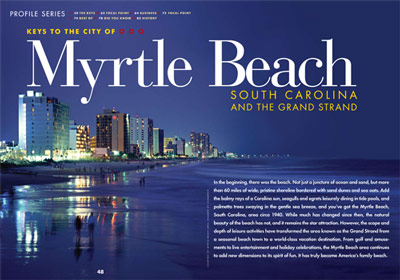 Thanks to a tweeter on twitter, I found nice article about the Grand Strand area in U.S. Airways Magazine (yea, I know, odd).  I, for one, have not seen a U.S. Airways magazine in the past, even though I have flown with them on many occasions.
Even so, it's not just one article, but a few good ones about the different aspects of Myrtle Beach, from golf to business to a "best of Myrtle Beach section".  Let's start with the fun stuff, shall we?
The named the Best Golf Hole as "The Gambler". It's at MBN's Kings North course. Par 5, designed by Arnold Palmer. They say the best route is just a roll of the dice.  Best Ice Cream? Despite a mixture of good and bad reviews on the Myrtle Beach Restaurants website, Painters Homemade Ice Cream in North Myrtle holds the title for excellent ice cream.  Best Souvenirs? The Gay Dolphin on the ocean drive section of Myrtle Beach. And Collector's Cafe brought the title for fine dining.
Now I have to throw facts out at you about Myrtle Beach. Some of these are pretty staggering.  The Grand Strand area has more than 47,000 hotel ROOMS, 1,700 restaurants, 1,800 golf holes, 15 million annual visitors and 60 miles of beaches.  Pretty nifty huh? There were also 3,387 marriage licenses issued in 2008 from Horry County, according to the article.
New Boardwalk
One of the articles even touched on the new Boardwalk that should open next summer. It will be 1.2 miles and connect the two piers in the downtown Myrtle Beach area.  The boardwalk will be broken down into three sections, a) a nature trail, b), a "nostalgic reverie with mom-and-pop shops and restaurants", and c) the promenade, which will have larger areas for special events and concerts. This new boardwalk should add another who dynamic to the Myrtle Beach vacation. And since it is close to many Myrtle Beach hotels and condos, access to it will be quite easy for the tourists.
Some Pavilion History
Ready for a Myrtle Beach history lesson? Did you know the Myrtle Beach Pavilion was lost in a fire, not once, but twice? The first in 1920 (rebuilt in 1925) and then again in 1944.  Then in 1948, Burroughs and Chapin rebuilt it for the third time, but used reinforced concrete walls. The park was host to 40 seaside rides, including a carousel that was 1 of 15 in the United States. It also included South Carolina's tallest, fastest, and longest wooden roller coaster.
Like I said, these articles covered quite a bit in the Myrtle Beach area and were well written. It's good to see Myrtle Beach noted and on the map.  We don't  just have Myrtle Beach condos and hotel rooms, but a history of golf, games, amusement and much more.