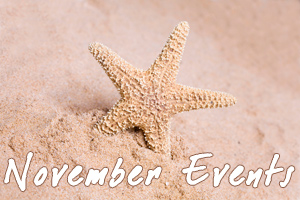 Get ready for the Christmas season and enjoy beautiful Myrtle Beach during a quieter, more unhurried time of year during November!  There are quite a few interesting things to do this month along the Grand Strand.
Performances
The Carolina Opry's Christmas Special lasts all November and December. This holiday show features music, comedy, and dance all themed around Christmas and the holiday season. Another winter classic, The Twelve Irish Tenors, will be performing at the Palace Theatre this winter as well.
Concerts
Myrtle Beach is lucky to have a professional orchestra, The Long Bay Symphony Orchestra. They will be performing their concert series this month on November 8 at Myrtle Beach High School. And don't miss the Youth Orchestra's fall concert on November 19th, also at Myrtle Beach High School.
Christmas
It's never too early to start enjoying Christmas at Myrtle Beach! Broadway at the Beach holds its Christmas tree lighting on November 7th, while Market Common will have its own tree lighting on November 27, along with free carriage rides starting November 28 every Saturday until Christmas. Little River will be holding a Christmas Market with a parade on November 28th.
And don't forget, we offer plenty of Myrtle Beach winter rentals for those who want to beat the rush and get a great deal!