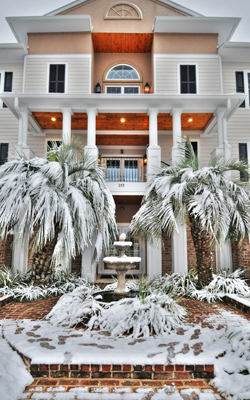 Today it's sunny and warm in Myrtle Beach, but on Saturday we had a rare sighting of snow! The winter storm which brought flurries all across the south arrived on the Grand Strand late last Friday night, leaving 3.5 inches of fluffy snow in Myrtle Beach and North Myrtle Beach by Saturday morning. Locals and visitors enjoyed the treat by building snowmen, having the traditional snowball fights, and heading down to the beach to see snow on the sand and palm trees. The area's warm winter temperatures melted off most of the accumulation by Saturday afternoon, with none left by Sunday.
Snow is usually an infrequent event in Myrtle Beach, with flurries being sighted only once every couple of years. Inches of snow on the ground is even scarcer, with major accumulation happening only once every ten years: 5.8 inches on December 23 1989, 3 inches on January 25 2000, and Saturday's snowfall. So those of you who book Myrtle Beach winter rentals to escape from the snow have very little to worry about!
We'll be preparing for our next major snowfall sometime around 2020! Until then, we'll be saying goodbye to the last of our near-freezing weather as high temperatures start heading into the 60s for a warm and comfortable spring.