One of the many questions we get regarding our Myrtle Beach condo rentals is what is the difference between an oceanfront condo and an ocean view condo.  If you take the words literally, they both mean the same thing. If the condo is oceanfront, then obviously you have a view of the ocean.  No?  These aren't literal definitions though. Let's explain.
Oceanfront Myrtle Beach condos are parallel to the ocean, meaning you are facing the ocean while standing on your balcony. Simple as that. The building is not tilted, nor do you have a side unit that has a VIEW of the ocean.  When you look out your balcony door, the ocean is directly in front of you looking straight ahead.  You can look up one side and see the beach, and you can look up another side and see the rest of the beach. This added luxury is why oceanfront condos are usually more expensive – the view is spectacular.  The photo below is an example of an oceanfront condo rental: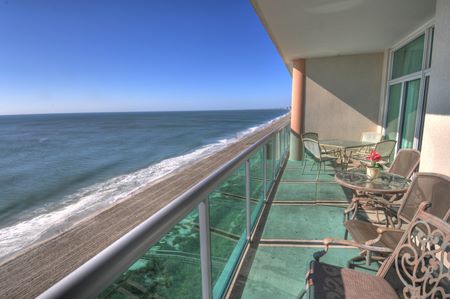 Myrtle Beach condo rentals that have an ocean view, on the other hand, might still have a very nice VIEW of the ocean, but your balcony might be on the side of the building, rather than in the front (or back, for that matter). These condos generally are less costly, simply because you are not paying for the view.  There is no difference in actual quality of the unit itself. You can still expect your tiled floors, jacuzzi tubs, and granite countertops – just not the view.  Keep in mind, there are other types of an ocean view condos as well. If there is a home or condo on the second row, there still might be a good view of the ocean – but you might need to walk an extra 100 feet or over the road to get to the beach.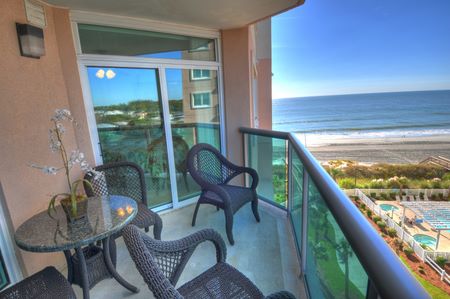 We have a wide assortment of both oceanfront and ocean view Myrtle Beach condo rentals. Summer is already booking up fast though. Don't hesitate too long. The best condos are already sold out!