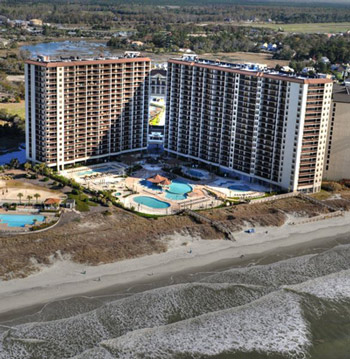 Imagine the sound of waves gently rolling ashore mixed with a warm and salty ocean breeze. Picture the sun rising over the clear blue ocean water. Feel the warmth of the sun basking down upon you. Now imagine enjoying all of this from the privacy of your own oceanfront balcony. When you own one of the coveted Myrtle Beach oceanfront condos, you could enjoy this type of experience whenever you desired.
There could not possibly be a better time to take advantage of the available oceanfront condos in Myrtle Beach. Housing prices are still quite low, as are mortgage interest rates. Many people interested in purchasing a second home or retirement accommodations find these Myrtle Beach condos perfect for their needs. However, the real estate investor is the true benefactor of these low priced oceanfront condos.
Many real estate investors purchase these beautiful homes to use as vacation rental properties. Myrtle Beach is one of the most visited areas in South Carolina, and in the Southeast. Near perfect weather, beautiful beaches and exquisite golf courses make Myrtle Beach the "go-to" place. Investors know that when an area is a popular tourist destination that accommodations will be needed.
Oceanfront condos will generate the highest rental income because of their perfect view. While the many amenities that are offered at the condominium complexes are an additional bonus, the unobstructed view of the ocean is what draws many to these accommodations. Ocean view condos are quite different than oceanfront condos, and while still in demand, can not command the same rental pricing.
The difference between ocean view and oceanfront is simple. An oceanfront condo has no obstruction between the condo and the ocean. When you look out the balcony window you have a complete view of the beach. An ocean view condo, on the other hand, still allows you to see the beach, but possibly from an angle or at a greater distance. Because of this slight difference, many people only consider oceanfront condos when looking for vacation rentals.
There are many reasons to consider Myrtle Beach oceanfront condos. Perhaps you have retired and enjoy the warm winter weather. Perhaps you have worked hard your entire life so that you could live the beach lifestyle you have always dreamed about. Maybe you are a savvy investor who knows how to become financially successful by taking advantage of low real estate pricing in one of America's hot spots. Whatever your background or intention, you will be pleased with Myrtle Beach and the Grand Strand area.