Here we go! It's a new year and we have some new things for you.

1. In-Focus Moments Photography, Little River 631-747-8325 Christina "Zach" Zacharopoulos creates beautiful memories with all digital photography, CD's,prints, photo montages customized with your choice of music – and photo editing.  Contact Christina to create or preserve your memories at the beach!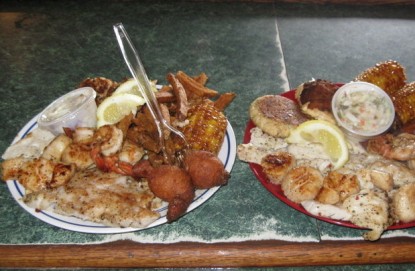 2. Crab Catchers, 4474 Water Front Ave, Little River 843-280-2025 Foer nearly 15 years, Crab Catchers has been one of the premier seafood restaurants on the Grand Strand. Come and dine on waterfront decks overlooking the Intracoastal Waterway! They are open 7 DAYS A WEEK at 11:00 AM SPECIALS -Crab Leg Special – Buy 2 lbs snow crabs at $16.99, get 1 lb FREE! (Daily) -Buy one, get one 1/2 off Appetizers (Monday- Friday from 4:00 -7:00 PM) LUNCH SPECIALS (Mon-Fri from 11:00 AM – 3:00 PM)* -Crab cake sandwich, hamburger, flounder, or grilled chicken sandwich for $7.00 – includes fries & a soft drink -Haddock sandwich with fries & a soft drink for $5.00 -Pork ribeye sandwich or shrimp sandwich for $7.99 – includes fries & a soft drink DISCOUNTS Senior Discount – 65 and older (food only) Birthday Discount – % age off of food! "CRABBY HOUR!" Discounted Drinks and Buy One, Get One 1/2 off Apps! Monday – Friday from 4:00-7:00 PM https://www.crabcatchers.net
3. Dance Lessons, Anaerobic Studio, Myrtle Beach Mall, U.S. Rt. 17 and S.C. Rt. 22, 843-283-0007 or 843-602-7197 Whether for exercise, relaxation, fun, date night, you can't go wrong with dance lessons. SA Dance Grand Strand Chapter 6024 has weekly lessons that cover a variety of American and Latin dances (Foxtrot, Swing, Waltz and ChaCha and others)every Monday. Pre-registration is not required, and walk-ins and singles welcome. Details: Beginners 6-7 p.m., intermediate 7-8 p.m. at/near Briarcliffe Acres. Enter in REAR of Mall, Mall entrance to right of Cinema. $7 club members, others $9. www.usadancegrandstrand.org
4. Seventh Murder Mystery Dinner Fundraiser on Saturday, January 26, 2013 hosted by the Horry County Literacy Council. "Hulas and Homicide". The fundraiser begins at 6:00 PM at Sea Mist Resort Conference Center, 304 12th Avenue South in Myrtle Beach. Tickets are $40/person or $75/couple. A Silent Auction and a Chance Auction will be included at the fundraiser. https://www.literacyhc.org/Calendar%20of%20Events.htm
5. 2013 is the 75th anniversary of Myrtle Beach – officially March 12, while Murrells Inlet celebrates the "Big 100" this year, 100 years since the Postal Service officially recognized the community. Enjoy all the Grand Strand has to offer. It is a wonderful place to both visit and live. There are many new businesses and restaurants down along the new Boardwalk and also at Broadway at the Beach. There is no shortage of things to do. If you are in doubt, please make sure to check out our monthly calendar! Congratulations to Myrtle Beach and Murrells Inlet for providing millions of beach memories – here's to the next 75 and 100.