We're almost all about the food in this latest Five. All in the won't hurt your wallet too much category too! ENJOY!
1. Islamorada Fish Company, inside Bass Pro Shops, Myrtle Beach Mall, 10177 North Kings Highway, Myrtle Beach 843-361-5100
Leon Williams, Manager of ICF, has come up with some new offerings
at fabulous price points – including all you can eat fish fry on Fridays for just $13.99. Make sure to check out the new menu items and warm up on a chilly winter night in front of the double-sided fireplace. Delicious food and wonderful ambiance – what more could you ask for, all at an affordable price! Don't forget that Happy Hour is offered Monday through Friday, 4:00 – 7:00 PM.

2.  Spirit Airlines
New service to Myrtle Beach begins on April 25 from Baltimore Washington International (BWI).  These flights will be seasonal.  For more information, consult the Spirit Airlines website at https://www.spirit.com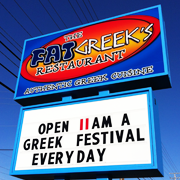 3. The Fat Greek Restaurant, 4515 U.S. 17 S. (across from Alligator Adventure), North Myrtle Beach 843-273-0258
We have a new restaurant in town! Featuring AUTHENTIC Greek fare. All homemade and fresh! Extensive menu with something for everyone. Some of the items are real gyro off the rotisserie, souvlaki, moussaka, spanakopita, saganaki, beefteki and more!
4. Moe's Southwest Grill, 4517 Highway 17 S, North Myrtle Beach, 843-427-4697
Right next to The Fat Greek is Moe's! This popular chain now has a convenient location near Barefoot Landing.
https://www.moes.com/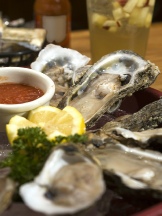 5. Dirty Don's Oyster Bar and Grill, 2051 Bridgeview Court, Barefoot Resort, North Myrtle Beach.
A third DD's has opened up and is their northern most venue. The new restaurant is located in Barefoot Resort, at the former Docksider's location. We are thrilled to have them in the neighborhood! Stop by this wonderful scenic waterway spot and try their famous shrimp fritters or oysters several different ways! Order one of the outstanding Bloody Mary's to go with them!!