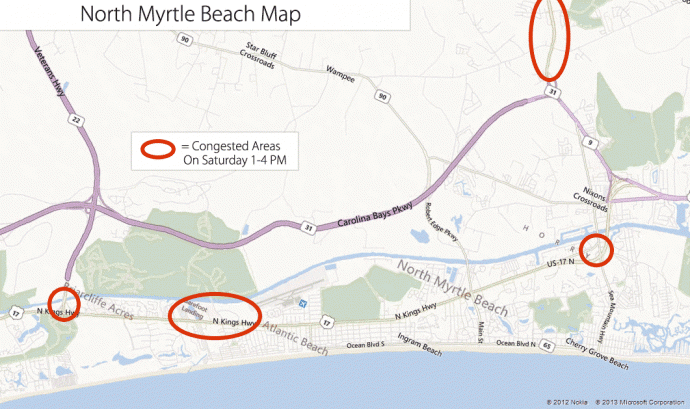 Believe it or not, the roads here in North Myrtle Beach area are fairly simple.  Once you hit town, really the only decision you need to make is "fast route or scenic route"?
The quick bulletpoints for North Myrtle Beach driving:
Ocean Blvd, Hwy 17 and Hwy 31 run parallel to one another. (And are sorted by order of speed.) Ocean Blvd is where all condos are, as well as the residential Cherry Grove area. Speed limits from 35 mph.  Hwy 17 is where the businesses and attractions are, speed limit of 45. Hwy 31 is the HIGHWAY.  Speed limit 65.
To GET to North Myrtle Beach, you should either take Hwy 22 or Hwy 9. Just be warned….. the time you come in can make QUITE the difference. More on that below.

The "411" On These Roads
Highway 9 is a "road less traveled", and enters North Myrtle Beach in the Cherry Grove area.  It will be a road more traveled during the summer.  You will want to avoid the eastbound between 1 and 4 p.m. on Saturdays during the summer. Why? That is when check-in times are!  Hwy 9 bottlenecks at the Hwy 9 and 57 Intersection, causing traffic to back up for MILES. If you come into  town before or after, you will spend MUCH less time riding your brake.
Highway 22, also known as Veterans' Highway, fairly recent addition to the roadway system here in Myrtle Beach.  It can be picked up from Highway 501 west of Conway near Aynor, and runs all the way down to Highway 17 just below the Windy Hill section in North Myrtle Beach.  Taking 22 will cut out Conway traffic and the bulk of Myrtle Beach traffic altogether. Can I get an Amen?
Note:  The ramp from Highway 22 to Kings Highway and Kings Road by Tanger Outlet/Walmart/Myrtle Beach Mall can back up significantly during weekends in the summer, especially when special events, such as Bike Weeks, etc., are taking place.
Traffic will also back up northbound from Kings Road and Highway 22 exit all the way up to Barefoot Landing around 6-8 p.m. as visitors make their way to restaurants, Alabama Theatre and House of Blues.
Highway 17 runs along the Atlantic Ocean from Little River down to Georgetown and runs all the way from Winchester, VA to Punta Gorda, FL!
Highway 31, also referred to as Carolina Bays Parkway, and is another new alternate roadway. The main section runs from Highway 9 just west of North Myrtle Beach, down to Highway 544 which leads to Highway 17 in Surfside Beach. While connecting to Highways 544, 501 and 9, there are also several convenient exits to North Myrtle Beach: (via Highway 22), via the new North Myrtle Beach connector (Robert Edge Parkway) to Main Street, and via Highway 9.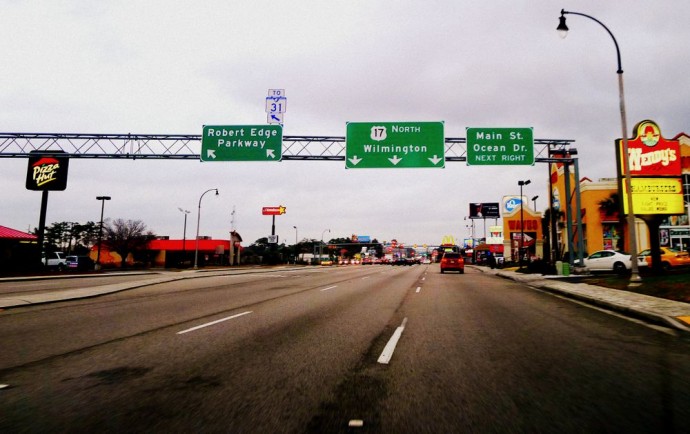 Important Driving Tip for Checking In on Saturdays
Check-in times for motels and vacation condo rentals can be 2 or 3 PM, that will also generate higher traffic levels in areas predominately occupied by hotels and other short term lodging establishments on weekends and in the summer.
With over 14 million visitors annually and a relatively small area and limited roadways, traffic is a major factor in this area.  Knowing the roadways and being aware of the where the hot spots are and how to avoid them can make your stay in Myrtle Beach more enjoyable!