1. Smokin' Hot Southwest Grill & BBQ
Barefoot Landing, North Myrtle Beach 843-427-7183.

This smokin' new eatery is occupying the former Salsarita's Fresh Cantina location.  The restaurant smokes their own meats.  Customers will be able to choose their style of barbecue from sweet to fiery hot!
Open seven days a week.
2. Family Kingdom
300 S. Ocean Blvd, Myrtle Beach 843-626-3447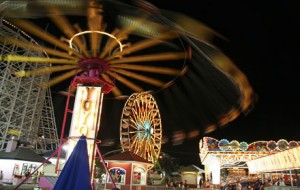 Starting March 23, new rides seeking riders at Myrtle Beach's only seaside amusement and oceanfront water park (Splashes)! In addition to the new Steel Coaster (Twist 'N Shout), there will be three other new rides premiering this year. They are – The Frog Hopper: an elevated up and down bouncing ride.  The Kite Flyer: a lay down ride featuring the sensation of free flight.  The Flying Tiger: eight suspended planes that whip around.
No admission fee.  What's better than an amusement park??  Nothing, in my book.
www.familykingdomfun.com
3. Bandito's Restaurant and Cantina
1410 N. Ocean Blvd, Myrtle Beach 843-808-9800

If you are looking for spectacular views and casual upscale Mexican dining, along with live entertainment, look no further.  Bandito's is situated directly on the ocean just north of The Yachtsman Resort, and conveniently located near the Boardwalk that runs from 14 Ave N to 2nd Ave N.  Food, service and margaritas score high marks!  Give it a try.
www.banditosmyrtlebeach.com
4. Shark Attack Mini Golf
700 N. Ocean Blvd, Myrtle Beach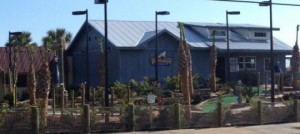 Located at the site of the former historic Chesterfield Inn, the 36 holes creates the Grand Strand's first oceanfront mini-golf course. The Hammerhead Grille, also on the site, is a seafood-inspired restaurant with a walk up window on the ocean side of the golf course and will open sometime later this year.
5. Myrtle Beach Airport Facelift
1100 Jetport Rd  Myrtle Beach 843-448-1580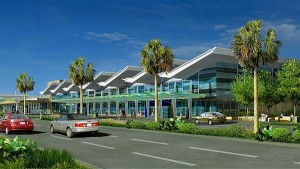 The airport is receiving a facelift that will soon be unveiled to the public.  The total number of gates will rise from seven to 13. Eateries Nacho Hippo and Steak N Shake will be feeding hungry travelers in the new Food Court. Other features will be four new baggage claims carousels as well as a suspended walkway. The new baggage system will be completely automated, unlike the previous system, and able to fully process a bag in under three minutes. There will also be an easily accessible car rental center available.  The new terminal cost over $118 million and spans 274,000 square feet.