It's a selfish thought, but sometimes the worst part of the beach is having to share it. Grand Strand locals and visitors are certainly lucky, though. With nearly 60 miles of uninterrupted beach, it's usually possible to find a reasonably quiet and uninhabited piece of sand to hunker down on for a relaxing afternoon even during the busiest weeks of the summer season, so long as you're willing to walk a little bit from popular beach access spots.
Other times you can't avoid it. You will need to coexist with everyone else looking to get a little piece of the beach, and unfortunately others don't always have the same idea of a good time as I do. The key is to spot potentially bad beach companions early on and choose a location a safe distance away. Here are my top 5 people to avoid at the beach, culled from my personal experiences, and presented in no apparent order:
[one_half]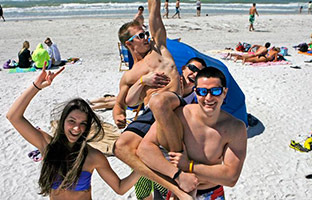 1. The Spring Breakers:
Myrtle Beach isn't referred to as the "Redneck Riviera" for nothing. Since days of HBO's East Bound and Down, the number of college-aged students looking for a week of getting "Myrtle Beach drunk" in the sun and sand seems to be rising. Getting fried like a piece of Bojangles while drinking nothing but sandy cans of Bud Light is perfectly within anyone's right, but be aware that this beach-going group may pose some challenges if your idea of serenity is the sound of crashing waves complementing a good book. Potential distractions include: this summer's most popular club songs on speakers (so everyone can listen–how thoughtful!); frequent f-bombs dropped in point-blank proximity to your sandcastle-building kids; windblown beer cans; plenty of "bad tosses" from footballs, frisbees and other flying objects.
[/one_half]
[one_half_last]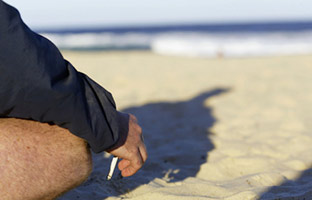 2. The Smokers:
While Surfside Beach just south of Myrtle Beach is smoke-free, good ol' Myrtle Beach proper still clings to certain aspects of the past. When friends from other places come to visit, many are surprised that you can still smoke in some restaurants and bars. Likewise, smoking cigarettes on the beach is still allowed, and if last summer was an indication, still popular with many people. This meant that I was on constant lookout, as my 6-month old, like Dr. Grant of Jurassic Park, unearthed and excavated  a buried treasure of cigarette butts and proceeded to put each one in her mouth. The other thing to consider is that if you are down wind from smokers, the salty air that you traveled to bask in will smell more like a pack of Marlboro's than the ocean and marshes of South Carolina. If you see signs of smoke and it's not your idea of a pleasant aroma, walk upwind a sizable distance.
[/one_half_last]
[one_half]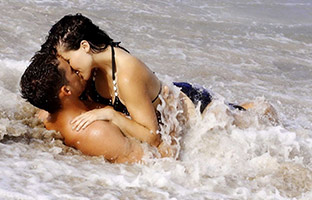 3. The Love Birds:
Beaches are romantic. People get married on them and go to them for honeymoons. They are popular for dates and anniversaries. Tender kisses, hand-holding and the like are commonplace. What's not romantic is sitting a little more than an arm's length away from a couple's uninhibited groping make-out session. I came to the beach to relax, not to experience your physical affection on display. If you seek the attention that comes with a public display of affection, take it to Seaboard St.
[/one_half]
[one_half_last]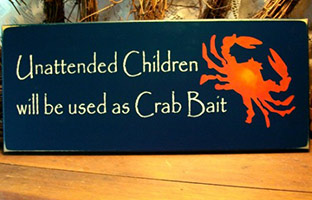 4. THAT Family:
This can take a number of forms in either extreme, but here are a couple variations. First there are the absent parents of fairly young kids. They are walking or reading or sleeping or doing any number of things while little Timmy and Jessica are kicking there way out past the breakers on cheap boogie boards. Is anyone watching? What if they drown? How strong of swimmers are little Timmy and Jessica? Even worse, the little brats may want to run circles around you, kicking sand into your eyes, while mom and dad peacefully read or snooze just feet away. The other variation is the excessive parent. These moms and dads are constantly threatening to "go back to the hotel" and "not get ice cream." "YOU NEED TO PUT ON MORE SUNSCREEN, TIMMY!" We know. This is his last chance.
[/one_half_last]
[one_half]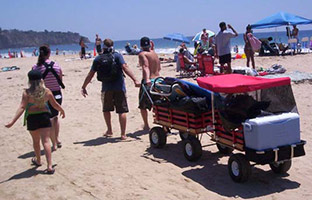 5. The Renovator:
The renovator seeks to turn a spot on the beach into a smaller re-creation of home. They carry carloads of equipment to provide themselves with the pleasures of modern living on the sand. This includes at least one large canopy tent, usually with side tents to act as "nooks" for those looking for a respite from the "main living area." Under the tent it is not uncommon to have a small table and a TV. This mini living room on the beach is also under constant construction. People show up with more tents and coolers. Things get knocked or blown over from sea breezes. It is constant setting up and breaking down, and it can sometimes affect your enjoyment when the 15 by 15 foot tent next to you is constantly under re-anchoring.
[/one_half]
[one_half_last]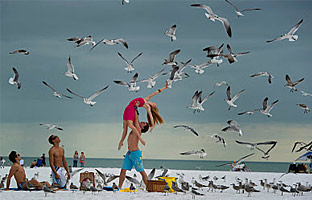 6. BONUS: Seagull Feaders
Perhaps they see themselves as disciples of St. Francis of Assisi, or maybe they just want a good photo op with a swooping bird. Either way, bird feeders are definitely beach-goers to avoid. Within seconds, what was once picturesque will become a Hitchcockian nightmare of flapping, cawing and white droppings. And once the bird-message is spread, they will arrive by the dozens, beating their wings just overhead, impatiently awaiting the next Ritz cracker. (Don't forget to check out the other Don't Feed the Gulls blog post as well for an informational read about 'em.
[/one_half_last]
Who are your people to avoid at the beach? Let us know in the comments or on the CondoLux Facebook page!