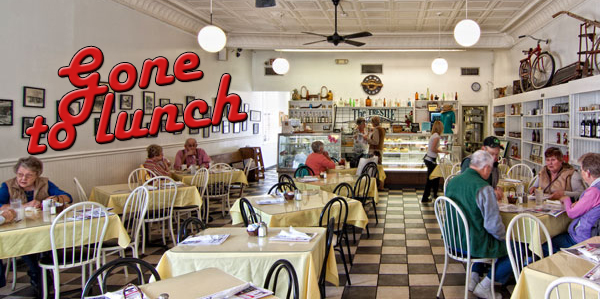 "I believe in stopping work and eating lunch."
The quote is attributed to designer L'Wren Scott, but I feel like I could have written it. After "tensies," which a former coworker enthusiastically called the 1o AM in-between meal in the staff break room, conversations and debates typically drift toward noon-time plans. Whether you are a local, snowbird, first time or long time visitor, the Grand Strand serves up an abundance of dining options along any of our major thoroughfares. Which to pick? Now that's a debate in itself. Sometimes choice isn't always a good thing, and many of my Friday lunch discussions with colleagues languish in a lunch decision purgatory. Perhaps the worst idea is just piling into a car without a decision made, driving around aimlessly hoping to see "someplace" that "looks good."
Sure, you could try your hand at any number of the restaurant review apps, but the skeptic in me wonders if places are buying good reviews, and which are from disgruntled employees seeking revenge behind the cloak of the internet. Instead, I put the question to my own lunch partners and present 5 of the best lunch spots in the Myrtle Beach area. The goal is to spotlight the smaller local places that dish out consistently good food. What you won't find: restaurants with giant sea creatures and mega-sized billboards adorning their structures. Check out the Google map below for directions, contact information, and what other reviewers have to say.
1. E Noodles & Co.: This Asian bistro is universally loved by everyone I know. An eclectic menu of Thai, Vietnamese, Japanese and Chinese, E Noodles is a very small operation that thrives on freshness of ingredients and ensuring that each dish is made-to-order when it's ordered. One of my favorite things  is that they love to get creative. Not sure what to order? Sometimes I'll pick some ingredients and ask them to make it spicy. I'm never disappointed! Plus, there are 2 locations: one on 17 in NMB and another off 17 Business in MB.
https://www.enoodlesco.com/index.html
2. Ciao Italian Restaurant: Multiple friends responded with "Ciao!" almost immediately when I asked about favorite lunch spots. With an overabundance of Italian restaurants, finding the best of the bunch can be tricky. While popular with locals for dinner, Ciao recently opened for lunch, and looking at the menu, I'm salivating over the description of the spaghetti calamari with diavolo sauce!
https://ciaomyrtlebeach.com/
3. Mr. Fish: Skip the oceanfront seafood places and go to Mr. Fish. Seriously. This place won Best Sandwich in America for their "Black and Bleu" sandwich that pairs blackened tuna with melted bleu cheese. Check out the menu; it's impressive.
https://mrfish.com/restaurant/
4. Magnolia's at 26th: I'm no foodie elitist. Buffets are not beneath me. In fact, with large groups with large appetites, it may be a popular option. The best of the buffets is Magnolia's. You'll find lots of traditional Southern food, including pork BBQ, fried chicken, chicken bog, banana pudding, etc. If you can't make up your mind, this is a very good choice.
https://www.magnoliasat26th.com
5. The Trestle Bakery & Cafe: Technically, this is in downtown Conway, but it's worth a trip. I fell in love with the Trestle in part for their homemade chips and soft sourdough, but also for their old-fashioned charm and character. They make one heck of a southern-style chicken salad sandwich, which is enough to lure me back, but they also use their dining space to pay tribute to the history of Conway, SC. Did I forget to mention that they make all of their desserts at the bakery down the block?
https://trestlebakery.com/trestlecafe.html
View Top 5 Lunch Spots in a larger map
Have a recommendation? Let us know in the comments below.