If this is one of your first times visiting the Grand Strand, you may be wondering where you can enjoy a beer right on the beach. There are many beachfront bars in Myrtle Beach and plenty of chances to enjoy the cool ocean breeze and a cold drink. Check out these top oceanfront bars the next time you are visiting Myrtle Beach.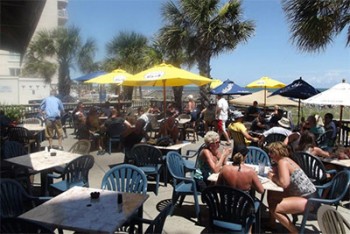 Molly Darcy's Irish Pub
Molly Darcy's is a popular beach bar in North Myrtle Beach. It has a fun atmosphere and some unique drinks as well as a reputation for having some of the best views in North Myrtle Beach. It is more than just a beach bar, it offers hours of entertainment and relaxation. In addition to an impressive beer selection, Molly Darcy's also offers arcade games and pool tables, making it a great hangout for beachgoers.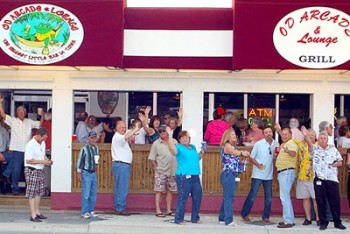 Ocean Drive Lounge
Also located in North Myrtle and pride's itself as being the "Biggest Little Bar in Town," this bar is located by Main Street, so it's within walking to distance to everything it has to offer. Also known as the OD Arcade and Lounge, shaggers love this spot because of the dance floor!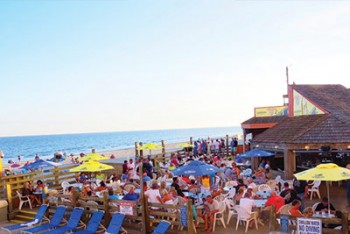 Ocean Annie's
Probably one of the most popular beach bars in Myrtle Beach is Ocean Annie's. The pool deck features live music almost all the time and draws quite the crowds due to it's atmosphere. It's located behind Sands Ocean Club in Myrtle Beach and is open to the public.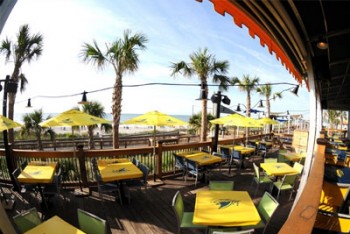 Landshark Bar And Grill
The Landshark Bar And Grill is right in the heart of it all. Located right next to the SkyWheel along the Myrtle Beach Boardwalk, this bar offers great drink specials, tasty appetizers and amazing views of the ocean. It is also a great place to relax and do some people watching, especially in the evening.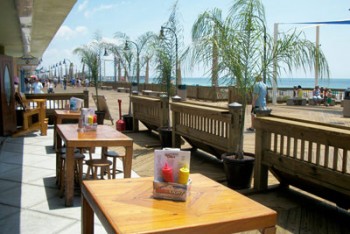 Oceanfront Bar And Grill
The Oceanfront Bar And Grill is located right on the boardwalk, making it a convenient place to grab a drink with friends or enjoy lunch. You can choose to dine at the bar or sit outside on the boardwalk. Both inside and outside seating options offer plenty of ocean views and you can't beat the food or the prices.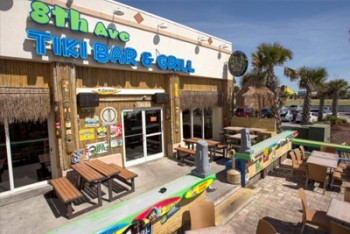 8th Ave Tiki Bar
The 8th Ave Tiki Bar has a fun vibe, funky décor and a view that can't be beat. It is located right on the boardwalk and just steps away from the beach. It features over 50 different beers and a variety of mixed drinks and unique finger foods.
There are numerous bars in Myrtle Beach and each ones offers something different and special. If you are looking for a bar that offers great drinks and amazing views of the beach, these top beachfront bars won't let you down.
Other Oceanfront Bars Worth Mentioning:
Bandito's Restaurant and Cantina
Bummz Beach Cafe
Tin Roof Myrtle Beach
RipTydz Oceanfront Grille & Rooftop Bar