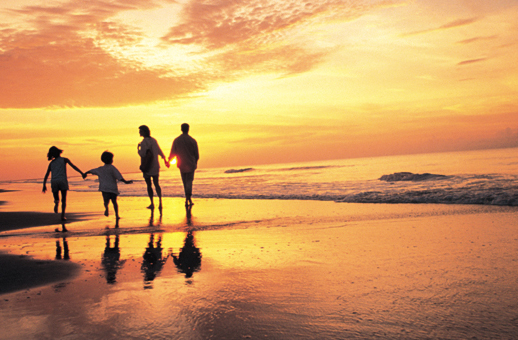 Summer is here, and no doubt you have been planning your vacation ALL year long!  If you're anything like me before a vacation…. you're constantly trying to research budget/family friendly restaurants and attractions…trying to plan everything down to the minute…. and coming up with plan B and plan C for when plan A doesn't work out (because that never happens, right?), although fun, it can become a little overwhelming!  Here are a few of my suggestions, to help you out with all of the planning.
Accommodations – The best condo for your budget!
[row]
[column md="4″]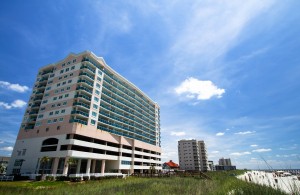 1.  Laguna Keyes
5700 N Ocean Blvd, North Myrtle Beach (800) 624-6418
www.condolux.net/laguna-keyes
Yes, Cherry Grove may be the farthest north in the Grand Strand, but it is also known for being a super residential area and perfect for families!  Awesome amenities, including an indoor and outdoor pool, AND a lazy river on the 6th floor courtyard! Plus, amazing views of the ocean, marsh and city! You can sometimes save a couple hundred bucks when booking an ocean view room as opposed to ocean front.  Just in case you think you may be missing out on the  full "ocean front" view, check out our previous article The Hidden Gems , and view some more facts!
[/column]
[column md="4″]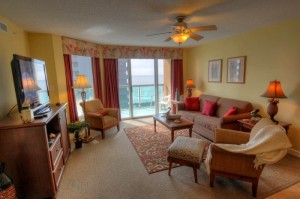 2.  Malibu Pointe
1706 S Ocean Blvd, North Myrtle Beach (800) 624-6418
www.condolux.net/malibu-pointe
This is definitely a family favorite property!!  Choose from 1, 3, or 4 bedroom condos and pay WAY less than an ocean front property!  Don't worry about getting to the beach, Ocean Blvd is not very busy and super easy to cross (I do it with my family on a daily basis).  All of the condos are modern and spacious, by far the best for your buck!
[/column]
[column md="4″]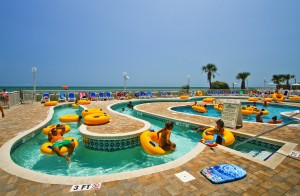 3.  Bay Watch Resort
2701 S Ocean Blvd, North Myrtle Beach (800) 624-6418
www.condolux.net/bay-watch-resort
If you want amenities and convenience for the whole family, you will definitely want to look into the Bay Watch Resort! Multiple indoor and outdoor pools, lazy rivers, kiddie pools, and hot tubs, PLUS 2 oceanfront restaurants AND a fitness center, is sure to please everyone in the family!  And don't forget Baywatch is right on the ocean! Check out the Specials Page for some discounts before you book!
[/column]
[/row]
Attractions – Discounted fun for the whole family! 
[row]
[column md="4″]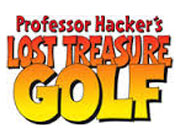 1.  Lost Treasure Mini Golf
705 Hwy 17 S, North Myrtle Beach  (843) 272-5467
www.losttreasuregolf.com
With a mini golf course on every corner, it can be difficult finding the right one.  The Lost Treasure, features 2, 18-hole courses, long enough to get your moneys worth, but not so long that the little ones get too tired.  The kids will LOVE the train ride up the "mountain" to the first hole…I kind of loved it too!  Plus, small children can play for FREE!! (Check out the website for an added coupon!!)
[/column]
[column md="4″]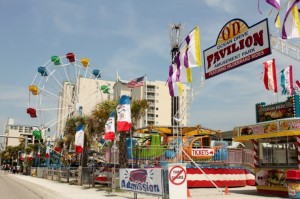 2.  O.D. Pavilion & Amusement Park
90 S. Ocean Blvd. North Myrtle Beach (843) 663-3231
www.odpavilion.com 
Amusement rides for the whole family!  Plus games, food, and even cotton candy!!!  The best part is you are right next to the ocean…who wouldnt want to ride a roller coaster with an ocean view?? And, its right in North Myrtle Beach.  (you can check out their website for a coupon too!!)
[/column]
[column md="4″]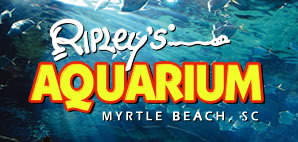 3.  Ripleys Aquarium
1110 Celebrity Cir, Myrtle Beach (843) 916-0888
www.ripleyaquariums.com
 Whenever I have company in town, we always hit up the aquarium!  Great exhibits and live shows, that will entertain the whole family!  Even a hands on exhibit where the kids can touch stingrays, horseshoe crabs, and starfish!  (Guess what?  Check out their website for special deals, AND pick up a Myrtle Beach Bucks Coupon book for an added $2.00 off admission!)
[/column]
[/row]
Restaurants – Great food and low prices!
[row]
[column md="4″]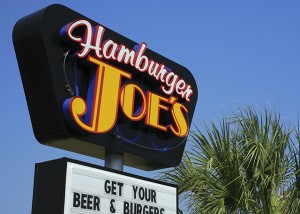 1.  Hamburger Joes
712 48th Ave, North Myrtle Beach  (843) 272-6834
www.hamburgerjoesonline.com
Great burgers and low prices!  Very family friendly, with a great staff!  If you like wings (I do!) try the Gold Wings….awesome!!!  They only accept cash, so either come prepared or use the ATM located inside the restaurant.
[/column]
[column md="4″]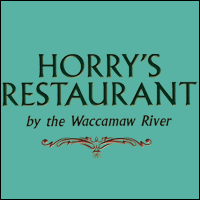 2.  Horry's Restaurant
1155 S Carolina 9, Longs (843) 399-6293
Family owned and operated, a little bit of a drive, but definitely worth it!  I go to Horry's everytime I want some of "mama's cookin'"!  The seafood is awesome, try the crab cakes, hand prepared daily with a secret recipe only the owner knows.  Overlooking the Waccamaw River, its also a great place for a couple of snap shots.
[/column]
[column md="4″]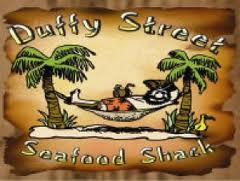 3.  Duffy Street Seafood Shack
319 Sea Mountain Highway North Myrtle Beach  (843) 249-7902
www.duffyst.com
Duffy Street proudly advertises "Low Country and Laid Back"…which pretty much sums it up.  Super laid back and great happy hour prices on seafood!  This is definitely family friendly, (usually a top pick for my rowdy little sea monster!) Check out their website for directions to ALL three locations!
[/column]
[/row]
Freebies – YES! You can have fun for free!
[row]
[column md="4″]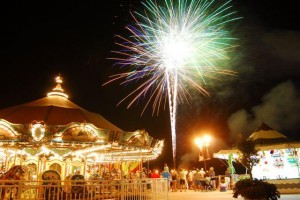 1. SummerFest! at Barefoot Landing
4898 U.S. 17  North Myrtle Beach  (843) 272-8349
www.bflanding.com
I know you're all thinking "Really?? Barefoot Landing? Been there, done that!".  BUT, you may not know this summer celebrates Barefoot Landings 25th anniversary, and will have events going on from June 1st- Aug 31st.  Every Monday night watch FREE FIREWORKS!!  Every Wednesday night, watch (or even join) the strolling boardwalk parade.  Every Saturday ride FREE on the Carousel.  Plus nightly camel rides (yes, I said Camel) and FREE entertainment, from stilt walkers, to magicians, clowns, kids karaoke and more!!  Go on out, it's gonna be fun.
[/column]
[column md="4″]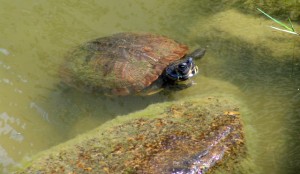 2.  Heritage Shores Nature Preserve
5611 Heritage Drive, North Myrtle Beach
A great place to bring a picnic lunch and learn a little bit about the marsh land.  The preserve has 7 acres of walking paths, picnic shelters and interpretive markers along the paths, telling a little bit about the path!  This is a great place to take the family for an afternoon of hiking, and a GREAT place to take some photos!! Admission to the preserve is FREE!!
[/column]
[column md="4″]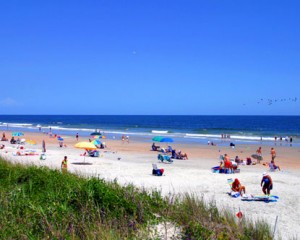 3.  The Beach
Yes, yes, the beach!!!  Just don't forget about the beach!!  Perfect for family fun and….FREE!!  Public accesses are located all along the Grand Strand.  Pack a cooler and picnic and spend the WHOLE day there, everyday!!  This is what vacation is all about!!
[/column]
[/row]