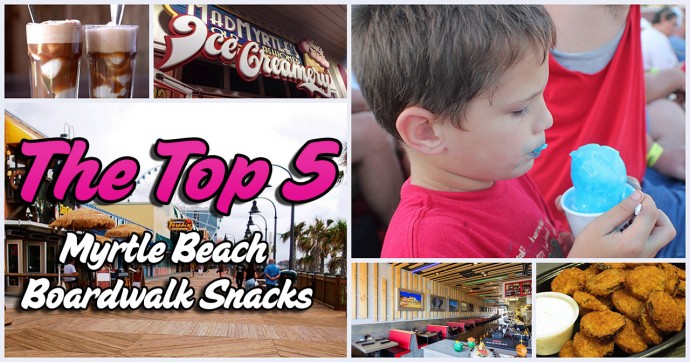 Myrtle Beach has some great restaurants that offer tasty meals that are perfect for breakfast, lunch or dinner. What happens if you aren't hungry enough for a meal but still want something snack on while you browse the shops, play some games in the arcade or just walk along the boardwalk? There are plenty of tasty snacks to be found on the Myrtle Beach Boardwalk and you may have a hard time choosing your favorite.
Root Beer Floats At Peaches Corner
Peaches Corner has a rich history and some of best food you will find on the Boardwalk. If you can find a seat you may want to enjoy lunch or dinner here. If you are just looking for a refreshing treat, one of their root beer floats may hit the spot. The creamy ice cream flooded with delicious root beer will take you back and cool you down on a hot day.
Italian Ice At Iggy's
If you have never had an Iggy's Italian Ice, you are missing out on a great experience.  Iggy's has been a part of Myrtle Beach for many years and features a large selection of Italian ice flavors. You can pick your favorite or combine up to three flavors. Perfect for a hot day on the beach or to enjoy while sightseeing on the Boardwalk.
Ice Cream At Mad Myrtle's Ice Creamery
Ice cream is the go to snack at the beach and there are plenty of places to get it. If you want the best on the Boardwalk, stop by Mad Myrtles.  This retro snack shop offers sundaes, milkshakes, smoothies, frappes and slushys, but their old fashioned, hand dipped ice cream just can't be beat.
Art House Fries At Art Burger Sushi Bar
French fries are a great snack and are easily portable. Art Burger Sushi Bar takes fries to another level with their Art House Fries. These fresh cut potatoes are covered in avocado ranch, cheddar cheese sauce, roasted garlic salsa, bacon, and scallions. There are plenty to share, but you may not want to.
Fried Pickles At Moe Moon's
Moe Moon's is situated right on the Boardwalk and offers a great view of the SkyWheel and the ocean.  You can find plenty of great treats at Moe Moon's and it is a great spot to enjoy lunch of dinner. If you are looking for a fast and satisfying snack, you can't go wrong with the fried pickles.  Salty, sour, crispy and crunchy, these pickles just can't be beat, especially with some buttermilk ranch dipping sauce.