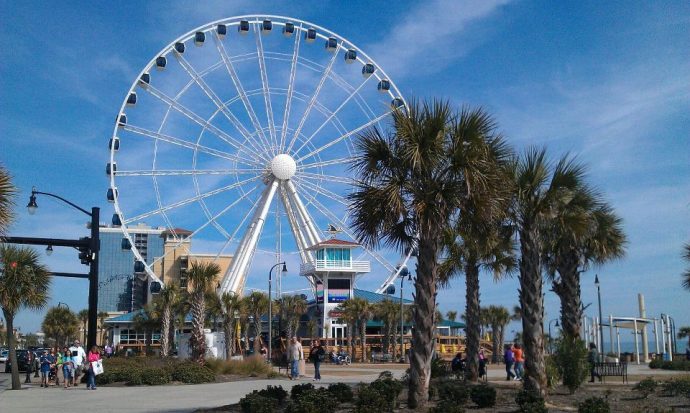 Myrtle Beach has many different districts and plenty of fun to offer to everyone. If you like to stay close to the beach, you won't be disappointed by the Myrtle Beach Boardwalk. Whether you are looking for fun as a family, a night out with friends, or just some laidback fun, there top Myrtle Beach Boardwalk attractions are sure to keep you busy.
Ripley's Believe It Or Not Odditorium
If you like things that are a little crazy and also want a hands-on experience, you will love Ripley's Believe It Or Not Odditorium.  Located right across the street from the beach, you can spend hours in this museum staring at things that are strange.  You never know what you might see or learn and it's great for families.
Myrtle Beach SkyWheel
There is no better view of the ocean or the Boardwalk than from the SkyWheel. You can enjoy a slow ride and take some time to cool off, all while enjoying amazing views. Check out the area with a unique perspective and watch as boats travel up and down the coast. It's not a trip to Myrtle Beach without a ride on the SkyWheel.
Fun Plaza Fun Center
What's more fun than an arcade on the beach? Listen to the sounds of games chiming and tickets flowing while the warm, salty air blows in off the ocean. You can spend a few minutes or all day in the Fun Plaza Fun Center. Don't forget to save up all your tickets so you can trade them in for a great souvenir before you head home.
Sling Shot
Feeling brave? Why not take a ride on the Sling Shot. Located right on the Boardwalk, this attraction is perfect for thrill seekers. Not only will you enjoy a ride that gets your heart pounding, you will also get to take in some spectacular views of the Boardwalk and ocean. You can even get a video of your experience to share with your family and friends.
Myrtle Beach Zipline Adventures
Have you always wanted to zipline and never done it? Or maybe you have ziplined other places, but want a unique and memorable experience? Why not enjoy ziplining on the beach. Enjoy the rush and the views. Everyone can zipline and you can also enjoy a freefall jump. You may find yourself addicted to it.