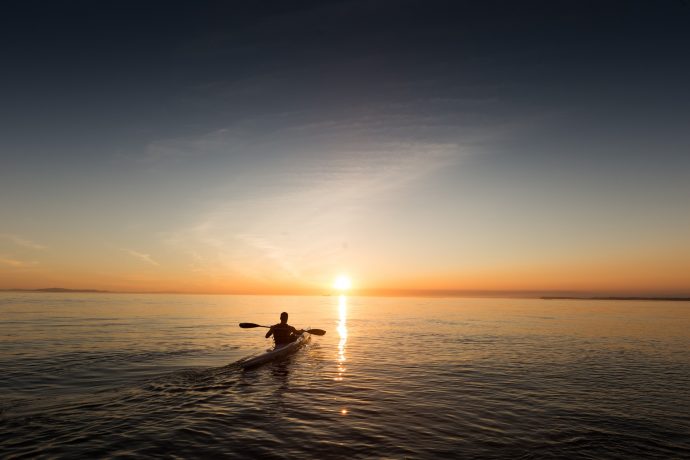 If you are vacationing in North Myrtle Beach and looking for a fun experience, consider going on one of the many kayak tours in the area. Kayaking will allow you to see a unique side of North Myrtle Beach and get up close and personal with nature. There are kayak tours available to meet the experience levels and desires of everyone. Check out one or all of these tour options and give kayaking a try on your next vacation.
Glass Bottom Kayak Tours
My family and I did the Glass Bottom Kayak Tours earlier this month and absolutely loved it! We took two tandem kayaks and my oldest son rode with my husband while my youngest rode with me. Our guides were so friendly and fun and they made sure everyone in the tour was comfortable before we set out for our private island destination. When we got to the island we had plenty of time to explore, our guides caught crabs and fish for everyone to look at and even showed us a sea turtle nest.  My boys had so much fun they have already asked to do it again next year.
Great Escapes Kayak Expeditions
Great Escapes Kayak Expeditions offers kayak tours that allow kayakers to explore Waites Island, Waccamaw River,  and Cherry Grove Marsh . The tours begin in the North Myrtle Beach area and are great for experienced kayakers or first timers. Paddleboards are also available.
J&L Kayaking And Paddle Tours
There are many different kayak tours available through J& L Kayaking. You can kayak down a river, to a private island, go on a shelling tour or even take a twilight tour. There are several different sizes of kayaks available and tandem kayaks are also available. These tours are great for people of all ages. The eco tours will get you up close and personal with nature and show you a unique side of Myrtle Beach.
Kayaking is a great way to enjoy everything Myrtle Beach has to offer and also get some exercise and fresh air. There are plenty of great kayaking tours in the area and you may want to try each of them for some totally unique experiences. The next time you are in Myrtle Beach, rent a kayak and explore the area.