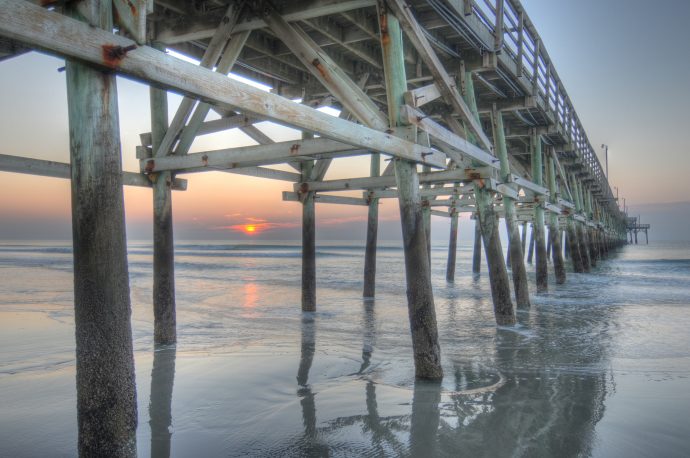 Myrtle Beach is known for a lot of things, including the piers. Exploring a pier is a great way to spend a day and can be a nice change from just sitting on the beach all day. When you visit a pier you still get to enjoy the beach and also get to experience a new side of it. If you are visiting  Myrtle Beach this summer, be sure to check out one or all of these great piers.
Cherry Grove Fishing Pier
Cherry Grove Fishing Pier is located in North Myrtle Beach and is a great place to catch some sun and some fish.  It is privately owned and has a two story observation deck. It is over 900 feet long and has seen many impressive fish caught during its time. Whether you enjoy fishing yourself or want to watch others reel in some monsters, you are sure to have fun on this pier.
Apache Pier
The Apache Pier is the longest pier in Myrtle Beach and features a bait and tackle shop, an arcade, live entertainment and special events. It is designed to be fun for the whole family and there is literally something for everyone. Take a stroll down the pier, watch the waves, fish for sharks or sit in the shade and enjoy a nice ocean breeze. This pier is over 365 days a year.
Pier 14
The beach can make you hungry and sometimes you need to catch a quick lunch without going to far. If you are on the beach near Pier 14, you can have you lunch of dinner right there. You can choose from a variety of meals and drinks. Eat, relax and enjoy the water. When you are done you can walk out on the pier or go back down to the beach. You won't be disappointed in the food or the view.
Second Avenue Pier
The Second Avenue Pier is in the heart of it all and a great place to make memories with your family. Enjoy some fishing or sightseeing, take some photos with beautiful scenery in the background or grab a bite in the restaurant or drink in the bar. You could spend your entire day at this pier and not regret it.
Myrtle Beach State Park Pier
If you are happen to be visiting the Myrtle Beach State Park, you should take a stroll out on the pier. Its the perfect place to see some wildlife and watch the waves. It's free to walk on the pier with a paid park admission and for a small fee you can rent reels and buy bait to fish. There are also a lot of nature events held at the pier which are great for kids or families.