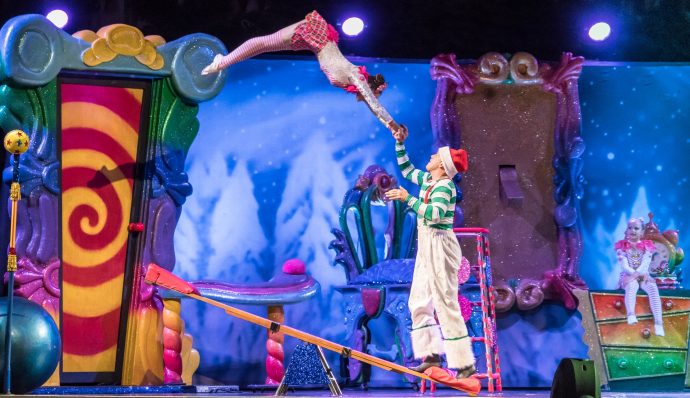 Myrtle Beach is a festive place to spend the holidays and if you love looking for a way to bring the Christmas cheer to your family, why not enjoy one of the many holiday shows. There is something for everyone, including kid so if you are ready to enjoy some of the best holiday entertainment in the country, check out these Myrtle Beach shows.
The South's Grandest Christmas Show
This show at the Alabama Theater is packed full of special effects, beautiful costumes, impressive dance moves and a variety of different types of Christmas music. The show runs from November 2 to January 2. According to the website, "The South's Grandest Christmas Show will instill the true meaning of Christmas in your family with its combination of traditional Christmas classics and contemporary holiday favorites.  The South's Grandest Christmas Show is a southern family tradition on the Grand Strand with visitors and locals returning year after year. Also featured in this year's show will be comedian Ricky Mokel who always puts a new twist on the Christmas season.  So, if you want to celebrate Christmas with an evening filled with song, dance, and laughter, the Alabama Theatre is the place you want to be with your family and friends."
Legends In Concert Holiday Show
The Legends in Concert Holiday Show is packed full of familiar stars singing some of your favorite holidays songs.  Rod Stewart, Dolly Parton, Nat King Cole, Elvis, and the Blues Brothers are just a few of the tribute artists who will perform from Nov. 2 to Jan. 2. Bring the entire family and enjoy some good holiday entertainment.
The Nutcracker At Coastal Carolina University
Coastal Carolina University is hosting the Nutcracker show. According to their website, "The Nutcracker, one of the most popular ballets of all time, will be presented by the Columbia City Ballet Friday, Dec. 6 and Saturday, Dec. 7 at 7:30 p.m. in Wheelwright Auditorium at Coastal Carolina University. Tickets are $15 for adults and free to students under the age of 18. Directed by William Starrett, The Nutcracker is performed more times and for more people than any other ballet in the company's history. The Columbia City Ballet has performed it since 1966. The company's rendition of the old classic boasts elaborate costumes and sets that include 100 pounds of snow made of Mylar and glitter."
The Christmas Show Of The South
The Calvin Gilmore Theater comes up with a new holiday show every year to entertain residents and tourists alike. The website says the show  "will offer all-new dance material to heat up a cold winter evening—and some big surprises. All of these are joined by an award-winning cast of over 35 including Calvin Gilmore, Rita Gumm, Christie Templeton, Brad Long, Tangena Church, Kym "Bogie" Shurbutt, Eric Gumm, Gary Baker, Trent Wideman, Gary Brown, Martha Brown, Kevin Hughes, Jeff Simmons, Kevin White, Steve Wilkerson, The Carolina Opry Dancers—and a real horse-drawn sleigh and real snow!"
Christmas At Pirate Voyage Dinner and Show
Watching a holiday show is nice but watching it while you eat an amazing dinner is even better. Check out the Christmas show at Pirate Voyage for some great holiday entertainment for the entire family. This year the show is a retelling of A Christmas Carol. It will also feature a live nativity and of course, plenty of silly pirate antics.