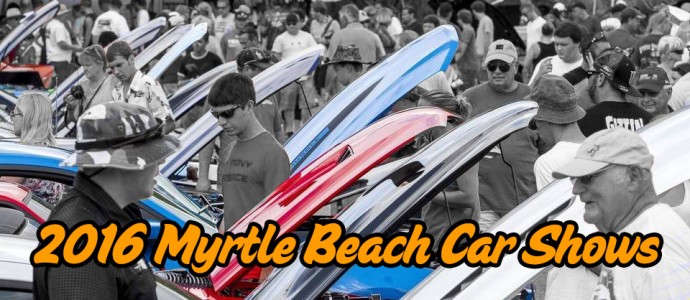 There's nothing like sitting on the beach and hearing the roar of a powerful engine in the distance. If you love the beach and cars, you won't want to miss any of the car shows and cruise-ins that are scheduled for the Myrtle Beach area in 2016. Whether you favor Ford, Chevy, Dodge or another make of vehicle or just love cars in general, these events will give you the chance to see some of the best looking and fastest vehicle in the country.
Jigsaw Jam Car & Truck Show – April 2
This event features a variety of attractive and speedy vehicles ranging from sports cars to lifted trucks. It takes place at Hooters of North Myrtle Beach and features Sports Cars, Classic Cars, Muscle Cars, Tuner and Sport Compact, Exotics, Low Rider, Motorcycles. The event is held to raise awareness of autism and help fund research.
Car Warz: The Fight Against Fibromyalgia – May 14
Car Warz is the first Fibromyalgia awareness  fundraiser car show and is open to all makes and models. It will be held at the Myrtle Beach Mall and over 50 classes will be judged. There will be plenty of vendors and on site and proceeds go towards funding research for Fibromyalgia.
21st Annual Corvettes at the Beach – June 4
The 21st Annual Corvettes at the Beach promises to be bigger than ever. Last year it exceeded 300 cars and raised over $22,000 for charity. This year the Myrtle Beach Corvette Club, who hosts the event, hopes to see those numbers rise. It will be held at Broadway At The Beach and all proceeds will go to Barnabas Horse Foundation and Meals on Wheels of Horry County.
Mustang Week – July 19-24
Mustang lovers won't want to miss this fun event. All week long the streets of Myrtle Beach will be packed with Mustangs.  Several areas in Myrtle Beach and North Myrtle Beach host events and during Mustang Week and the festivities always include meet and greets, cruise-ins, car shows, awards ceremonies, drag nights and more. Whether you own a Mustang yourself or just happen to be a enthusiast,  make sure you make your way to Myrtle Beach for this fantastic celebration.
Cruisin The Beach – October 15
Cruisin The Beach is an open car show that donates all proceeds to charity. It will be held at Broadway At The Beach and features Sports Cars,Classic Cars,Muscle Cars,Cruise In,Tuner and Sport Compact,Exotics,Low Riders.  It is always a favorite of tourists and locals alike and everyone is invited to attend.