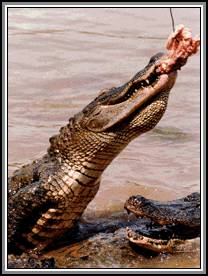 So you came to Myrtle Beach and had a chance to unwind. You've enjoyed lounging by your resort's swimming pool, taken several relaxing walks along the beach, and been out on a leisurely boat tour in our beautiful waters. Now it's time to take a walk on the wild side and visit Alligator Adventure! Your adrenaline will be pumping as you come face to face with some of nature's fiercest predators.
Alligator Adventure is located beside Barefoot Landing in North Myrtle Beach and is one of the largest reptile facilities in the world. You'll walk through natural swamp and marsh areas and get up close and personal with an incredible variety of lizards, large reptiles, giant frogs, turtles and exotic birds from around the world.
Be sure to visit the parks two river otters, Boo and Sam. They learned to swim in a bathtub at just 11 weeks old and now spend their time horsing around, teasing each other, and entertaining guests for hours on end. The staff feeds Boo and Sam commercially prepared food, but they also get treats like shrimp, hotdogs and sardines. These two otters have it made.
The park also has several live shows that are amazing! From mid-April through mid-October you can watch 13ft alligators jet straight out of the water in an attempt to secure their favorite meal: raw chicken! During the show you'll learn about their eating habits, life span, average weight, length, and more. Staff veterinarian Dr. Sam Seashole will be on hand several times a week and will answer your questions if you happen to run into him. They call him the Croc Doc, and he has a documentary video available in the gift shop with all sorts of informative information about these fascinating creatures.
During the colder months, alligators don't eat. This means they probably won't be leaping out of the water to grab a raw chicken, but the feeding show will be substituted with a fascinating live alligator lecture and exhibit. You and your family can even get your picture taken with a live alligator! It's a great memento to take home after your vacation here in the Grand Strand.
If you are ready for more action after the alligator shows, be sure to stop by the snake handing presentation. The staff at Alligator Adventure will teach you all out misunderstood creatures and clear up a lot of misconceptions. Do you think they are slimy? Maybe you will get to touch the 7 ft Albino Burmese Python and find out! One lucky young audience member may even get to wear a snake as a hat! That's the kind of fun you'll only find at Alligator Adventure. Don't worry though, you can always return to your Myrtle Beach condo safe and sound.
There is so much more to see and do at the park! Alligator Adventure is a great way to spend the day with your family while you are here in the Myrtle Beach area. In fact, it's so much fun that everyone has an open invitation to come back the next day free. Admission for Adults is only $16.95, Seniors are $14.95, Children ages 4-12 are $10.95, 3 and under are free. Discounts are available. You can get more information on Alligator Adventure by calling 843-361-0789.