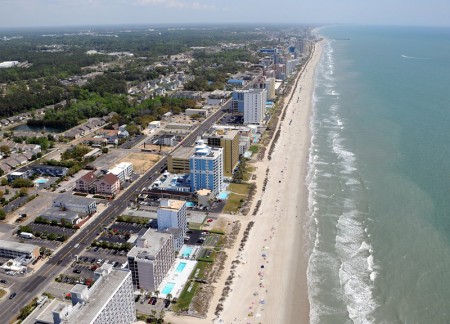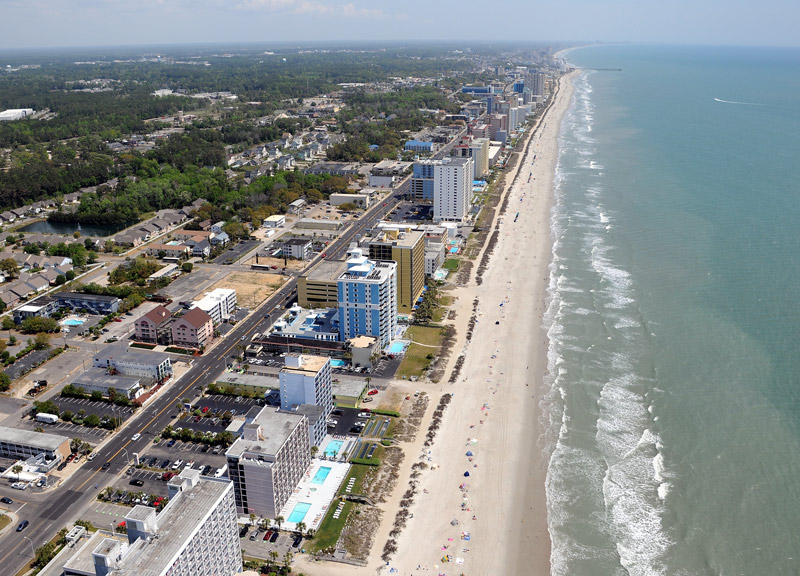 Many do not realize that Myrtle Beach and North Myrtle Beach are two separate incorporated cities. North Myrtle is not just the northern section of Myrtle Beach, but rather a different area all its own. Keep in mind, there is no South Myrtle Beach either. The southern section of the Grand Strand consists of Surfside Beach, Garden City, Pawley's Island and Murrells Inlet.
SO, where should you stay? These quick tips may help you make your decision. As always, feel free to check out the Myrtle Beach Chamber of Commerce and the North Myrtle Beach Chamber for additional area information and calendar of events.
1. North Myrtle Beach is "quieter"
Although quiet is a subjective term, there generally isn't as much hustle and bustle in North Myrtle Beach. Less traffic, and a much more maneuverable Ocean Blvd. It does stay busy though, especially during Saturday mornings to mid afternoon when all the tourists arrive. However, all the local-oriented stores, like Wal-mart and Lowes, are much less busy when compared to Myrtle Beach. It's a different kind of traffic in North Myrtle, but and there are still bumber to bumbers in both places.
Many also say that North Myrtle Beach is more of a family oriented vacation spot, whereas Myrtle Beach is a bit more of a "party" atmosphere, but really it is what you make of it.  The clubs and hangout spots are all located in Myrtle Beach so they are a bit easier to access, which draws the younger crowd.  Furthermore, there isn't a barrage of shops on the North Myrtle Beach's Ocean Blvd. like there is in Myrtle Beach. (Plus, the new Boardwalk in Myrtle Beach adds a point to the Myrtle Beach column.) North Myrtle does have shops on its Main Street, but nothing as well-known as the ones on Myrtle Beach.
2. Difference in Beaches
It wouldn't be a top vacation destination without a good beach, right? Both Myrtle and North Myrtle, and actually, all of the Grand Strand, lends itself to a good set of beaches. So whats the difference? Many say that North Myrtle Beach has "wider" beaches, as in the space between the dunes and the ocean water. Of course, this is depending on where the tide is at – AND which beach we are talking about! Myrtle Beach has state parks that have very nice, maintained beaches, some of which are just as wide as North Myrtle (money required to enter). In my opinion, both beaches are very nice and will be lots of fun. Parking is another story though. Both Myrtle and North Myrtle have public parking next to beaches, but the state park in Myrtle lends itself to a more relaxed parking search. Sometimes the public parking is so full, you drive around for a bit looking for a space. Another important note is that the public parking in North Myrtle Beach is free. (Check out the list of beachfront parking places in North Myrtle.)
3. The Condos
North Myrtle is a newer area than Myrtle, so many of the condos are newer and have a bit more "new upgrades" attached to them, depending on where you stay.  You will also note that the North Myrtle Beach Cherry Grove section is very residential, meaning no big condos on the beach. (The locals in this area love this section because of the easy access and lack of buildings.)
4. Attractions
Visit our Myrtle Beach Attractions page for a full list of attractions. Chances are, no matter where you stay, you will visit both cities during your attractions hunt. They both have a large list of things to do and places to eat, so don't base your decision on where to stay based on how close they are to attractions, unless you have a very specific itinerary.
Hope this helps! Comments are welcome.