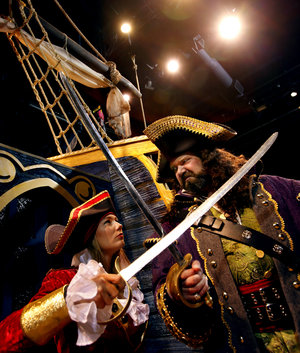 Who doesn't love pirates? Every kid dreams of sailing the open sea and finding a shipload of treasure on a deserted island. Now that Johnny Depp's made swashbuckling cool for all ages, it's about time somebody came up with a way to combine a hearty meal with a little maritime mayhem – making this a top Myrtle Beach attraction!
Leave it to Dolly Parton to figure out how to satisfy our need for chicken and barbecued pork with generous sides of pistol-bracing, cutlass waving, plank-walking and, of course, mermaids. The new Pirates Voyage dinner theater in Myrtle Beach opened in June of 2011 for "Fun, Feast & Adventure." Dolly gutted her Dixie Stampede location and brought in crews to do a complete renovation. The result is an exterior that looks like it was lifted off the streets of Tortuga and an eye-popping set featuring a 15-foot deep lagoon and three pirate ships.
Dolly came up with an original score for the show, which features live animals, acrobatics, underwater choreography and lots of swashbuckling action. The audience cheers and boos as the crews of the Crimson and the Sapphire clash in a battle that spreads across the decks and into the ships' rigging, the water and even the air. The audience's response helps decide the winner, so not even the cast knows at the outset which side will win.
In the days of Blackbeard and Anne Bonney, ships were known for the number of cannon they had on board, not for their delicious dinner menus. Luckily, Dolly Parton understands that a good host needs both. Some dinner theaters seem to think if the show's good the food doesn't have to be, but the food at Pirates Voyage could draw crowds even without a show. Unless you call ahead and ask for a vegetarian meal you will be served creamy vegetable soup, bread, half a chicken, barbecued pork shank, fried shrimp, corn on the cob, mashed potatoes and apple pie. It's probably not authentic pirate fare, but that's probably not really Johnny Depp's hair, either. Who cares? It's all good fun.
Adults pay $41.99 for dinner and the show. Children four to eleven pay $21.99; children under four pay regular child's fare if you want a seat for them. If they can sit on a lap they're free. Pirates Voyage is wheelchair accessible and they have special headsets available for people who think they may have trouble hearing the show.
Check out more Myrtle Beach attractions or visit the Pirate's Voyage website.